Staying up late at night + sleeping in late mornings = me not getting a whole lot of stuff finished. I probably should do some cleaning today.
Gotta find that motivation before the dust bunnies take over!!
***********
I am kinda ready to get back on a schedule when school starts in a month…
I know, I know bite my tongue.
(But we do better when there is a schedule involved.)
***********
My boys have been playing russian roulette with their nerf guns.
Oh the things they learn from their friends!
**************
Floating on the lazy river with friends at our local pool is the best way to
beat the heat on hot hazy days.
**************
I gave up doing p90x a couple weeks ago. After 6 weeks of not missing a day,
I was still 1 pound over my starting weight. Talk about depressing! Now I am
mixing it up with some Billy Blanks and Jillian Michaels.
***************
Baking hasn't happened in a while just because it has been stinkin hot here.
That must be remedied very soon.
***************
Since there are no baked goods happening at the moment, we tried
out some fun shakes to cool off with.
Coffee + ice cream + oreos makes the best kind of summer treat!
Go ahead and try one if you don't believe me;-)
Mocha Oreo Shakes will be happening more often here.
**************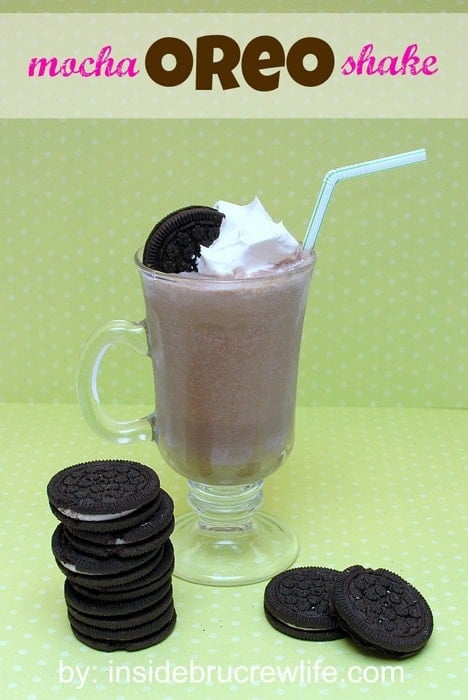 Make sure you don't miss any of the crazy baking
by following the BruCrew here:
FACEBOOK | PINTEREST | GOOGLE+ | TWITTER | INSTAGRAM | BLOGLOVIN
Ice cream milkshake made with Oreos and coffee is the perfect afternoon pick me up!
Ingredients
2 cups vanilla ice cream
2 cups chocolate ice cream
4 Oreo cookies
1 cup coffee, cooled
1/2 cup Cool Whip
Instructions
Place everything in a blender and pulse until mixed through. You can add more or less coffee to get your desired thickness. Top with Cool Whip and extra cookies if desired
Notes
If you don't like coffee, feel free to substitute milk.
http://insidebrucrewlife.com/2011/07/summer-confessions/
Copyright Inside BruCrew Life
You can find this at:
Lady Behind the Curtain
Sugar and Dots
Twin Dragonfly Designs
Handy Man, Crafty Woman
Something Swanky
Tidy Mom
Serenity Now