Why is it that you get so nervous when you realize a police car is right behind you?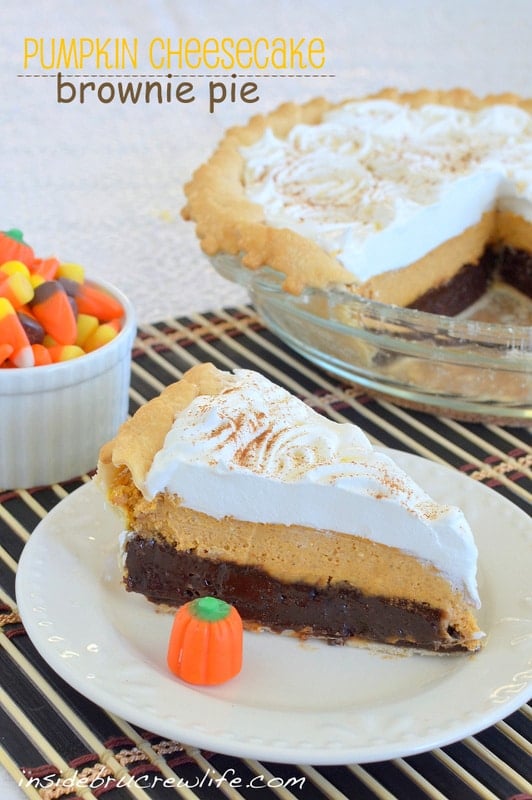 The other day I was driving along and I happened to look in my rear view mirror,
and there was a police car following right behind me.
Every single time that happens, my heart drops into my stomach,
and I instantly look at my speedometer to make sure I'm not speeding.
I hadn't gone through a red light…that day,
and I wasn't trying to text and drive.
So why do I get so jumpy?
I did the same thing another day when we went past the park,
and sure enough in the turn around was a cop car.
My eyes dropped right to my speed.
This time I was going about 10 over…
I thought for sure I was going to be busted.
My stomach was full of butterflies and I felt all jittery!
And of course the kids were in the van with me.
Thank goodness, no red lights and sirens came after me.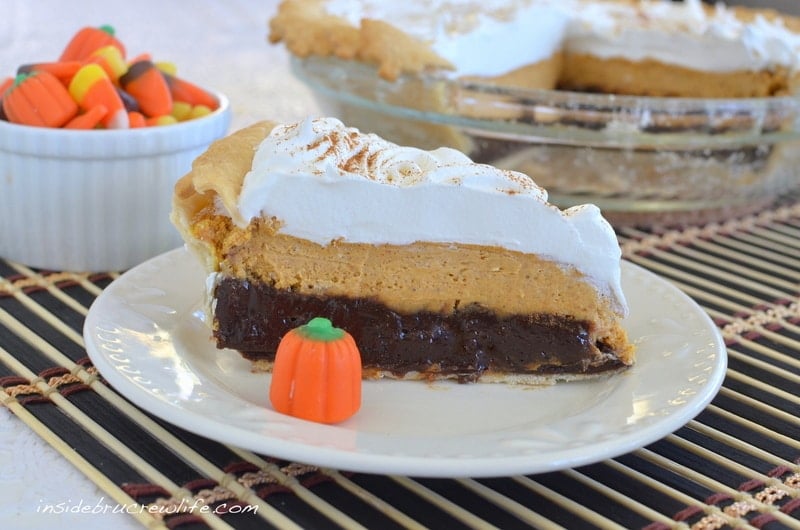 Quite honestly, this pie is going to give you the same jumpy feelings in your stomach.
You will not be able to stop looking at it.
You will keep opening the refrigerator door just to stare at it again….and again.
And bite after bite will disappear into your mouth when you cut that first piece!!!
So, apparently I lied the other day when I said I was on the downward slope
of pumpkin baking goodness…
because then I made a pumpkin green smoothie, pumpkin soup, and this pumpkin brownie pie.
What???  There was pumpkin left in the fridge, and I didn't want to be wasteful:-)
I literally begged my husband to take this pie to work with him after I made it.
There was no way I could be trusted around a pie like this!!
It was everything a pie should be.
The layers in this…oh the layers.
Deep rich mocha brownie layer that is so ooey and gooey and so wrong, but oh so right.
Pumpkin cheesecake that tastes like pumpkin pie with a light cheesecake twist.
Cool Whip, you can't forget the cool whip on a pie like this.
I like my Cool Whip with a side of pie:-)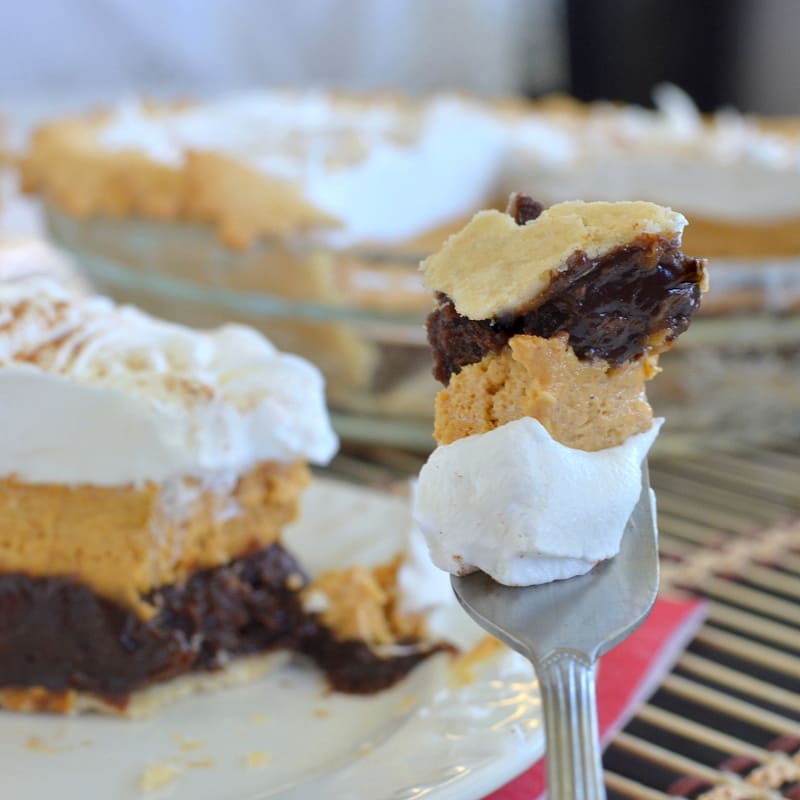 You are going to want to make this one soon.
Like this weekend soon.
Or just put it on your Thanksgiving day pie list,
but I really think you will want to make it before that.
Have you looked at those layers?
Even your thighs are begging you to make this one:-)
Pumpkin Cheesecake Brownie Pie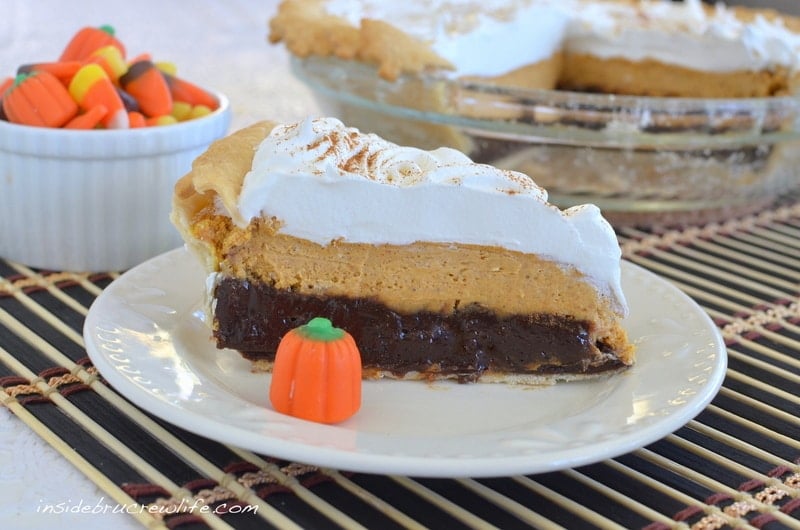 Brownie pie topped with pumpkin cheesecake and cool whip.
Ingredients
2 sheets refrigerated pie crust
1 brownie mix (18 oz.)
1/4 c. oil
1/4 c. water
1 Tbsp. instant coffee
2 eggs
1 pkg. cream cheese (8 oz.)
1/4 c. sugar
1 tsp. vanilla
1 tsp. cinnamon
1/2 tsp. nutmeg
2 Tbsp. flour
3/4 c. pumpkin puree
1 container Cool Whip (8 oz.)
Instructions
Roll out the refrigerated pie crusts. Place one sheet in a 10 inch glass pie plate. Cut small shapes out of the second pie crust with tiny cookie cutters. Arrange around the top of the pie crust in the pan.
In a mixing bowl, combine the brownie mix, oil, water, coffee, and one egg. Beat until combined. Carefully spread in the bottom of the pie crust. Bake for 30 minutes at 350*.
While the brownie layer is baking, cream the cream cheese, sugar, and vanilla together until smooth. Add the egg and pumpkin and cream again. Slowly beat in the cinnamon, nutmeg, and flour.
When the brownie layer is finished, remove from the oven and carefully spread the cheesecake on top of the brownie layer. Place back in the oven and bake another 20-25 minutes. Remove from the oven and set on a cooling rack. Let cool for an hour. Place in refrigerator and cool completely. Spread the cool whip on top and sprinkle with cinnamon if desired.
http://insidebrucrewlife.com/2012/10/pumpkin-cheesecake-brownie-pie/
Copyright Inside BruCrew Life