These Mini Strawberry Pies are made with fresh strawberries in a ready made graham cracker crust.   They are so quick and easy to put together, and everyone will love having their own small pie.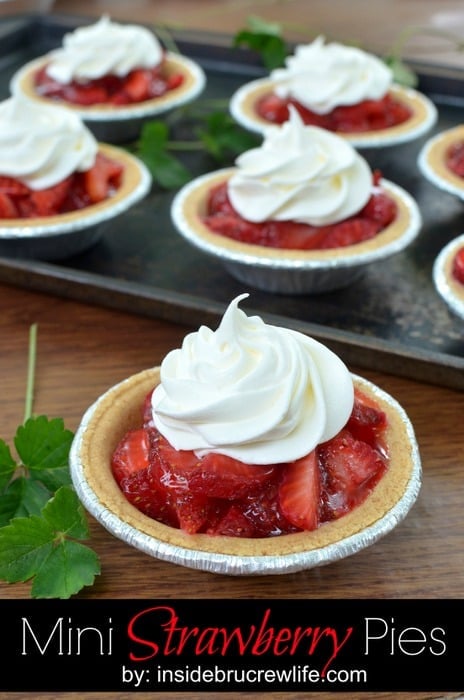 Today I am have a special dessert to share with you.  It doesn't have any extra toppings or chocolate or peanut butter hiding inside it.  On Father's Day I wanted to make my husband a dessert that he actually loves.  He tolerates all the crazy desserts that I come up with, but a simple strawberry pie is really his favorite.
I am so thankful for a husband that loves our children more than himself.  He would do anything for them.  I appreciate the patience that he has with their crazy shenanigans.  The other day they ambushed him with water guns as he came home from work.  His response?  Grab the hose and fire back.  I love that he plays with them just like a big kid…I know they love it even more.  He is such a Godly example of what a husband and a father should be.  We love him so very much, and we are glad he is ours.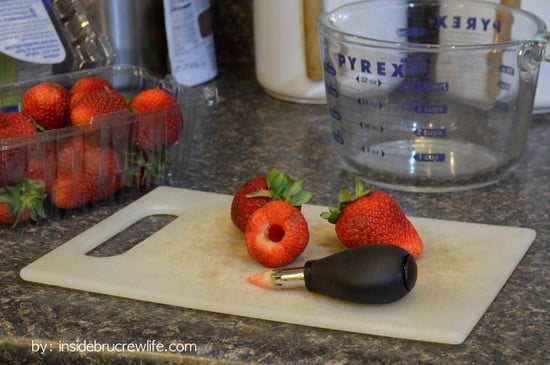 I wanted to share my new favorite mini tool with you.  A few weeks ago OXO sent me a box of fun fruit gadgets to try out.  This little strawberry huller was in that box.  As I was getting the ingredients ready for the pies, I remembered this tool.  It was so easy to use, and I loved the perfect little hole that it created.  You don't waste much of the delicious fruit because it only removes the stem.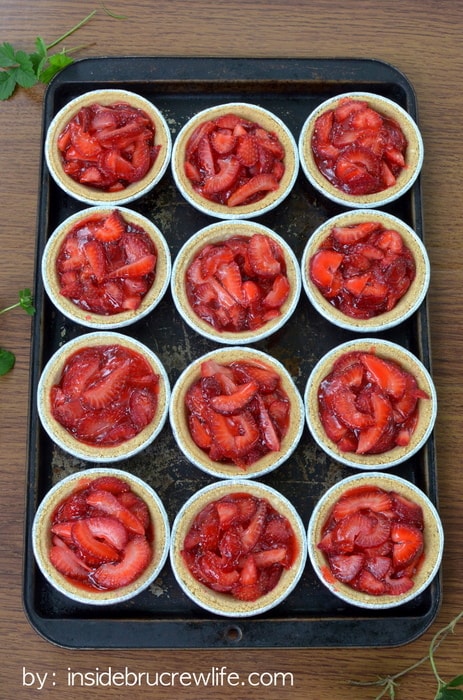 These pies are so simple to put together.  You create a pie filling with water, sugar, cornstarch, and strawberry Jello.  Place the strawberries in the Keebler graham cracker crusts and top with the Jello mixture.  Place in the refrigerator for a few hours and then top with Cool Whip.
These are the perfect little pies to celebrate the special man in your life.  I know my hubby can't wait to eat a few for dessert tonight.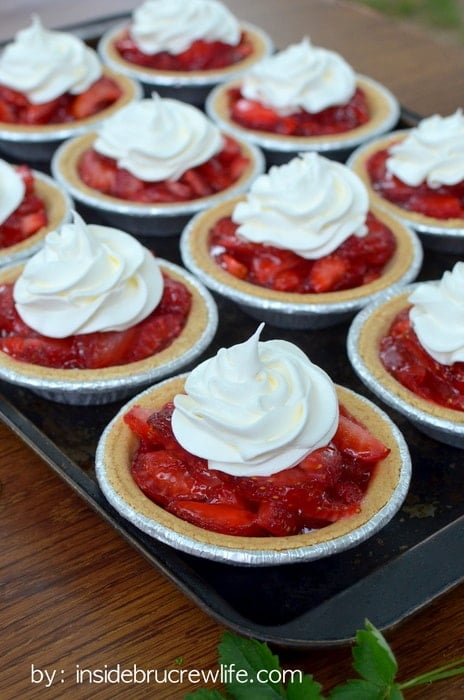 Stay up to date on the BruCrew baking:
FACEBOOK | PINTEREST | GOOGLE+ | TWITTER | INSTAGRAM | BLOGLOVIN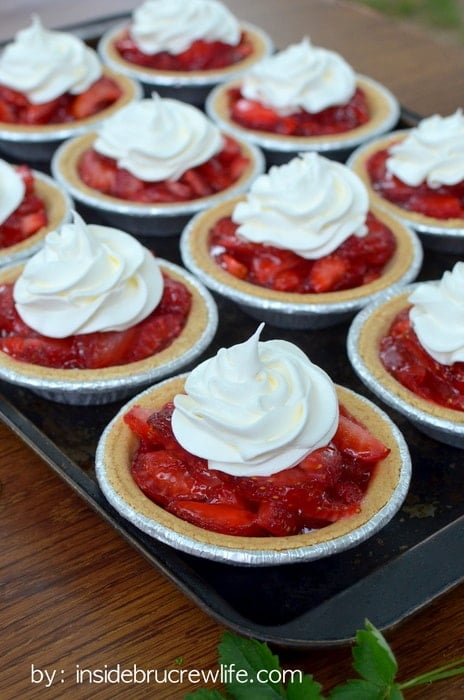 Fresh strawberry pie topped with strawberry Jello and Cool Whip
Ingredients
1 cup water
3/4 cup sugar
2 Tablespoons cornstarch
1 box strawberry Jello (3 oz.)
4 cups sliced strawberries
15 mini graham cracker crusts (2 1/2 pkgs. Keebler Ready Crusts)
Cool Whip (optional)
Instructions
Whisk together the water, sugar, and cornstarch. Bring to a boil over medium high heat. Reduce heat and simmer 2 minutes. Stir in the Jello until dissolved. Let cool slightly.
Spoon the strawberries into 15 mini graham cracker crusts. Spoon the cooled, liquid Jello over the tops of the pies. Refrigerate until set. Top with Cool Whip if desired.
http://insidebrucrewlife.com/2013/06/mini-strawberry-pies/
Copyright Inside BruCrew Life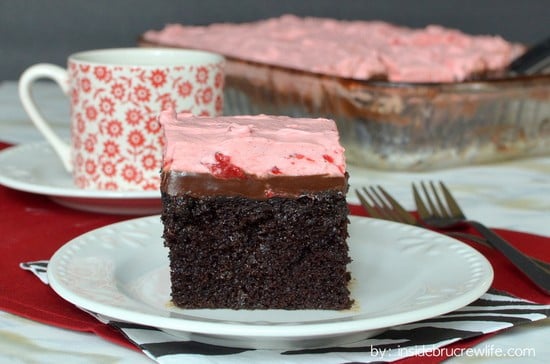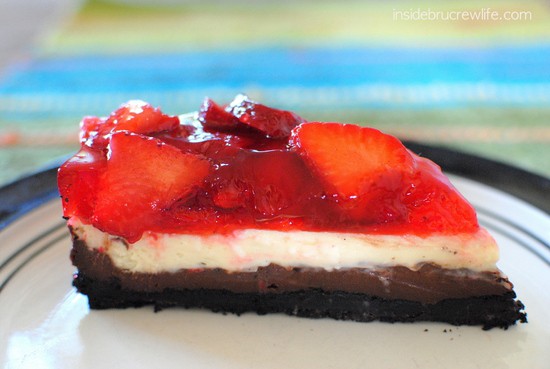 Strawberry Chocolate Cheesecake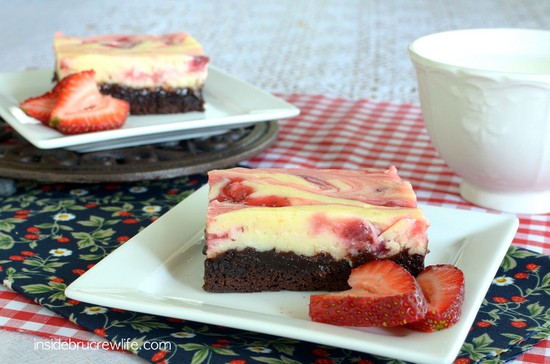 Strawberry Cheesecake Brownies
*Inside BruCrew Life was sent some kitchen tools from OXO to review. No other compensation was received.  All opinions are 100% my own.
Shared on: Creative Time Out, Treasures, Chic & Crafty,