Looking for a fun and different Easter dessert recipe?  This Carrot Cake Fudge has a layer of cream cheese frosting fudge and fun M&M candies on top.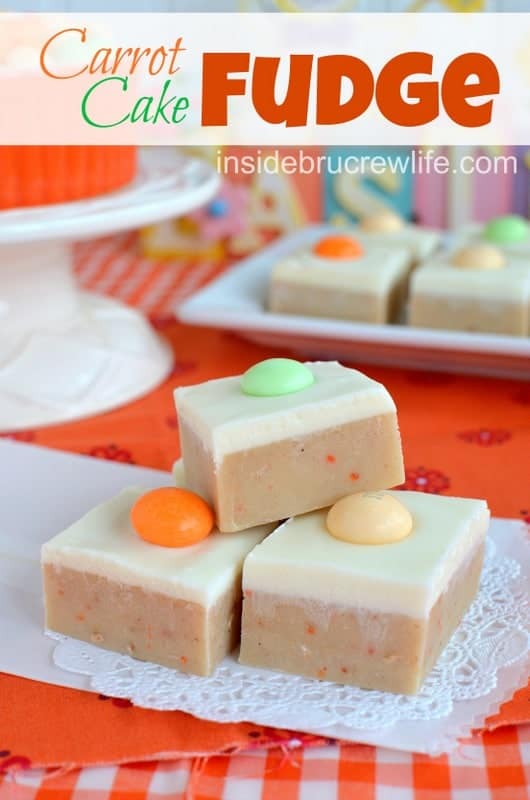 When I start on a flavor, I tend to run it into the ground.  Carrot Cake is my choice of flavor right now.  On Sunday I shared these Carrot Cake Magic Bars, today it is fudge, and I still have one more recipe in the works.  I will wait until next week to share that one.  There were a few other ideas I thought about making, but I will add those to my list for next year.
For some reason I had this strange desire to make carrot cake fudge.  Of course a quick search on google brought up quite a few different recipes, but I didn't see any for the idea I had swirling in my head.  Gotta love that 🙂 All the ones I saw had real carrots and pineapple in them…that just didn't sound very good to me for fudge.  I had one carrot cake mix left in my cupboard, so I decided to experiment and see if a cake mix can be added to hot fudge.  Turns out, it works pretty well.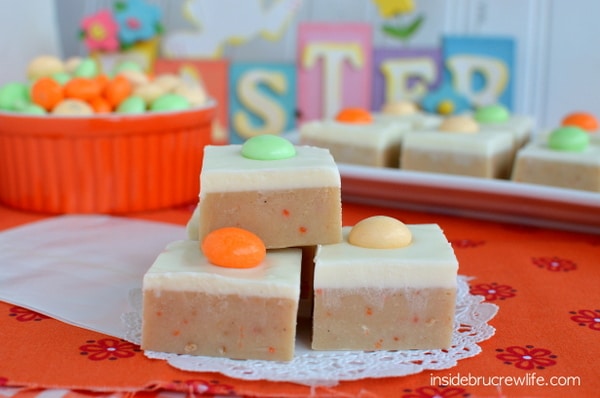 I like my carrot cake to have a generous topping of cream cheese frosting, so I decided the Carrot Cake Fudge needed a layer of cream cheese fudge on top as well.  I kind of have a thing for layered fudge 🙂  The Carrot Cake M&M's were the perfect decoration for each fudge square.  So far the only place I have seen these M&M's is Walmart.  I have also heard of some readers buying them from Amazon if you really want this fun flavor.
One great thing about this fudge is that it sets up a little faster than some of the other ones I have made before.  I'm not always the most patient when I am waiting to munch on a new creation.
Now I need to find someone who needs fudge…because I also have snacking issues and can't be trusted around any fudge.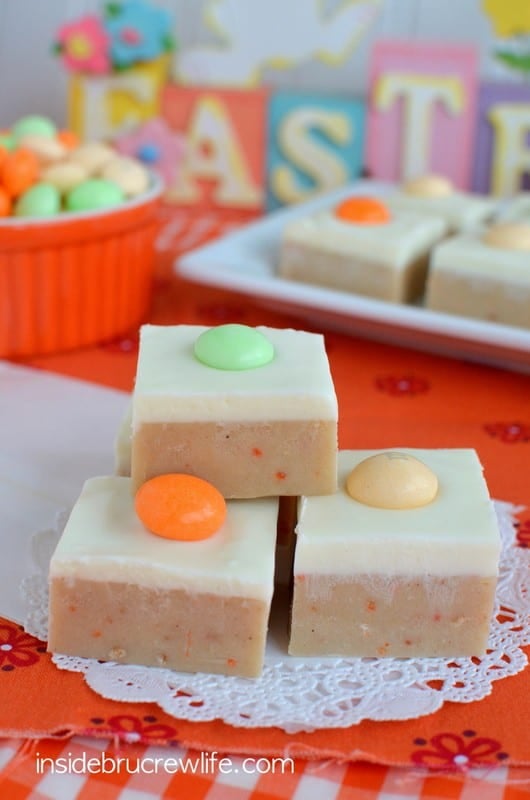 Stay up to date on all the BruCrew baking
by following here:
FACEBOOK | PINTEREST | GOOGLE+ | TWITTER | INSTAGRAM
Yield: 54 squares
Carrot Cake Fudge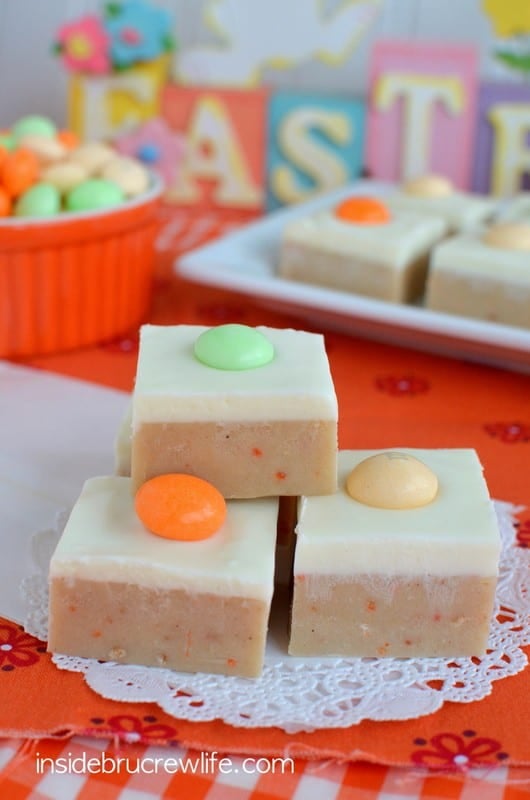 This easy Carrot Cake Fudge has a layer of cream cheese fudge on top making it look like a slice of cake. This is a fun dessert to make for Easter.

Prep Time 20 minutes

Total Time 20 minutes
Ingredients
Carrot Cake Fudge
4 Tablespoons butter
3 cups white chocolate chips
1 - 14 ounce can sweetened condensed milk
1 cup dry carrot cake mix
1/2 cup marshmallow cream
Cream Cheese Fudge
3/4 cup canned cream cheese frosting
1 cup white chocolate chips
2 Tablespoons marshmallow cream
1/2 cup Carrot Cake M&M's*
Instructions
Line a 9x13 pan with parchment paper and set aside.
In a large sauce pan combine the butter, 3 cups white chips, and can of sweetened condensed milk. Stir over low heat until melted and smooth.
Stir in the dry cake mix 1/4 cup at a time until thoroughly combined.
Stir in the marshmallow cream. Keep stirring to keep the fudge from sticking on the bottom.
Pour into prepared pan. Refrigerate at least 1 hour.
In another saucepan, melt the 1 cup of white chips over low heat until they are soft and kind of melted.
Stir in the cream cheese frosting and marshmallow cream when the chips are melted.
Pour the cream cheese fudge mixture over the carrot cake layer and smooth out. Let cool 10 minutes.
Press the M&M's into the top in a grid pattern. Chill in the fridge 1 hour before cutting.
Notes
*If you can't find the carrot cake M&M's, you could top the fudge with Easter sprinkles.
Nutrition Information:
Yield:
54
Serving Size:
1
Amount Per Serving:Calories: 140 Total Fat: 7g Saturated Fat: 4g Trans Fat: 0g Unsaturated Fat: 3g Cholesterol: 10mg Sodium: 47mg Carbohydrates: 18g Fiber: 0g Sugar: 17g Protein: 2g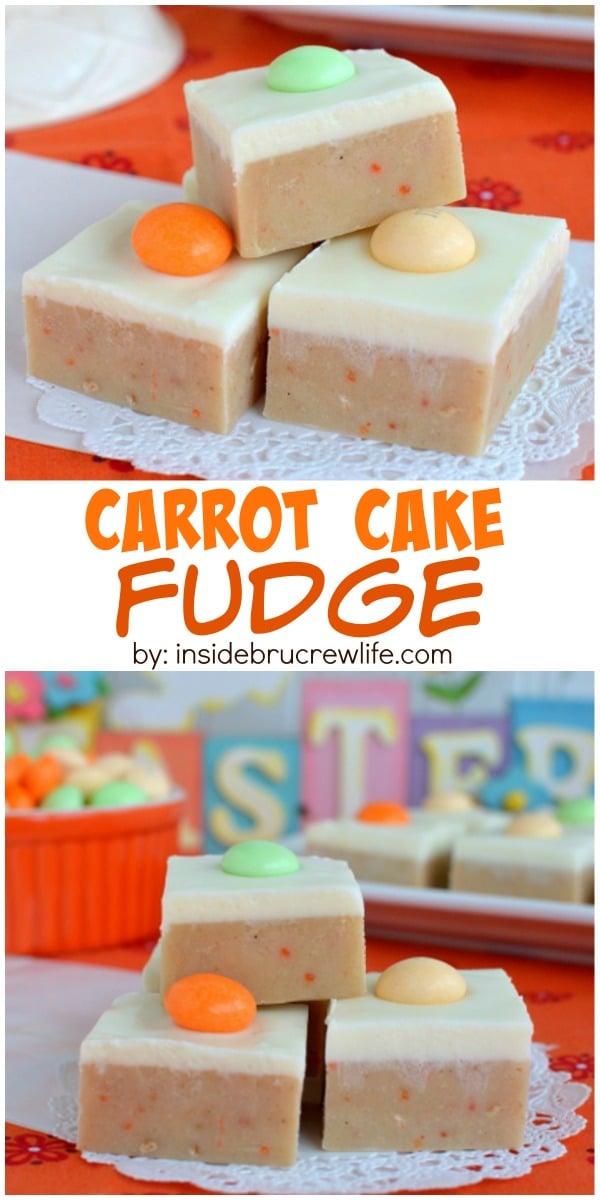 Looking for more easy fudge recipes?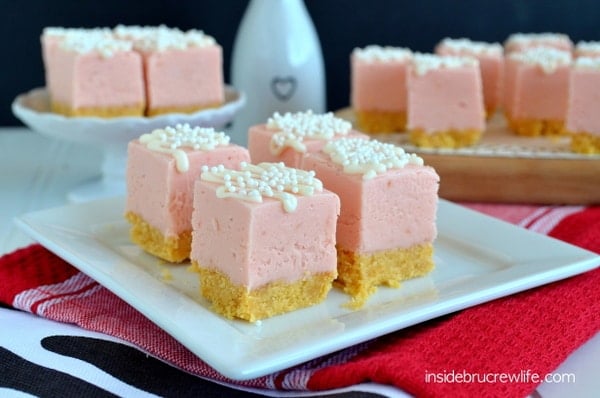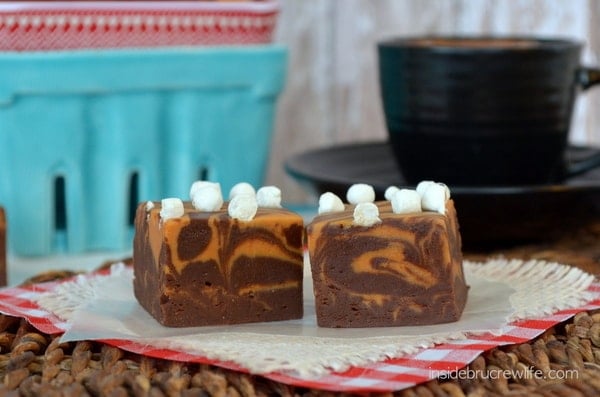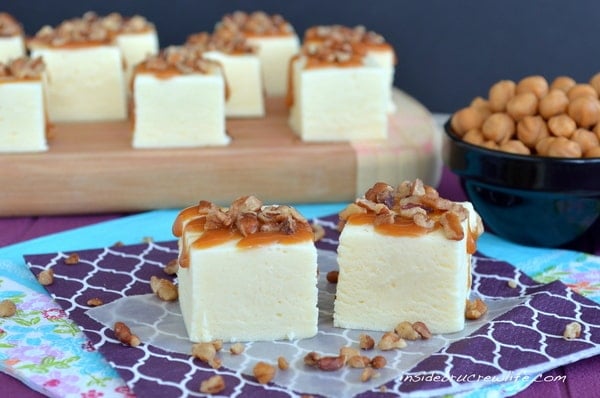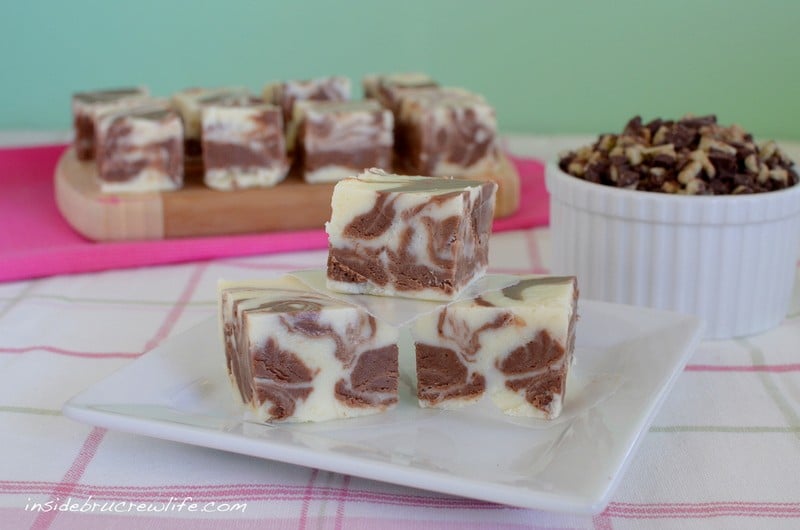 Fudge from Friends:
Chocolate Chip Cookie Dough Fudge from Buns in my Oven
Cinnabon Fudge from Shugary Sweets
Chubby Hubby Fudge from Bakerita