Love carrot cake? You are going to love these Carrot Cheesecake Muffins. The soft carrot cake muffins are stuffed with a cream cheese filling and make a delicious choice for breakfast, snack, or dessert.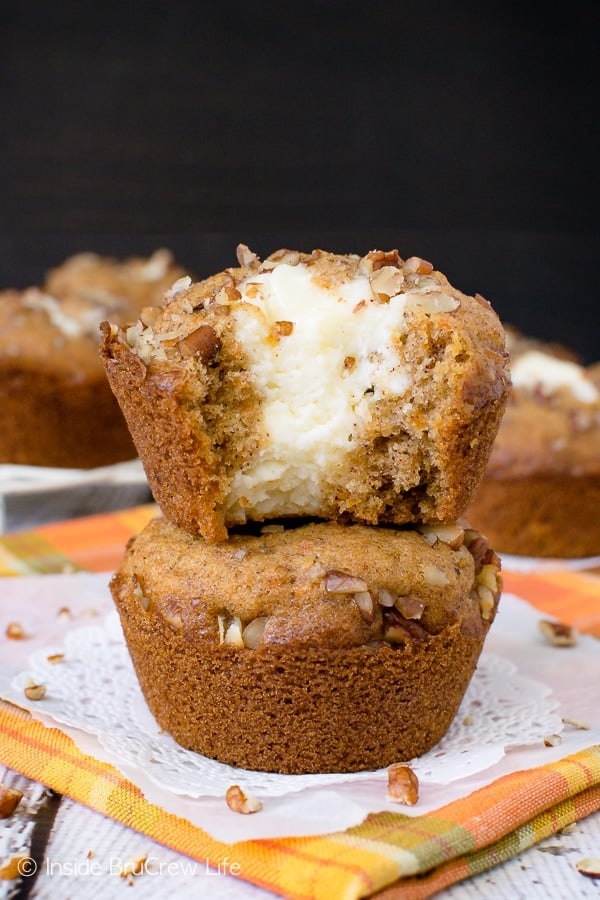 Why This Recipe Works
Carrot cake with cream cheese frosting is one of my all time favorite cakes, so it just made sense to make these carrot cake muffins with a cream cheese filling.
As I was working on the recipe for these carrot cheesecake muffins, I had to make a few batches to get it absolutely perfect.
After a few test runs on the carrot cake muffins, I doubled the cheesecake center because more cheesecake is never a bad idea. Am I right?
The muffins are soft and moist and have a delicious cheesecake center that will have everyone reaching for more. Great breakfast recipe to make for Easter or Mother's day.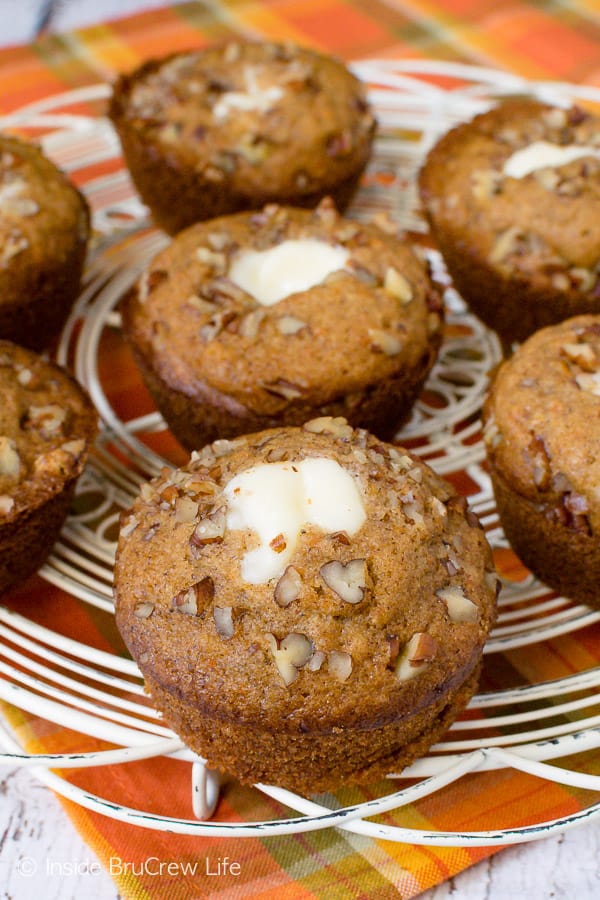 Recipe Ingredients
You can make these muffins using simple pantry ingredients. The cream cheese carrot cake muffins are soft and so delicious, and they will make you think you are eating carrot cake for breakfast. Oh, yeah!
For the Carrot Muffins
Oil, Eggs - Adds the moisture needed for the batter.
Buttermilk - Gives a softer texture to the muffin and provides a slight and delicious tang.
Sugars - Granulated and brown sugar sweeten these muffins.
Flour, Salt - Adds structure and balances the sweetness.
Baking Powder, Baking Soda - Helps the muffins rise as they bake.
Cinnamon, Nutmeg, Anise, Orange Extract - Gives a spicy and delicious flavor.
Shredded Carrots - Make sure you use freshly shredded carrots because they have more moisture.
Chopped Pecans - Optional, but delicious.
For the Cream Cheese Filling
Cream Cheese - Make sure to set it out ahead of time, so you can beat it easily.
Sugar, Orange Extract - Sweetens and adds a little flavor.
Flour - Just a little bit helps the filling to be firm and not melt into the carrot muffin.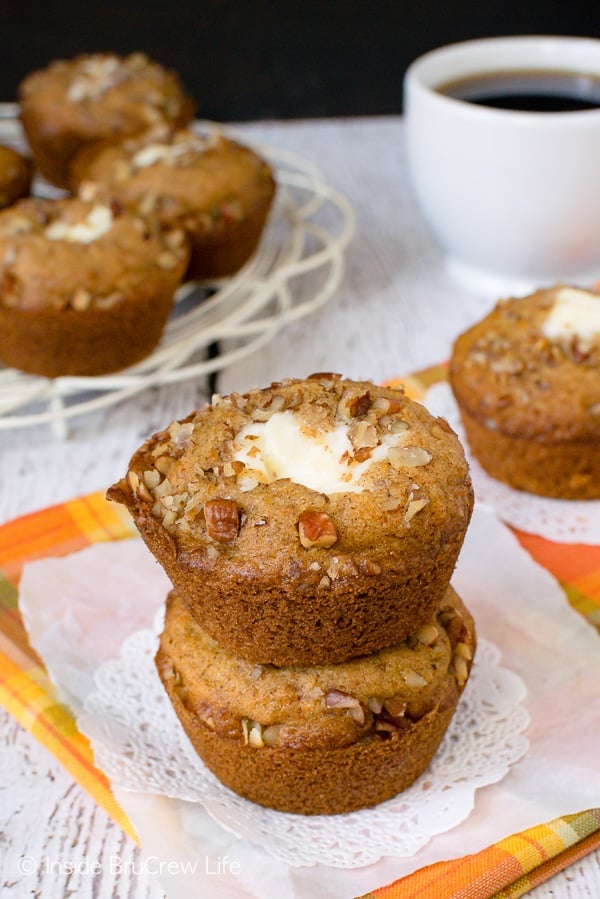 How to make Carrot Cheesecake Muffins
Follow our simple step by step instructions for this carrot cake muffins recipe. In no time at all you can have a batch of cheesecake muffins cooling on your counter.
For the Muffins
Shred fresh carrots using a food processor or use a hand held grater.
Mix the oil, sugars, extract, and eggs in a large mixing bowl.
Stir together the dry ingredients and slowly mix them into the wet mixture.
Add the buttermilk and shredded carrots and stir until mixed in.
Divide the batter evenly into 18 greased muffin cavities. You will need a 12 count pan and a 6 count pan.
BRUCREW TIP: Do NOT buy the all ready shredded carrots that are available in the stores. Those are only for salads! They do not provide enough moisture for baked goods.
For the Cheesecake Filling
Mix together the cheesecake ingredients until creamy.
Spoon it into two large plastic baggies. Cut one tip off a corner of each bag.
Use one bag to squeeze cheesecake down into the CENTER of the muffin batter. Use the second bag to add another swirl of cheesecake batter on TOP of the muffins.
Sprinkle the outside edges with diced pecans. This is totally optional, but it really makes the muffins look a little prettier and taste so good.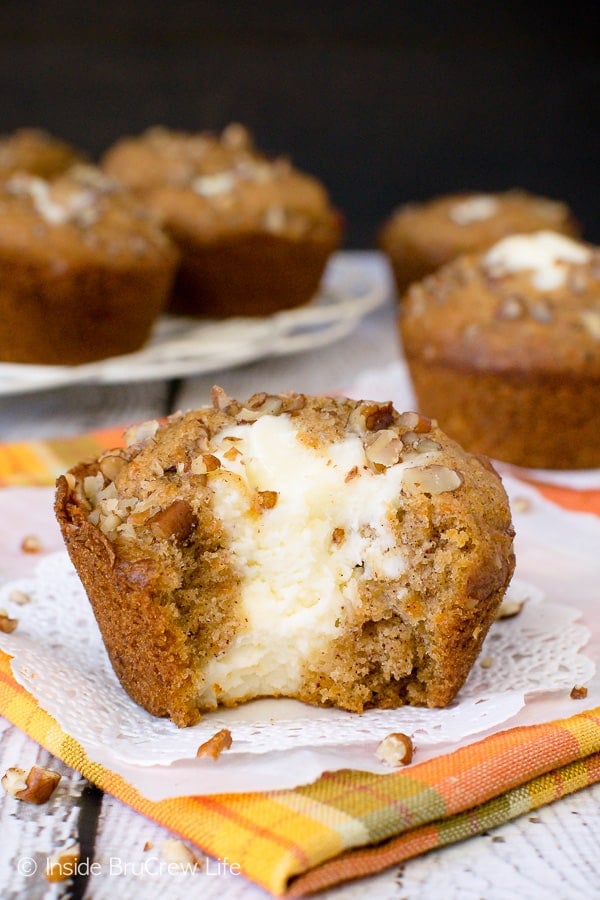 FAQ'S
Do these carrot muffins with cheesecake need to be refrigerated?
If you are eating them within a day or two, you can keep them in a sealed container on the counter. Keep them in a container in the fridge for 4-5 days.
Can you freeze carrot cake muffins?
Yes, you can. Place the cooled muffins on a sheet pan in the freezer for an hour. Place them into a freezer safe bag or container and freeze for up to 3 months. Thaw in the refrigerator overnight.
CLICK HERE TO PIN THIS RECIPE FOR LATER!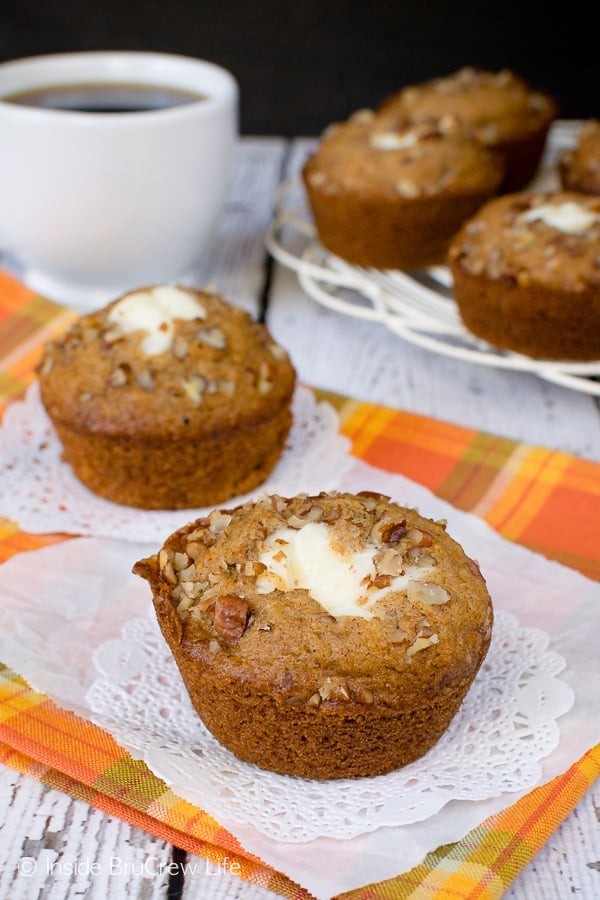 Other cheesecake muffins
More breakfast muffin recipes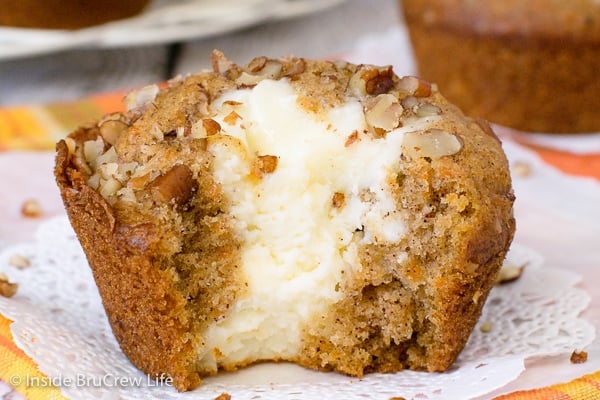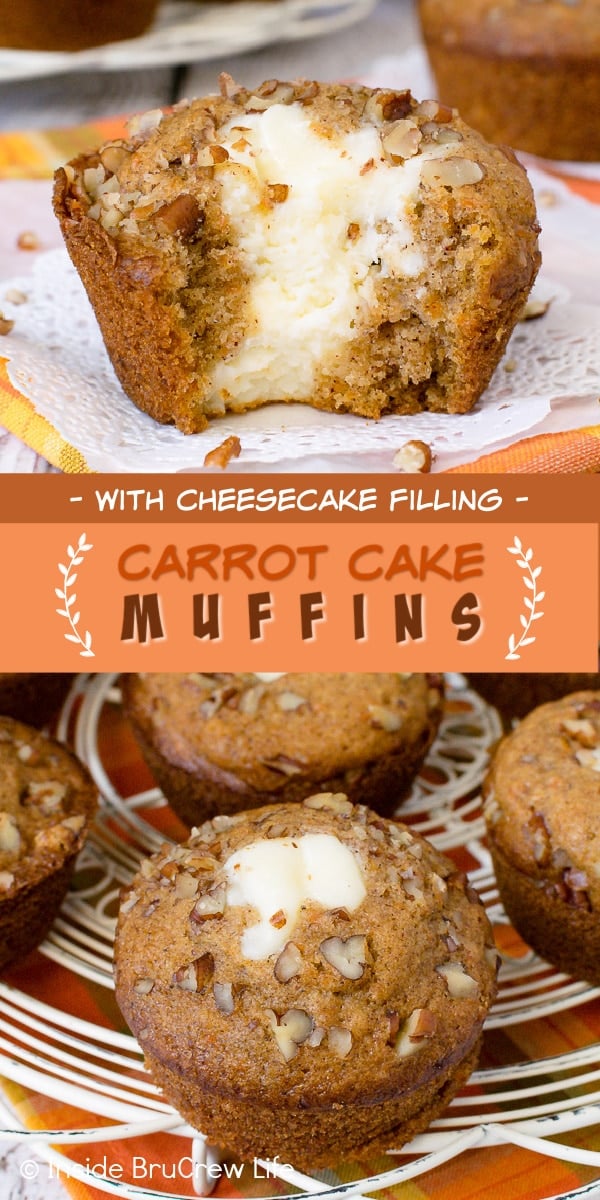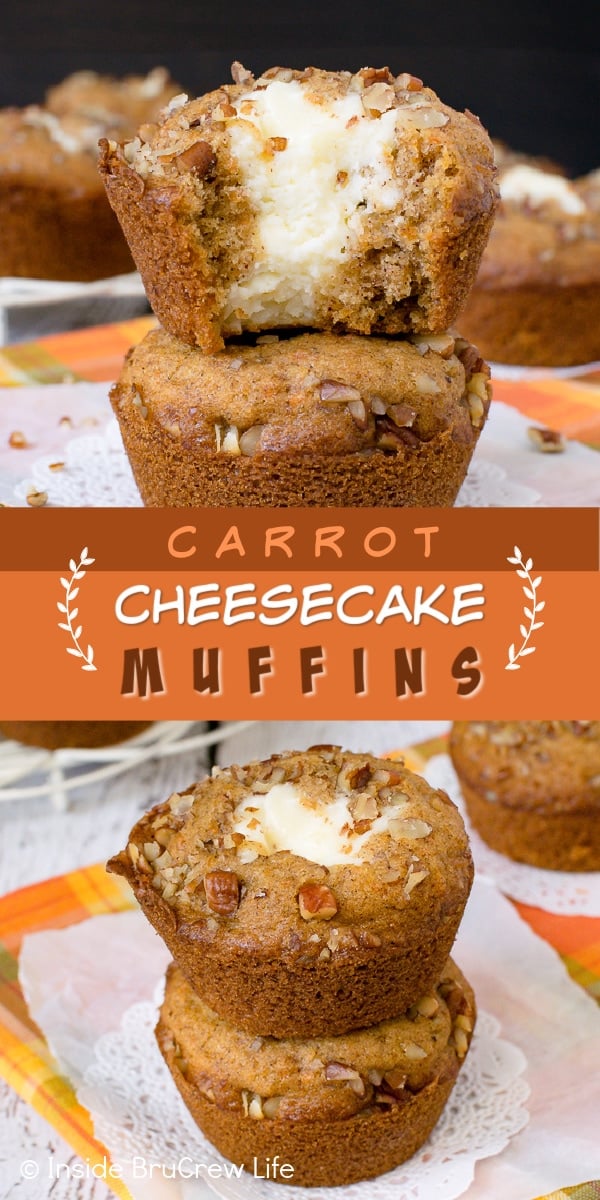 *The post for Carrot Cheesecake Muffins was originally published on September 24, 2012. The photos and post have been updated and republished on April 3, 2021.