Our moist chocolate zucchini cake is not only delicious but also a fun way to use up those extra veggies. And to make it even more delicious, we added a rich dark chocolate frosting that will satisfy all your chocolate cravings.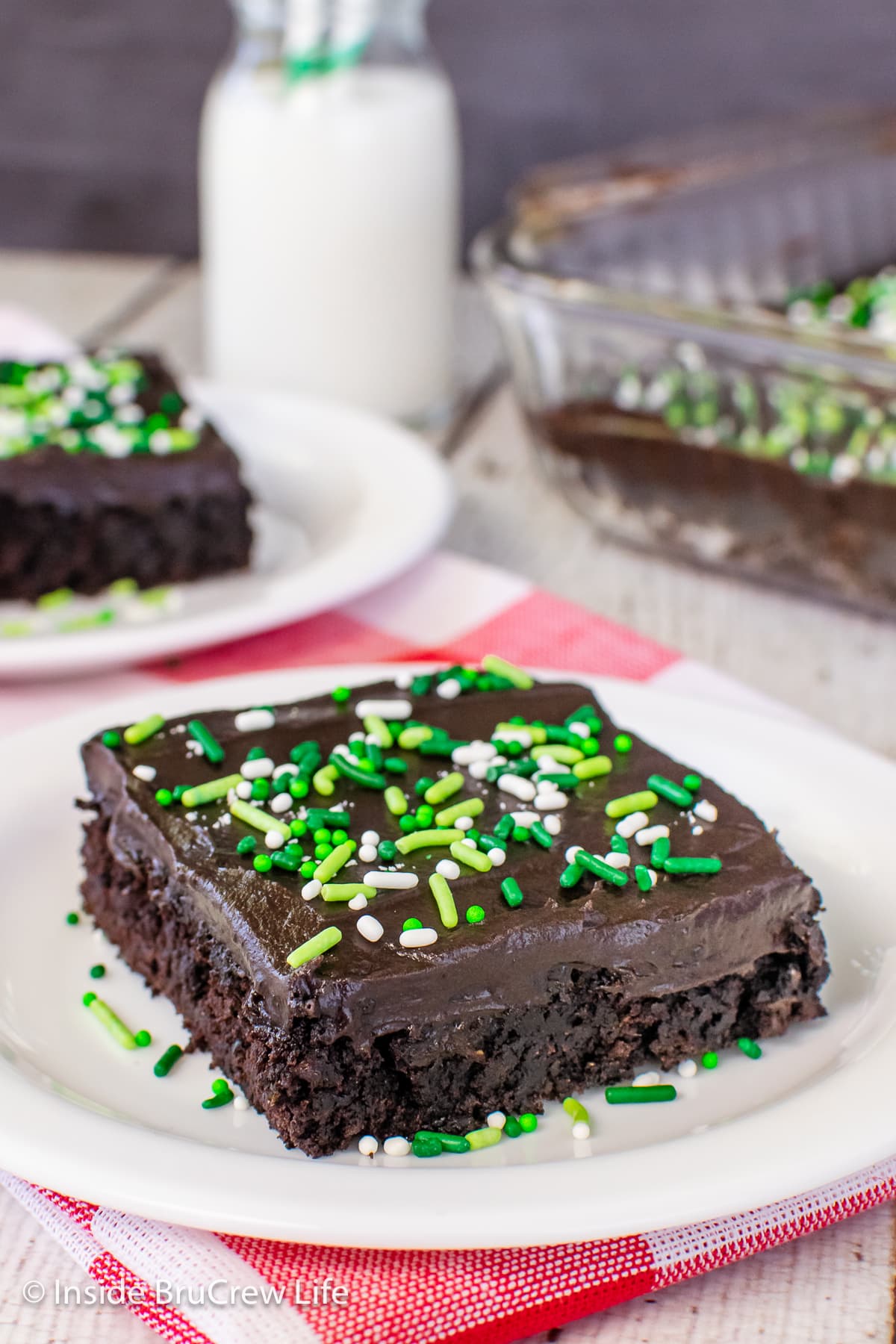 Jump to:
I look forward to zucchini season every single summer. Zucchini adds such an amazing and moist texture to baked goods.
A zucchini bundt cake, chocolate chip zucchini bread, and some zucchini cake were on my list to make. The first cake recipe I tried was way too sweet. So, I used less sugar, and then tweaked it further with coconut oil and dark cocoa powder.
It turned out to be the best chocolate zucchini cake I have ever had. Trust me, no one will know that there are veggies hiding under all that chocolate.
Why This Zucchini Cake Works
This chocolate zucchini cake is so good, it'll make you want to get more zucchini from the garden or market. Get ready to be the super hero that turns vegetables into a decadent summer dessert.
Secret ingredient. Chocolate and zucchini might seem like an odd combination, but they go together so well. The rich chocolate goes so well with the moist and mild zucchini flavor. The result is an amazing cake that you won't be able to stop eating.
Moist and tender texture. Shredded zucchini adds moisture to the cake, making it super soft and tender to bite into. This super ingredient adds a delightful texture to your cake that will leave you wanting more. Say goodbye to dry cakes and hello to a the best way to eat veggies.
Way to use up excess veggies. If you have extra zucchini from your garden or a generous neighbor, this recipe is a fantastic way to use them. It's a win-win situation. You get to enjoy a delicious cake, and those zucchinis don't go to waste.
Sweet chocolate frosting. This cake can be enjoyed on its own, but adding frosting takes it to another level. The creamy and sweet frosting enhances the rich chocolate flavor of the cake. Plus, it makes the cake look even more enticing.
If you love dark chocolate cake, then you should try this Dr Pepper cake and this flourless chocolate cake as well.
Key
Ingredient

s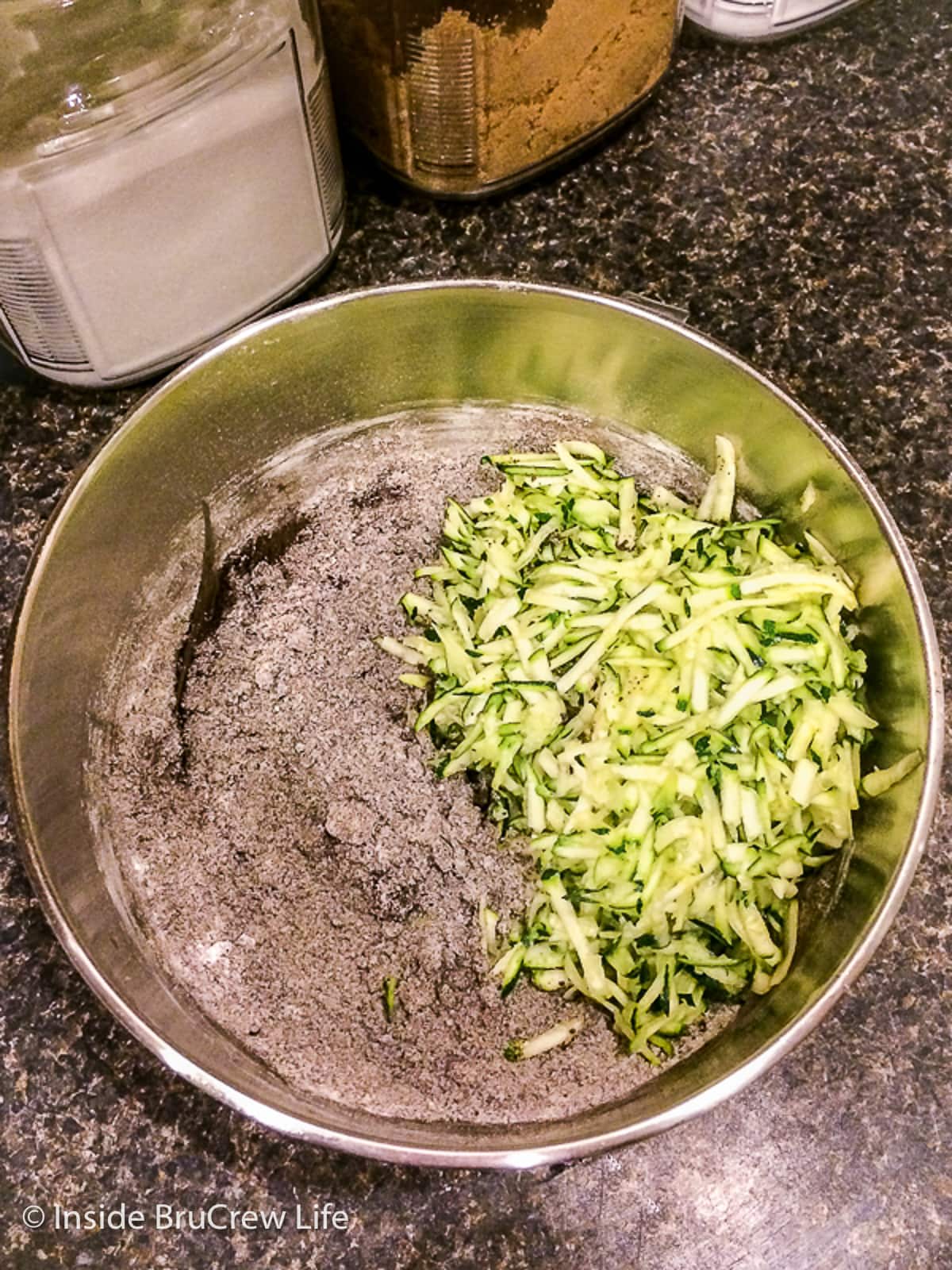 The secret ingredient in this gooey moist chocolate zucchini cake is the grated zucchini. Most recipes have you squeeze the excess liquid out of shredded zucchini. This particular zucchini cake recipe needs ALL the moisture and liquid.
Coconut Oil - Use a solid coconut oil for this recipe.
Sugar - A mixture of brown and granulated sweetens this cake and gives it a good flavor.
Salt & Vanilla - Balances the sweetness and adds flavor.
All Purpose Flour - Make sure to use the spoon and sweep method when measuring flour, so you do not add too much.
Dark Cocoa Powder - Gives the zucchini cake a rich dark color and taste.
Baking Soda - Adds a little bit of lift as the cake bakes.
Zucchini - 3 medium zucchinis will yield 2 cups packed grated zucchini.
Baking with Zucchini
Zucchini has a very mild flavor, so it pairs well with just about everything. Using grated zucchini in baked goods results in a great moist texture. It also adds a boost of good healthy nutrition.
When choosing zucchini too bake with, look for ones that are small, firm, and have a shiny peel. Smaller zucchinis are better because they are more tender and usually have a higher water content.
Do not squeeze the moisture out of the grated zucchini unless the recipe specifically tells you to do it. Most zucchini recipes are written based on the water content of the vegetable. The dry ingredients and wet zucchini will perfectly balance each other out in the end product.
How to make Chocolate Zucchini Cake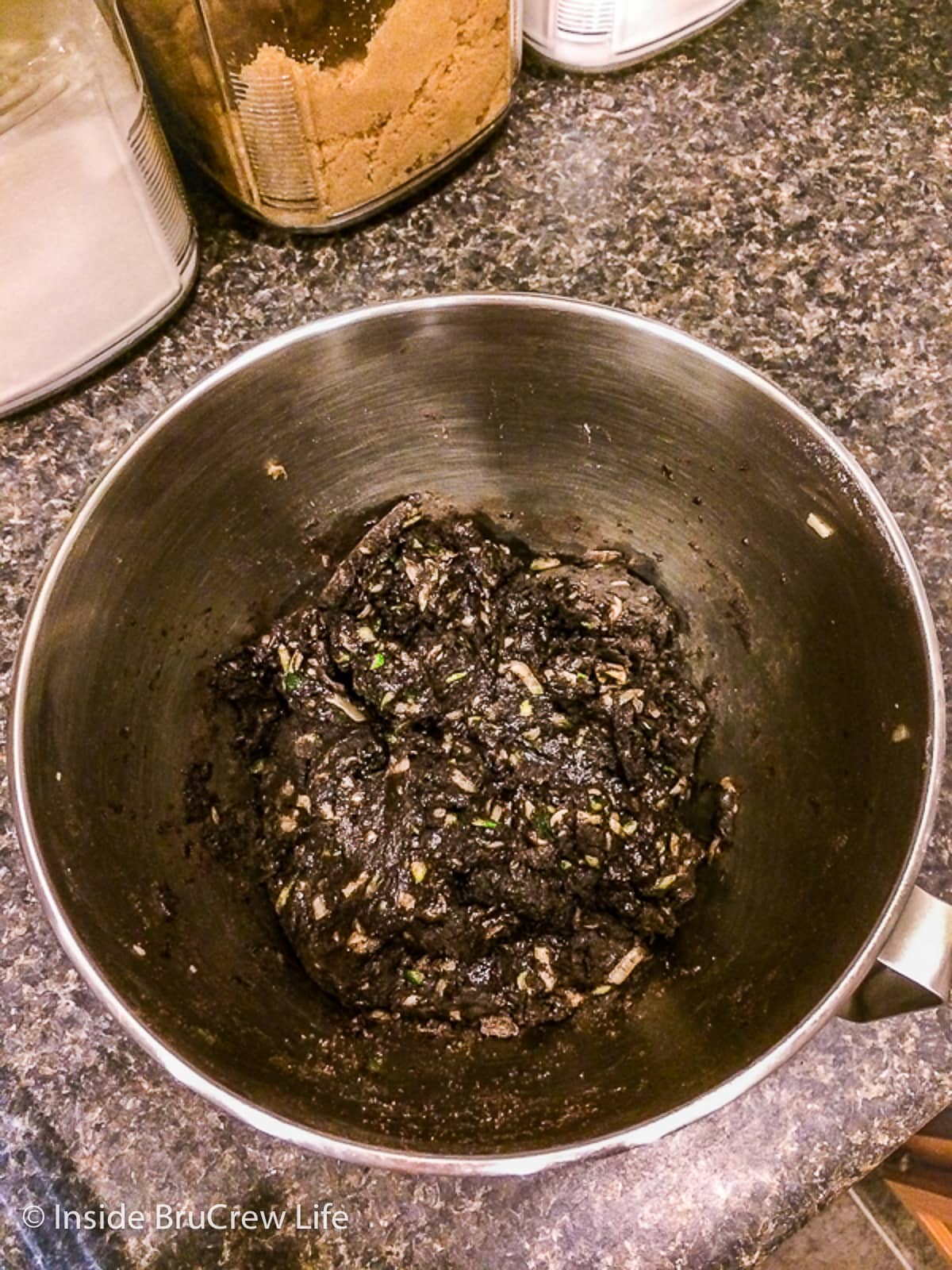 This chocolate zucchini cake recipe comes together in minutes. Just make sure you continue to beat the dry ingredients and grated zucchini until it forms a dough. If you are using a hand mixer, this may take a little bit longer.
Mix all the dry ingredients together in a large mixing bowl .
Wash, dry, and grate the zucchinis using a box grater with medium holes. Do NOT squeeze out any of the extra water. The moisture from the zucchini is needed to make the thick dough.
Add the grated zucchini to the dry ingredients and beat with a stand mixer until a dough forms. Once all the dry ingredients are wet, stop mixing.
Press the dough evenly into the bottom of a greased 9x13 pan and bake. Cool on a wire rack before adding frosting.
BruCrew Tip: A layer of fluffy dark chocolate frosting takes this zucchini cake to the next level. You can also sprinkle powdered sugar on top if you want to skip the chocolate icing.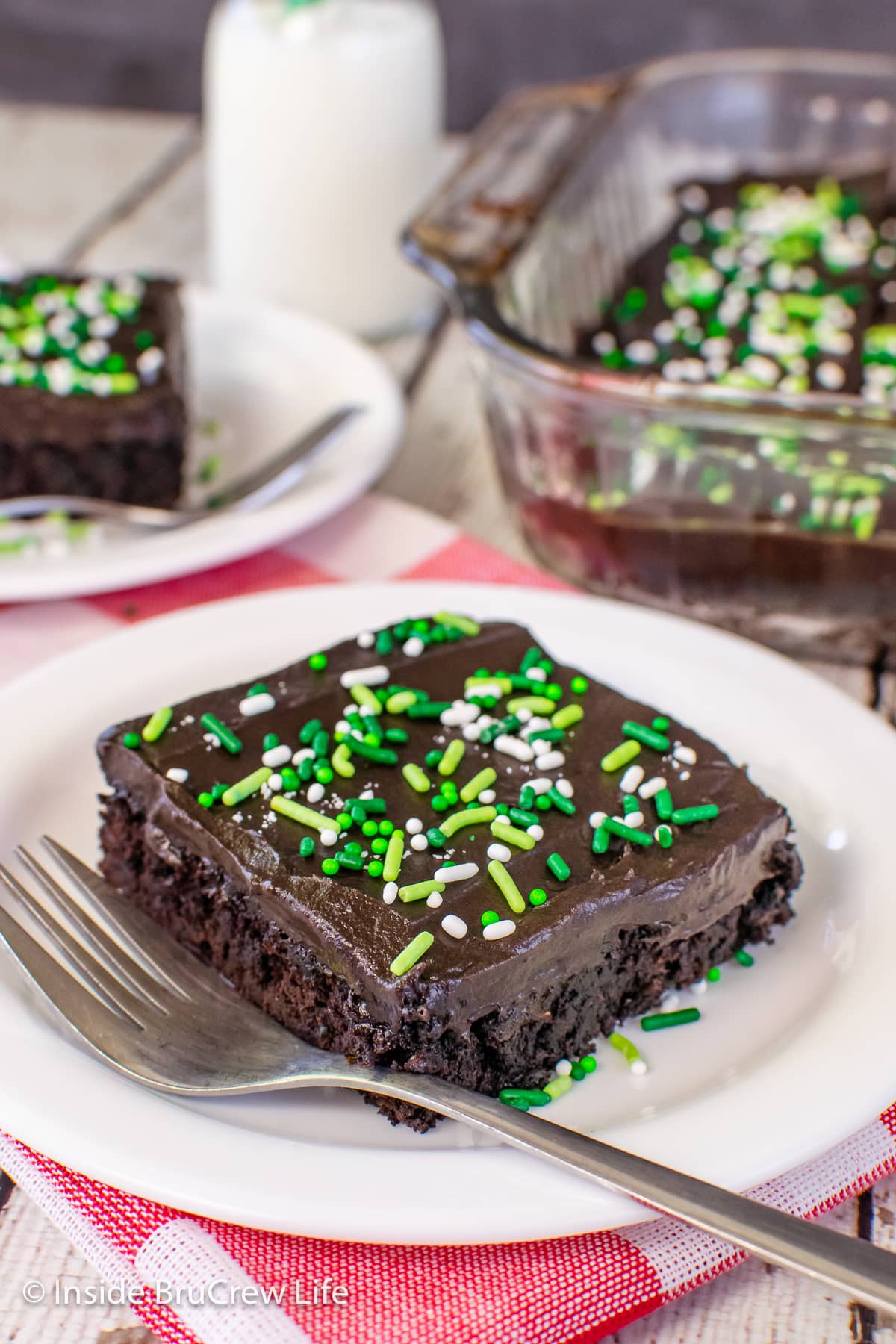 Storage Recommendations
On the Counter - This chocolate zucchini cake can be tightly covered and left on the counter for 2-3 days. I actually think it tastes even better after sitting one night.
In the Refrigerator - If you need to keep it longer, place the covered cake in the refrigerator for 4-5 days.
In the Freezer - Wrap the cooled unfrosted cake tightly in a layer of plastic wrap and foil. Place in a freezer safe bag and freeze for 1-2 months. Thaw in the refrigerator overnight, and add the frosting before serving.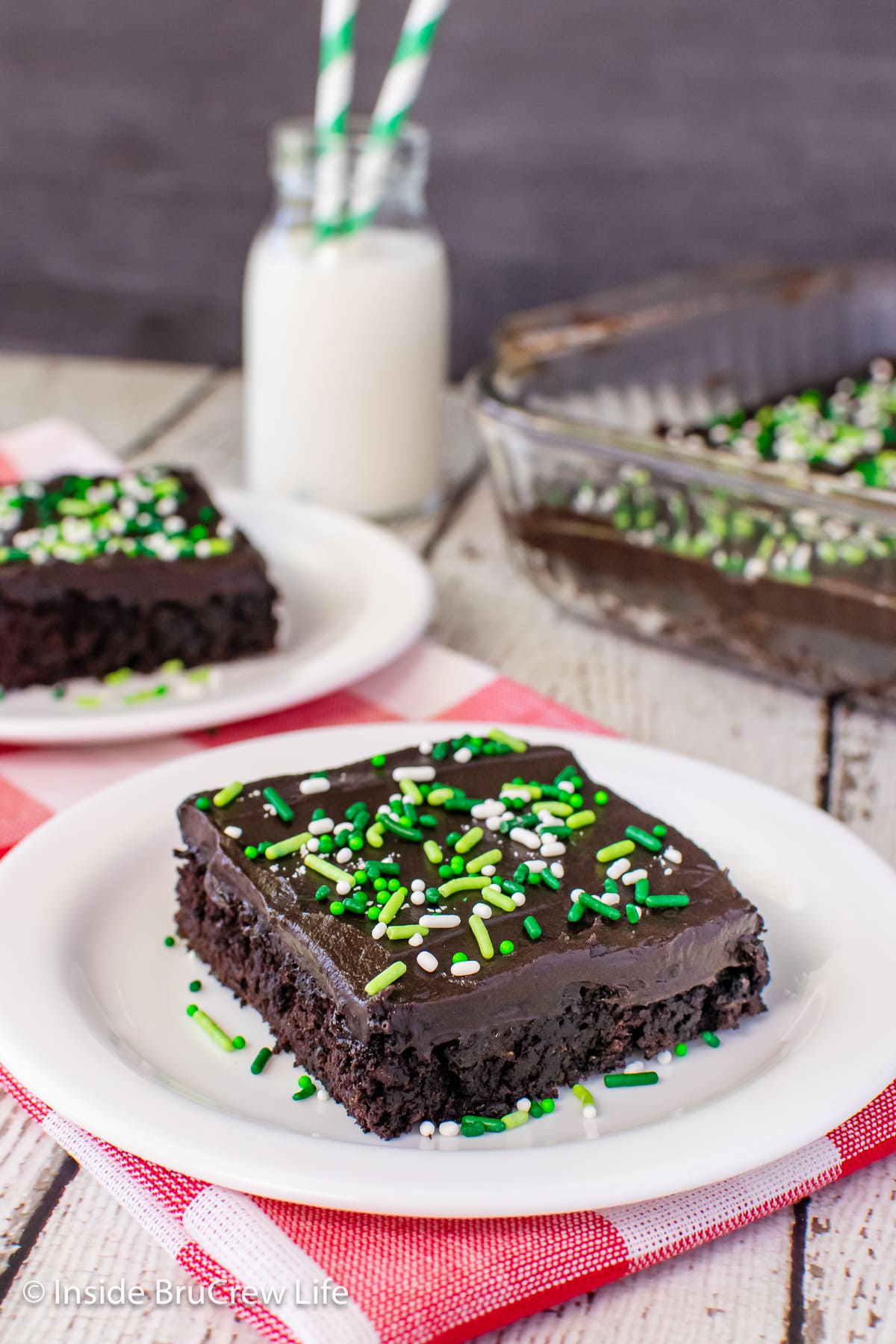 Tips and Tricks
Use young or small zucchinis for this chocolate cake recipe. Large over grown zucchinis tend to be drier, and then the cake will bake very dry too.
Do not squeeze the moisture out of the grated zucchini! The moisture in this zucchini cake comes from the water in the vegetable.
Beat the dry ingredients with the zucchini until a stiff dough forms! A stand mixer makes this much easier. Once all the dry ingredients are incorporated, stop mixing. Over mixing can result in a gummy texture.
Want extra chocolate? Stir ½ cup mini chocolate chips into the cake dough before baking it.
FAQs
How many zucchini are in a cup?
One medium zucchini is about 5 ounces. It should yield about 1 cup of sliced zucchini or ⅔ cup grated packed zucchini. 3 medium zucchinis are close to one pound and will produce two cups of grated zucchini.
Do you need to peel zucchini when using it in baking?
No, you do not need to peel your zucchini. Just wash and grate the vegetable. The peels will soften while baking, and almost seem to disappear or melt into the baked goods.
Does zucchini cake need to be refrigerated?
No, this cake with zucchini can be left out on the counter for a few days. If you need to store it for longer, then I would keep it in an air tight container in the fridge.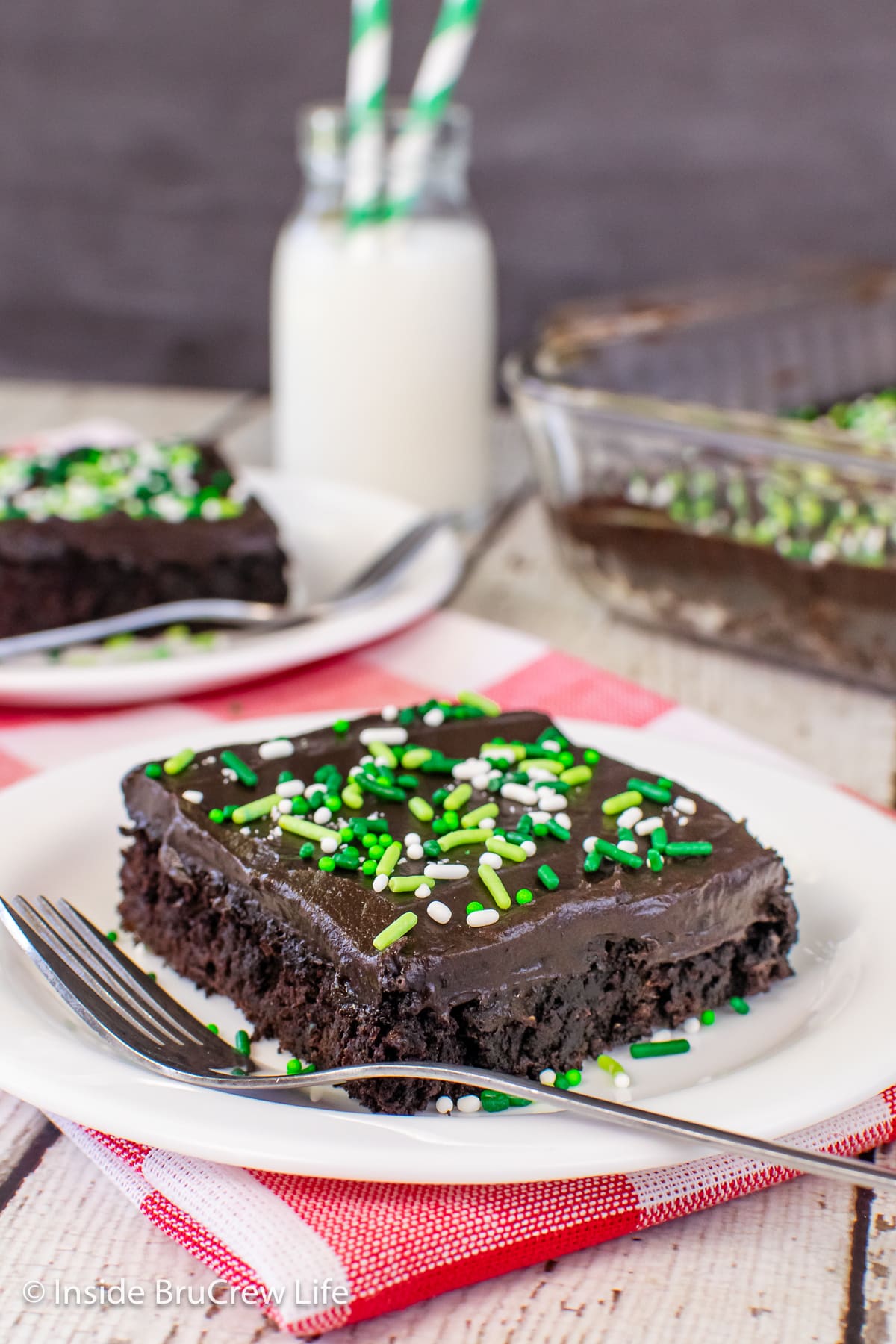 More Ways to enjoy
Chocolate Zucchini
Do you love a recipe you tried from Inside BruCrew Life?
Please leave a 5-star ⭐️ rating and a review in the comments section below.
*The post for dark chocolate zucchini cake was first published August 2014. The photos were updated July 2017, and the post was updated and republished July 2023.