Swirls of colors make these Red White and Blue Cheesecake Bars a fun dessert to share at holiday BBQ's. This super simple red, white, and blue dessert is sure to brighten your Memorial Day and 4th of July picnics. So, let's get this party started.
Add a batch of these 4th of July Cookies and your picnics will be perfect.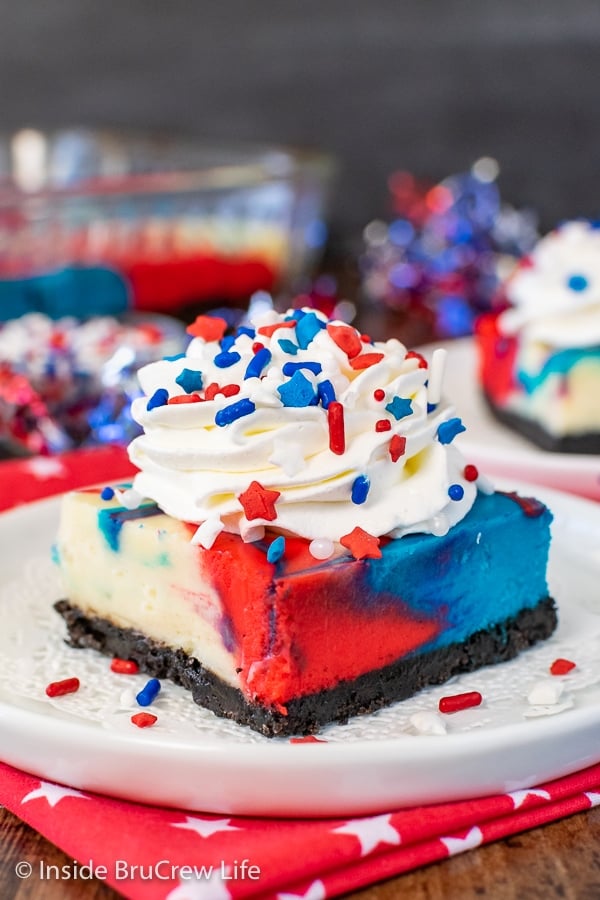 Cheesecake Bars
One of our favorite desserts is this Rainbow Cheesecake. I love that it is so easy to make and to customize for any party. You can change the swirls of color match any party theme.
All the stores have red, white, and blue decorations out right now for Memorial Day and 4th of July, so I picked a few things up for our summer picnics. One of my favorite things to do for holidays is to make a dessert that is fun and colorful, so I grabbed some star sprinkles too.
Cheesecake bars are a great way to add some color and fun to any party. I was looking through the 4th of July treats I have made over the years, and there was nothing red, white, and blue in the cheesecake section, so I had to make a red white and blue dessert right away.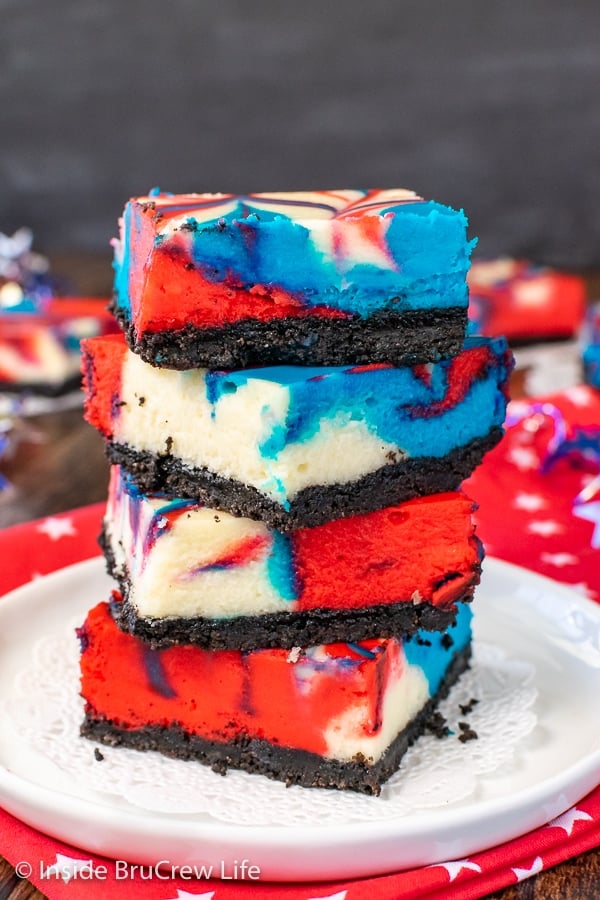 What You'll Need
The swirls in this 4th of July cheesecake are easy to do, and they make this red white and blue dessert the perfect holiday treat for picnics or parties.
Tools:
Food Processor - to crush the cookies
9x13 pan - line with foil for easy removal
Oreo Cookie Crust:
Oreo cookies - leave the filling in the cookies
Butter - unsalted and melted
Vanilla Cheesecake:
Cream Cheese - set out ahead of time to soften
Sugar - granulated sugar sweetens and smooths the filling
Vanilla Extract - adds flavor
Sour Cream - gives the bars a slight tang
Flour - adds a little structure so the cheesecake bars do not crack
Eggs - gives the cheesecake a smooth and rich texture
Gel Food Coloring - red and blue for patriotic desserts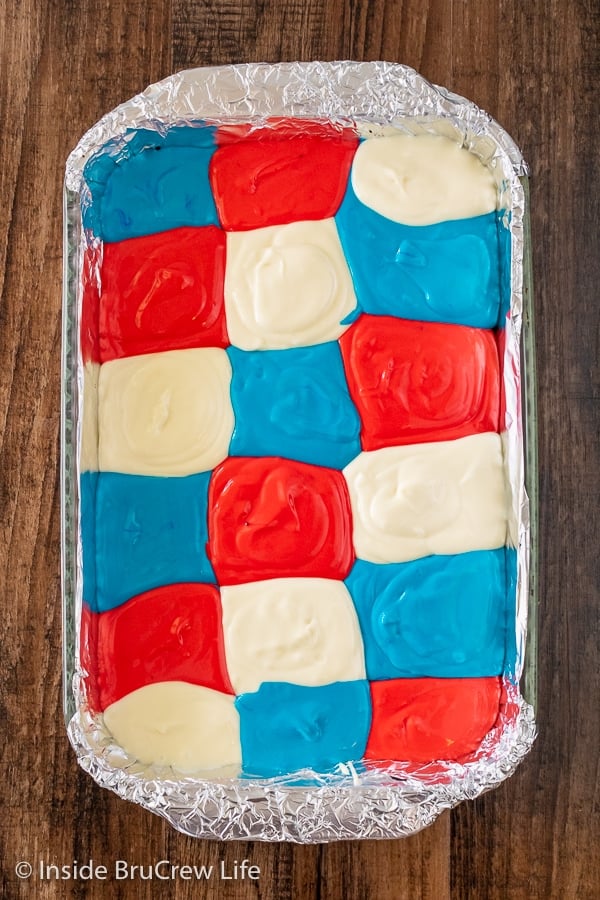 How to make Red White and Blue Cheesecake Bars:
The longest part of making cheesecake bars is the wait time after. Cheesecake has to chill for 4-6 hours, so that it has time to set up before you cut into it.
I suggest making this patriotic cheesecake the night before, so it can chill overnight.
Set the cream cheese out at least 30 minutes ahead of time. It's much easier to beat it into the sugar if it is softened first.
Crush the cookies and mix with melted butter. Press the mixture evenly into a pan.
Bake and cool the crust.
Beat the cream cheese and sugar until creamy. Add the flour, vanilla, and sour cream and beat again.
Add the eggs and mix until just mixed in. Do not over beat once the eggs are added.
Divide the cheesecake batter evenly into three bowls. Tint two of the bowls red and blue. Gel food colors will give you more vibrant colors.
Drop the batter by spoonfuls over the top of the cooled cookie crust in a grid pattern
Use a butter knife and gently drag it through the colors. Go up and down and then back and forth. Make sure you do not pull the knife through the crust!
Bake over a steam bath.
Cool completely before cutting into squares.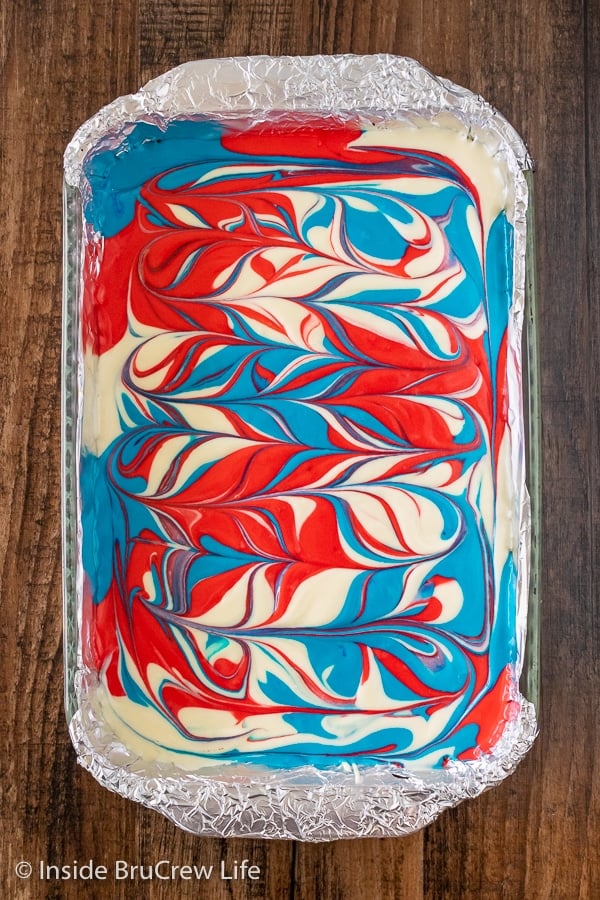 Frequently Asked Questions
Can I customize the colors of the cheesecake bars?
You sure can. Choose any colors that you like and tint the cheesecake batter with those choices.
How do you prevent cheesecake from cracking?
Set out your ingredients ahead of time, so they come to room temperature.
Do not over beat the cheesecake batter. Beating too much and too long will add air bubbles to the batter which will result in cracks in the cheesecake as it bakes.
Bake cheesecake with a steam bath. My favorite way to bake cheesecake is with a pan of water on the bottom rack of the oven. The pan of cheesecake goes on the oven rack right above it.
Do not over bake the cheesecake. The center of the cheesecake should still be a little jiggly like Jello when you pull it out. It will set up as it cools. If the whole dessert moves, go ahead and continue to bake it a little bit longer.
Loosen the cheesecake from the edges of the pan about 5 minutes after you pull it out of the oven. As cheesecake cools, it will shrink and pull on the sides of the pan. If it is still attached, it will cause cracks in the center.
What should I do if my cheesecake cracks?
Cover it with a fun topping like pie filling, chocolate ganache, or this Whipped Cream recipe, and no one will ever know.
How do you cut cheesecake bars cleanly?
The best way to cut slices of cheesecake cleanly is to use a hot knife for each cut. Dip the knife in hot water and wipe with a clean towel before making each cut.
Can you freeze cheesecake?
You certainly can. Cheesecake will keep for1-2 months in the freezer. Cheesecake can be frozen whole or cut up into slices. If you are making it ahead of time for a party, wrap and freeze it whole. If you have leftovers, freeze individual squares for future snacking enjoyment. Thaw overnight in the fridge before serving.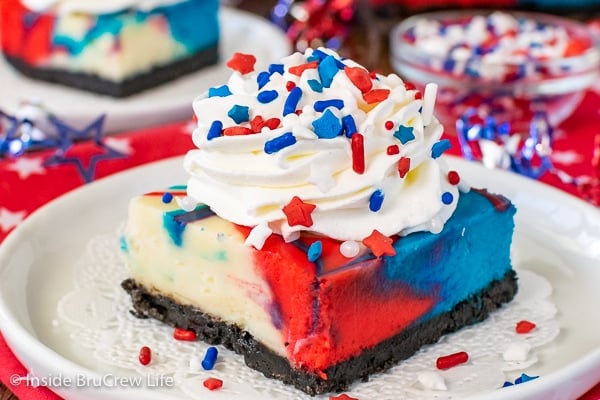 How to Freeze Cheesecake
After baking, let the cheesecake cool for 1-2 hours on the counter, then refrigerate until completely chilled.
If you are freezing the cheesecake whole, place it on a board or pan and wrap tightly with plastic wrap and foil. If you are freezing individual slices or squares, wrap each one tightly in plastic wrap and then again in foil.
Place in the freezer for 1-2 months. Thaw in the fridge overnight or at least a few hours before serving. Once thawed, add Homemade Whipped Cream and sprinkle decorations.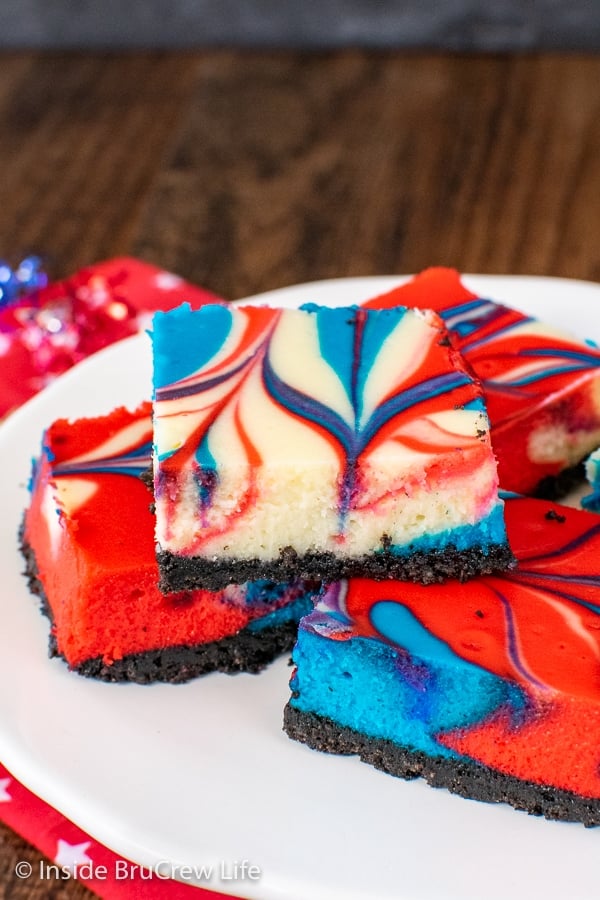 Other Red White and Blue Desserts: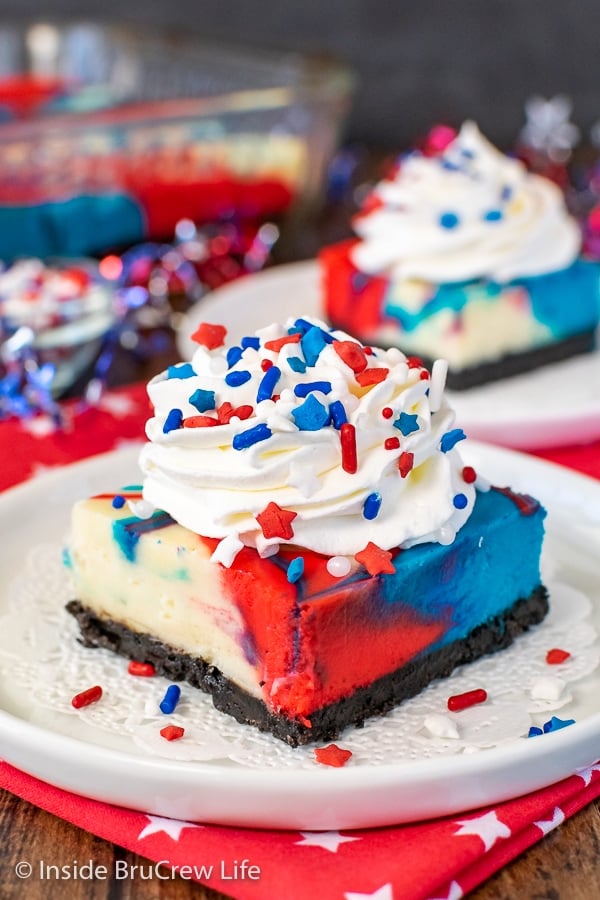 Do you love a recipe you tried from Inside BruCrew Life?
Please leave a 5-star ⭐️ rating and a review in the comments section below.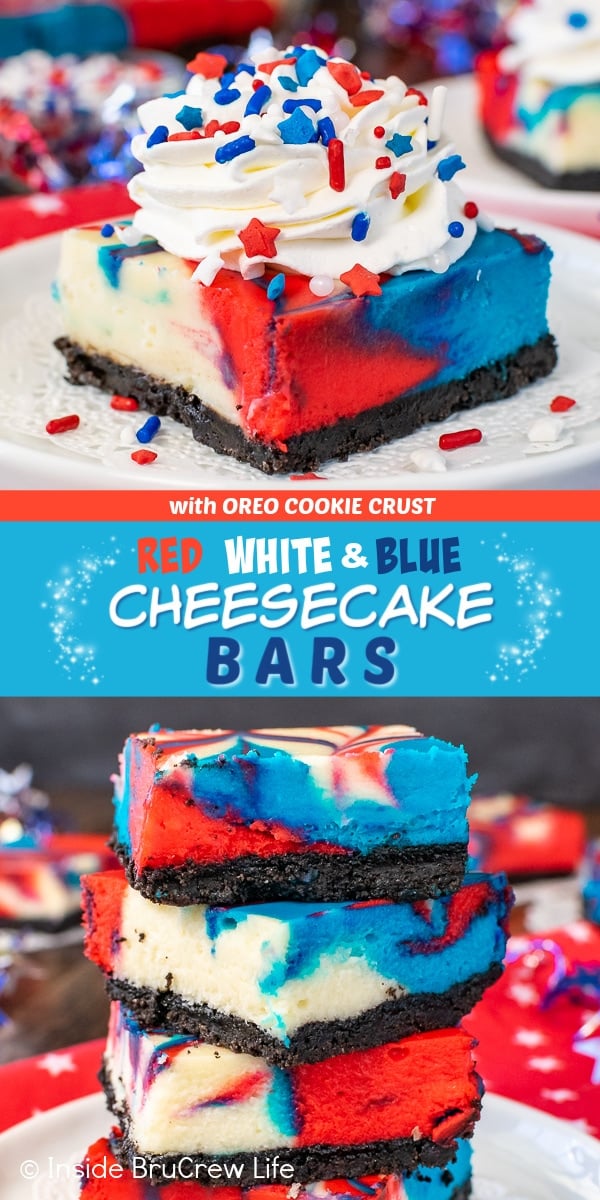 *The post for Red White and Blue Cheesecake Bars was first published May 25, 2017. The post was updated and republished May 26, 2021