Whether you are trying to meal prep ahead or are planning meals for an emergency, here are 15 Easy Pantry Recipes to help you get started.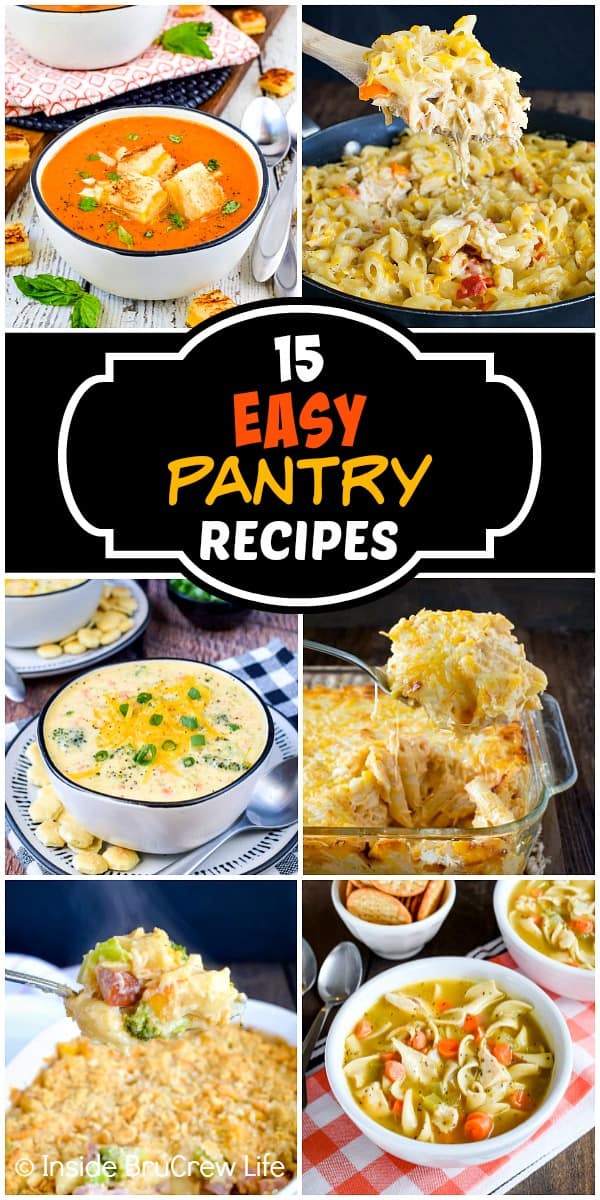 CLICK HERE TO PIN THIS RECIPE FOR LATER!
Life right now looks so much different than it did a week ago. Stores have been wiped out of food, toilet paper, and medicines as people stock up in order to be prepared.
As we navigate this unreal time in our country, let's choose to stay calm and not panic. Fear and worry doesn't help us make helpful decisions or allow us to be positive.
I know we are confused and sad about all that has happened so far, but worrying won't change anything. Luke 12:25 says, "Who of you by worrying can add a single hour to your life?"
Together let's do our best to choose focus over fear. Help others, stay hydrated, wash your hands, get plenty of sleep, and eat well.
With everything going on in the world, I have gotten requests for recipes that are easy to make and how to use pantry staples for dinner.
I have put together a list of 15 meals that utilize canned goods, refrigerated or frozen items, and room temperature non-perishable items. Feel free to get creative and use different items in each recipe to utilize the staples you have.
Non-perishable items to stock in your pantry:
Rice, beans, pasta, tomato sauce
Tortillas, bread, potatoes
Flour, sugar, spices, chocolate chips
Soups, canned veggies, chicken broth
Tuna, canned chicken, evaporated and powdered milk, shelf stable almond milk
Peanut butter, honey, oats, cereals
Foods that will keep for a while in the fridge or freezer:
Fridge: cheese, butter, eggs, garlic, carrots, celery
Freezer: meats, frozen veggies, frozen fruits