Marshmallow ears and candy eyes make these Bunny Cupcakes so adorable. This chocolate cupcake recipe is so easy to make with vanilla frosting, coconut, marshmallows, and sprinkles. Perfect treat for Easter or a cupcake decorating party.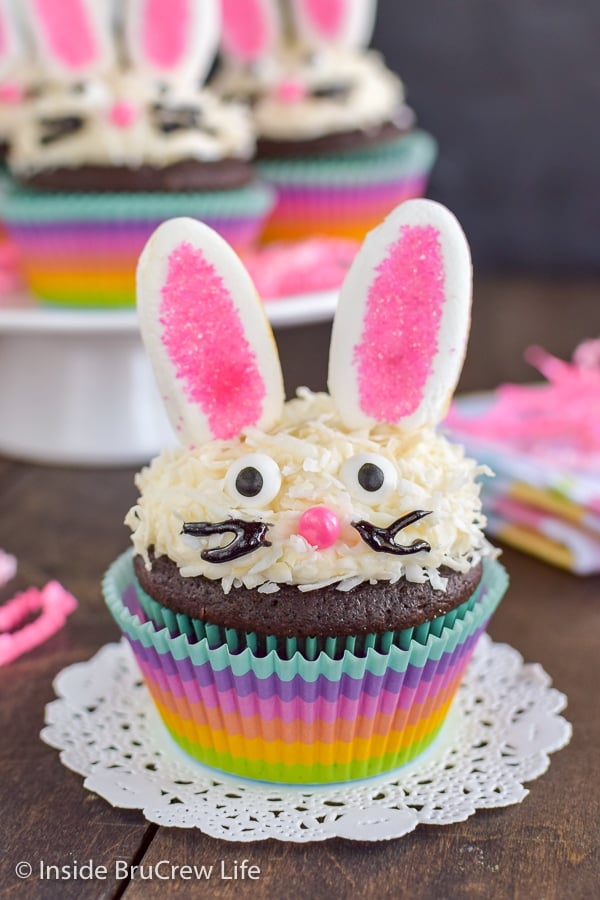 Do you remember getting those giant chocolate bunnies in your Easter basket as a child? I swear they were at least 2 feet tall and were made of solid milk chocolate.
They were so big, that you were chewing on that chocolate bunny all the way until July!! Ok, ok, so maybe I'm stretching that part of it.
One of the running jokes in our house around Easter is all about the chocolate bunnies in the store. My husband says that over the years my mind has forgotten what those bunnies really looked like.
He also says there is no way that a 2 foot bunny would be solid because it would have cost a small fortune. I still say those chocolate bunnies were that huge!!!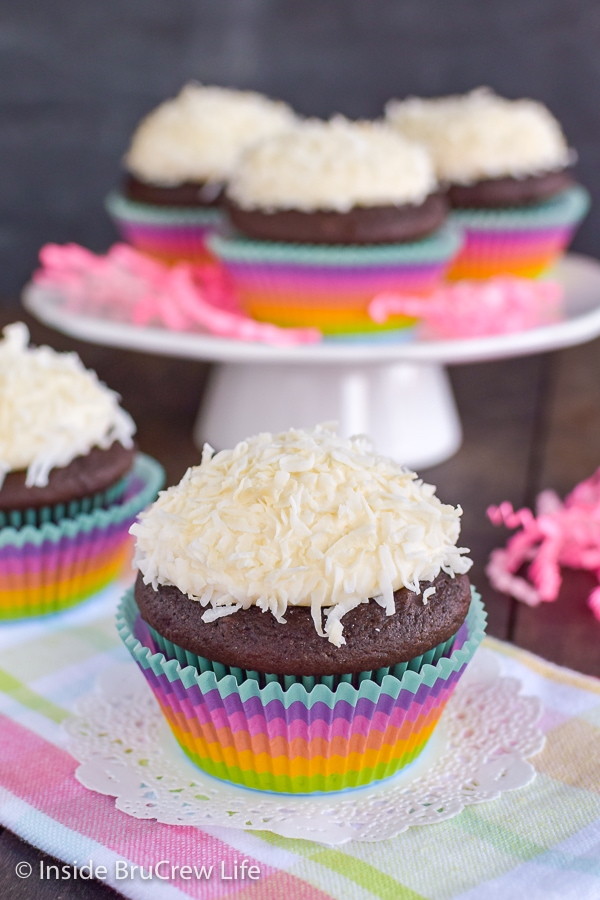 One of my favorite things to use on holiday desserts are googly eyes because they make me smile so much. I love finding ways to use those fun candy eyes, so I couldn't wait to make a cute bunny cupcakes with marshmallow ears!
If you are looking for other bunny treats to make for Easter, check out these Oreo bunnies, bunny butt rice krispies, and marshmallow bunnies.
Ingredients Needed
Cake Mix - use a chocolate or vanilla box mix
Vanilla Frosting - homemade or canned frosting works
Shredded Coconut - unsweetened or sweetened for bunny fur
Stacker Marshmallows & Bunny Cookie Cutter - cut out ears
Corn Syrup & Pink Sanding Sugar - syrup and sugar makes the inside of the ear pink
Candy Eyes & Black Sparkle Gel - fun bunny face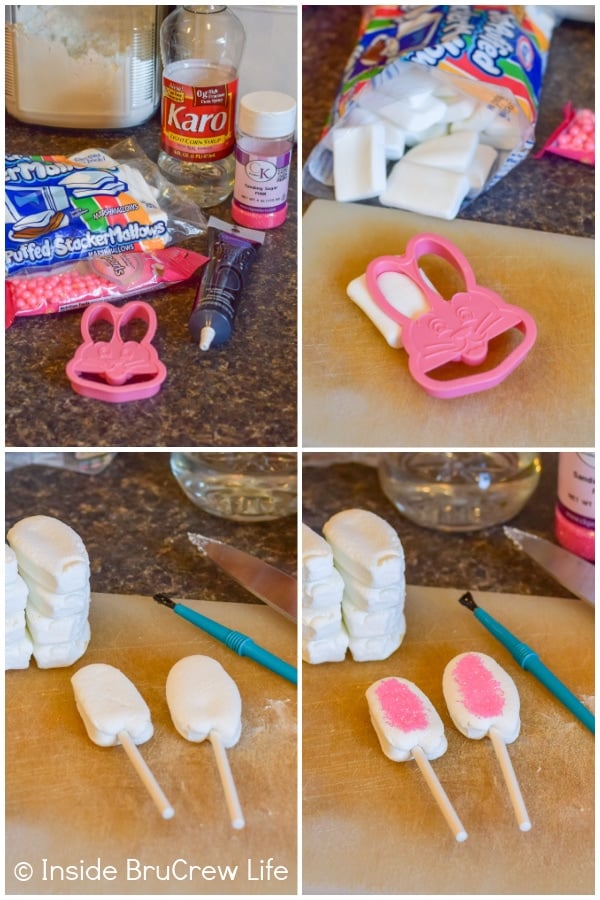 How to make Bunny Cupcakes
These chocolate bunny cupcakes really are quite easy to make and decorate. Let's hop into the kitchen and get started.
Step One: Make Cupcakes.
Mix together the cupcake ingredients in a mixing bowl.
Fill 24 cupcake liners and bake.
Step Two: Frost Cupcakes.
Spread vanilla frosting on the cooled cupcakes.
Roll the top in shredded coconut.
Step Three: Make Bunny Ears.
Use a bunny cookie cutter to cut ears out of flat marshmallows.
Cut a hole in the bottom of each ear and press a short lollipop stick into it.
Spread a thin layer of corn syrup with a candy paintbrush in the middle of each ear and sprinkle with pink sanding sugar.
Step Four: Decorate Cupcakes.
Press the ears, candy eyes, and pink candy into the cupcakes.
Pipe whiskers on with black gel frosting.
CLICK HERE TO PIN THIS RECIPE FOR LATER!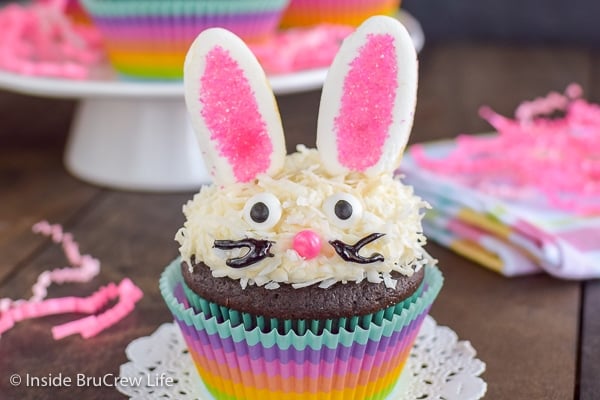 FAQ'S
Do you have to use a box cake mix?
Not at all. Feel free to make and bake your favorite chocolate cupcake recipe from scratch instead of using a box mix.
How do you store these Easter cupcakes?
Keep the decorated cupcakes in a sealed container on the counter. They will stay fresh for 2-3 days.
How do you make colored sugar?
Place granulated sugar in a plastic bag or a glass jar with lid along with a few drops of food coloring. Mix or shake until the color is distributed and even. Spread evenly on a sheet pan and let dry.
How many bunny cupcakes does this make?
This recipe makes 24 cupcakes. You can decorate those cupcakes in a few different ways if you do not want that many bunnies. See more ideas in the next section.
Topping Ideas for Easter Cupcakes
Coconut - vanilla frosting & shredded coconut
Nests - coconut (white or tinted green) & candy eggs
Bunny - marshmallow ears & candy eyes
Lamb - vanilla frosting, mini marshmallows, peanut butter cup decorated with a face
Chicks - yellow frosting, yellow tinted coconut, orange candy beak, eyes
Carrots - orange frosting & green string candies
Carrot Patch - chocolate frosting, Oreo cookie crumbs, orange chocolate covered strawberries
Peeps - colored frosting & marshmallow Peeps
Flowers - green frosting, large marshmallows cut in half diagonally, colored sanding sugar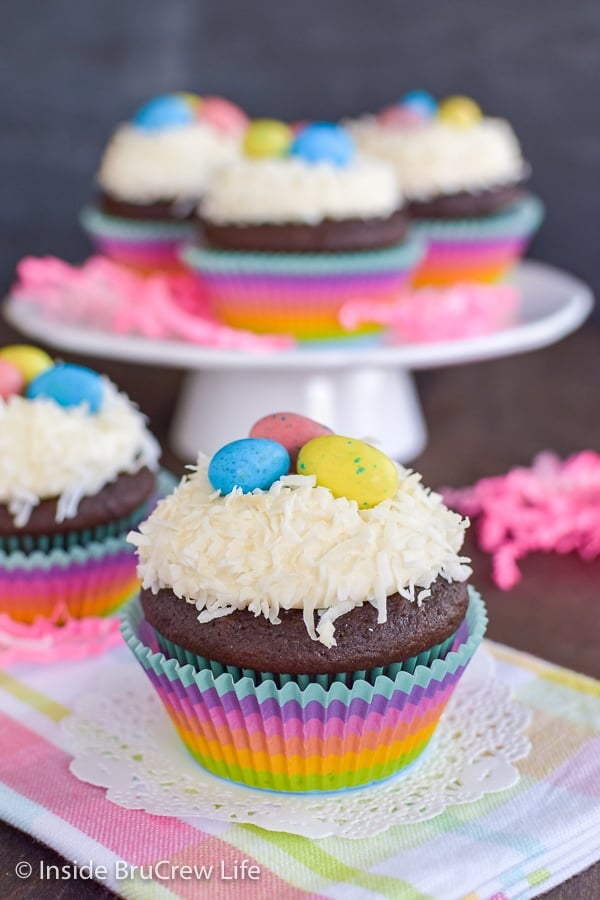 More easy Easter desserts
Other Easter Recipes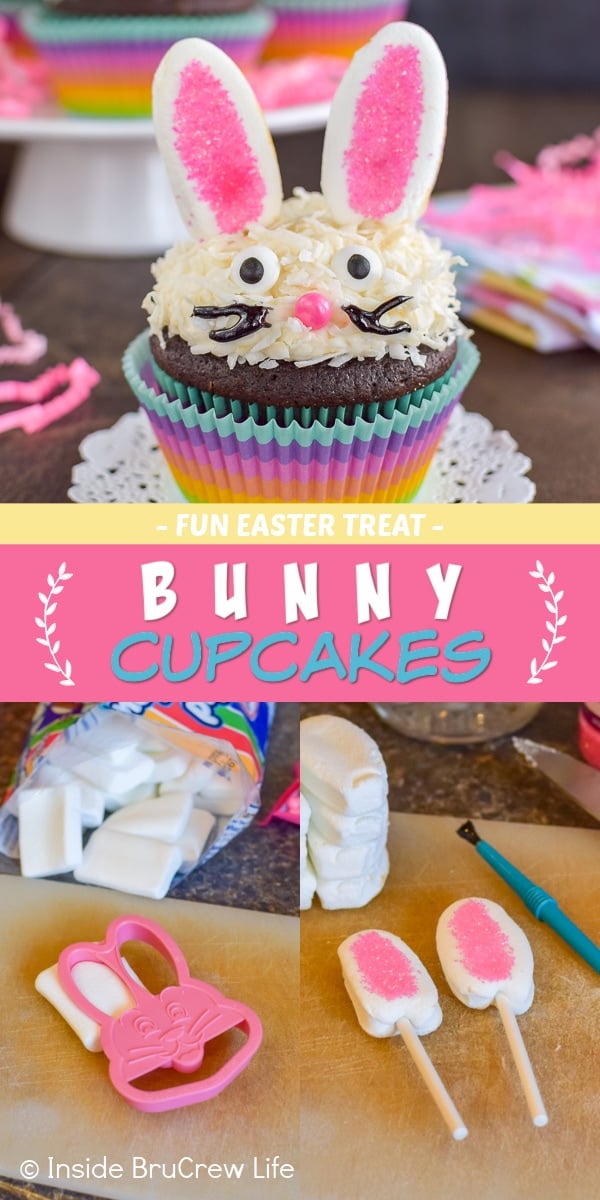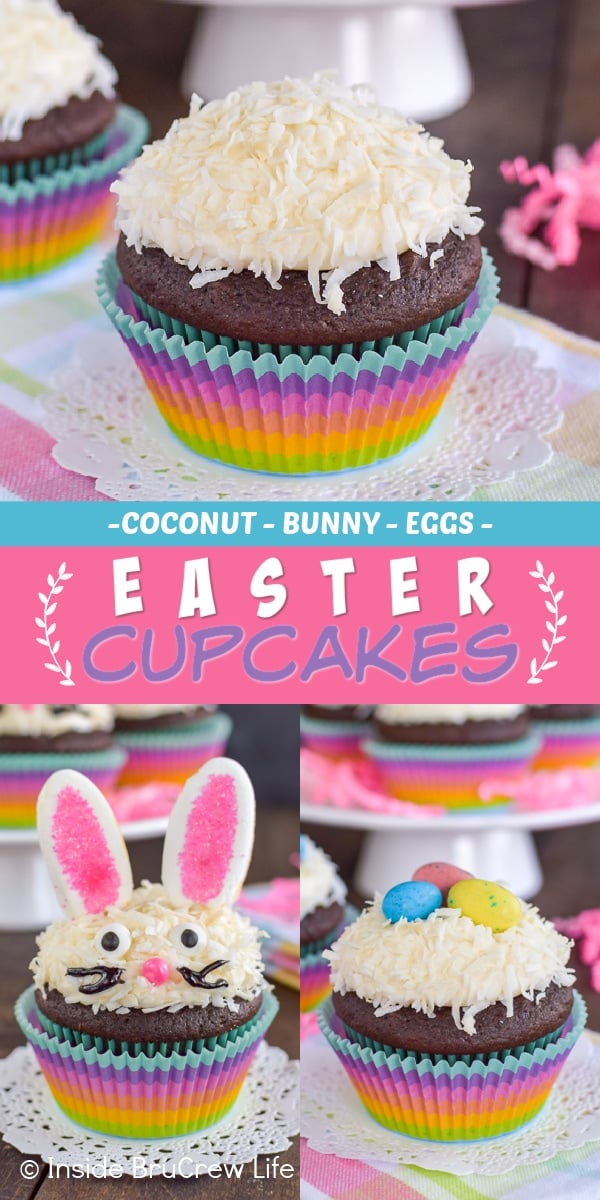 *The post for Chocolate Coconut Bunny Cupcakes was first published March 25, 2015. The photos and post were updated and republished March 19, 2021.