These sweet Blonde Brownies are chewy, delicious, and loaded with so much fun! Get creative with the leftover bags of cookies, candy, and chocolate in your pantry. This best blondie recipe is easy to make with one bowl and 15 minutes.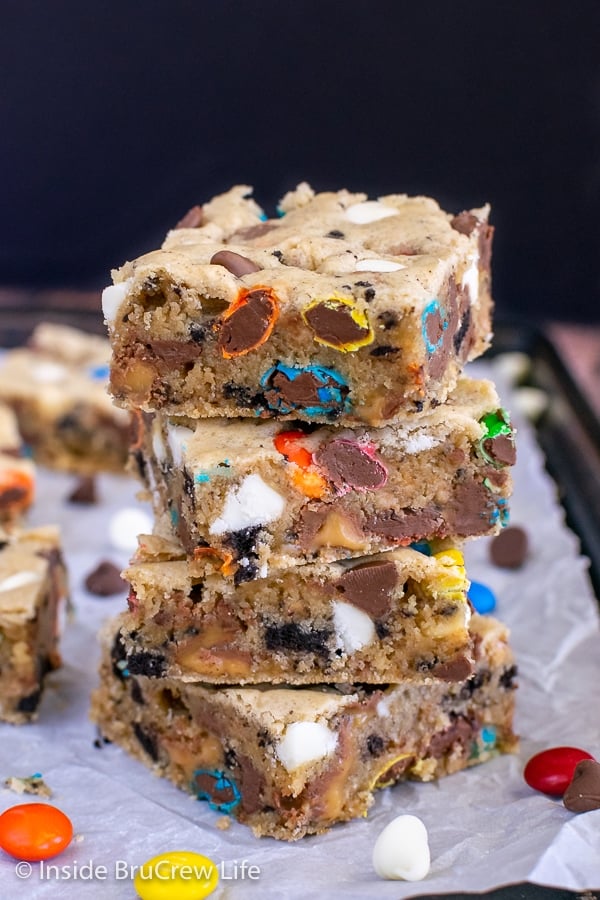 Jump to:
Blonde brownies are one of our favorite desserts. When I need a quick treat, I always bake a pan of blonde brownies. They are easy to mix up in one bowl and are so easy to customize with your favorite mix-ins.
Prefer a loaded cookie? Check out these popcorn cookies or these chocolate Oreo cookies. They are loaded with all kinds of goodness!
This blondies recipe is one that I have been making since high school. Everyone loves blondies because they are chewy, buttery, and have a delicious brown sugar flavor.
We like to under bake our cookie bars because our family prefers them slightly gooey and delicious. If you want yours a little more done and easier to pick up, make sure you bake them the full time.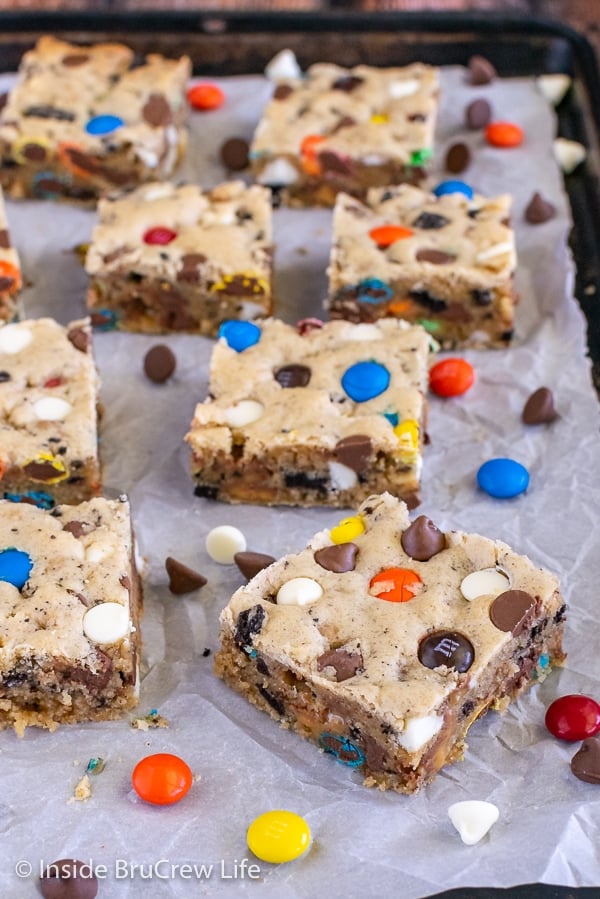 What is a blondie?
A blondie is a cookie bar made with vanilla and brown sugar. The brown sugar and butter combination creates a thick butterscotch/caramel tasting bar cookie.
Please do not substitute margarine in place of the butter. It doesn't work well and will not taste good.
A basic blonde brownie recipe is perfect for adding a variety of different of mix-ins. There is no wrong answer here. Have fun and empty all the bags into the cookie dough.
About this Recipe
Blonde brownies that have a slight crisp on the edge, a gooey, chewy middle, and are loaded with all kinds of chocolate and candy are the best!
I used the recipe for these Blonde Brownies and added all the opened bags of candy and chocolate chips from our pantry, plus some candy bars into the dough! Best idea ever!!!
These loaded blondie bars are so full of delicious goodness. The mix of caramel candy bars, Oreo cookies, M&M's, chocolate chips, and toffee bits made them absolutely amazing!
Ingredients Needed
You only need a few ingredients to make brown sugar blondies. You probably have most of them in your pantry and fridge already. Use whatever you have on hand for the mix-ins.
Butter - set the butter out ahead of time, so it is softened
Brown Sugar - gives the blonde brownies a chewy, caramel taste
Eggs - adds moisture to the batter
Vanilla, Salt - adds flavor and balances out the sweetness
Baking Powder - provides just a little bit of lift and rise during baking
Flour - make sure you measure the flour properly (spoon and sweep). Too much flour can cause your blonde brownies to be dry and cakey.
Mix-Ins - use your favorite candies, cookies, or chocolates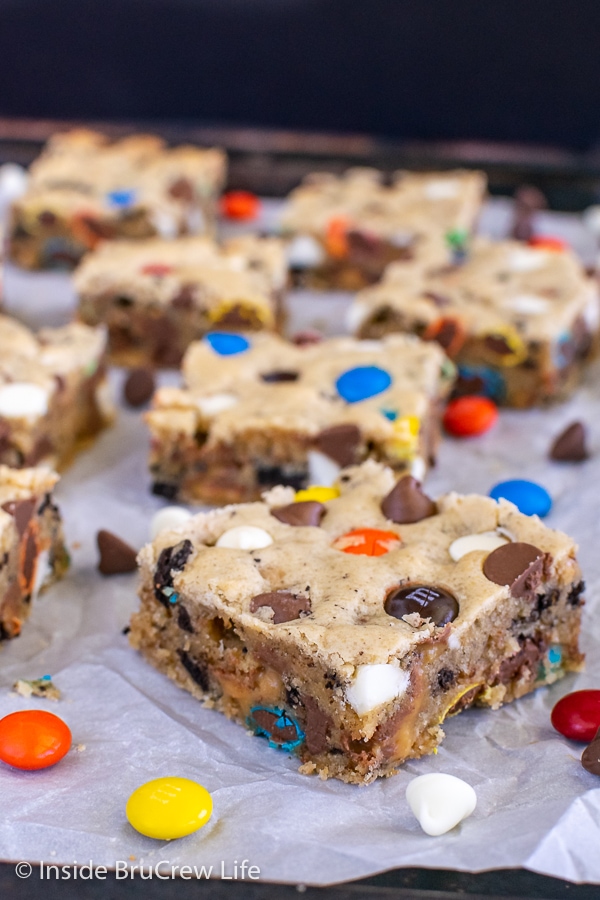 How to make Loaded Blonde Brownies
Line a pan with parchment or foil. Spray with nonstick baking spray.
Beat the butter and sugar until creamy.
Add the eggs, vanilla, and salt and mix again.
Slowly mix in the flour and baking powder.
Add your favorite candies or chocolate to the batter gently.
Spread in the prepared pan and bake.
Fun with Mix-ins
Blondies are the perfect dessert for adding extra mix-ins and toppings. Get creative with what you have in your kitchen right now.
baking chips - white, chocolate, butterscotch, peanut butter
candy - toffee bits, M&M's, Reese's Pieces, Peanut Butter Cups, Rolos, any candy bar
fruit - craisins, chocolate covered raisins, banana chips, shredded coconut
cookies - Oreos, Nutter Butters, chocolate chip cookies
spreads - peanut butter, marshmallow fluff, cookie butter
nuts - almonds, pecans, walnuts, pistachios, macadamias, peanuts
spices - cinnamon, all spice, pumpkin pie spice, Cinnamon and Sugar
any combination from above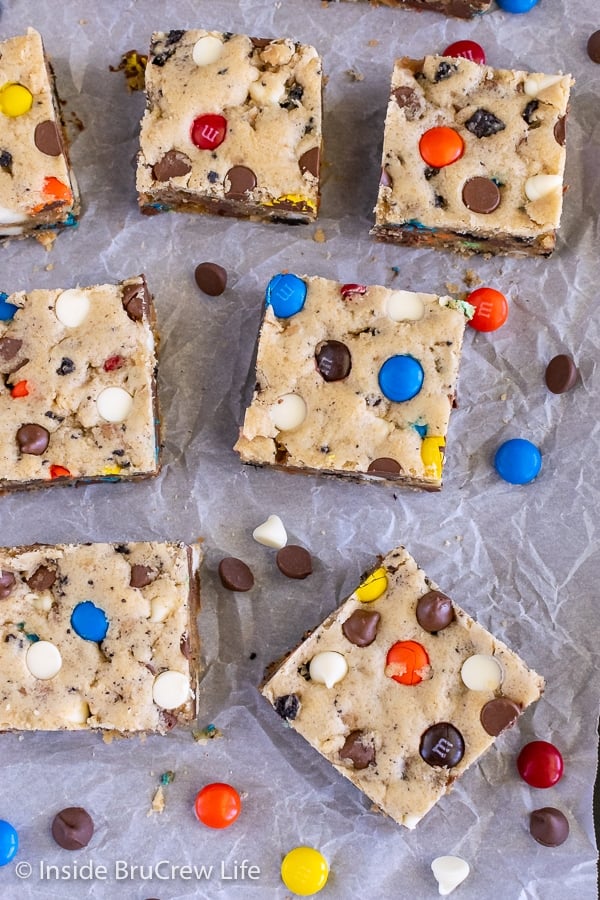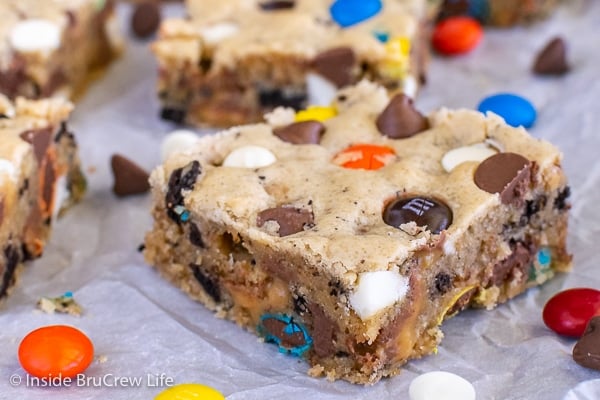 Recipe Notes
Set the butter out ahead of time, so it is softened to room temperature.
Measure the flour correctly. Too much can result in a cakey or dry blondie.
Do not over bake! They will look under done when you take them out of the oven. The blonde brownies will continue to bake as they cool and set up.
Cool the loaded blonde brownies completely before cutting them into bars.
If you are making chewy blonde brownies for a bake sale, make sure to bake them the full time, so you can cut nice, firm bars.
Storage Tips
Blonde brownies are the best because you can make them ahead of time. In fact, it is best to make them early, so they have time to cool and set up before you cut them.
Store the blondies at room temperature in a tightly sealed container for 2-3 days.
Freeze the blonde brownies for 2-3 bars. You can freeze the entire pan of cookies or freeze each one individually. If you are freezing the whole pan, bake the easy cookie bars in a disposable tinfoil container.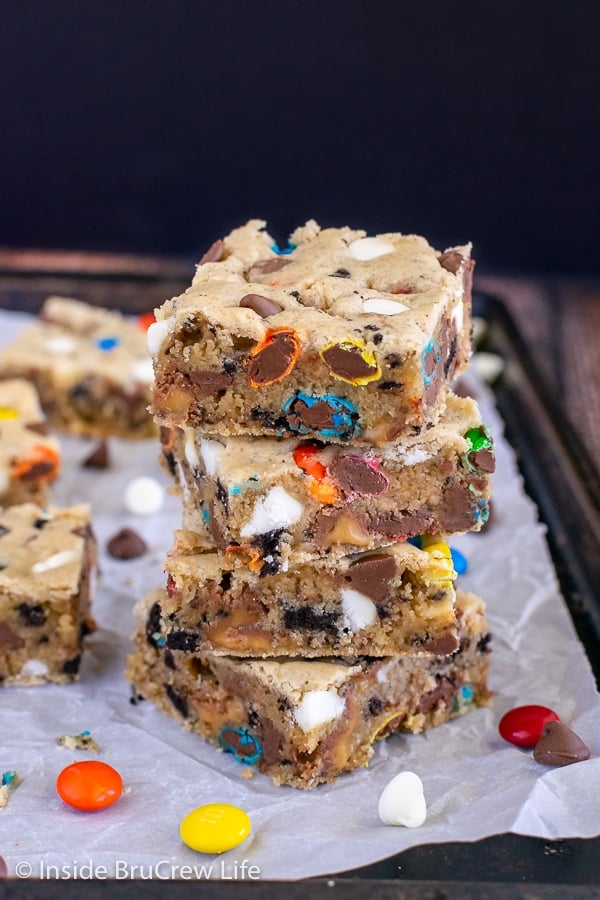 Other blonde brownie recipes
More bar cookies recipes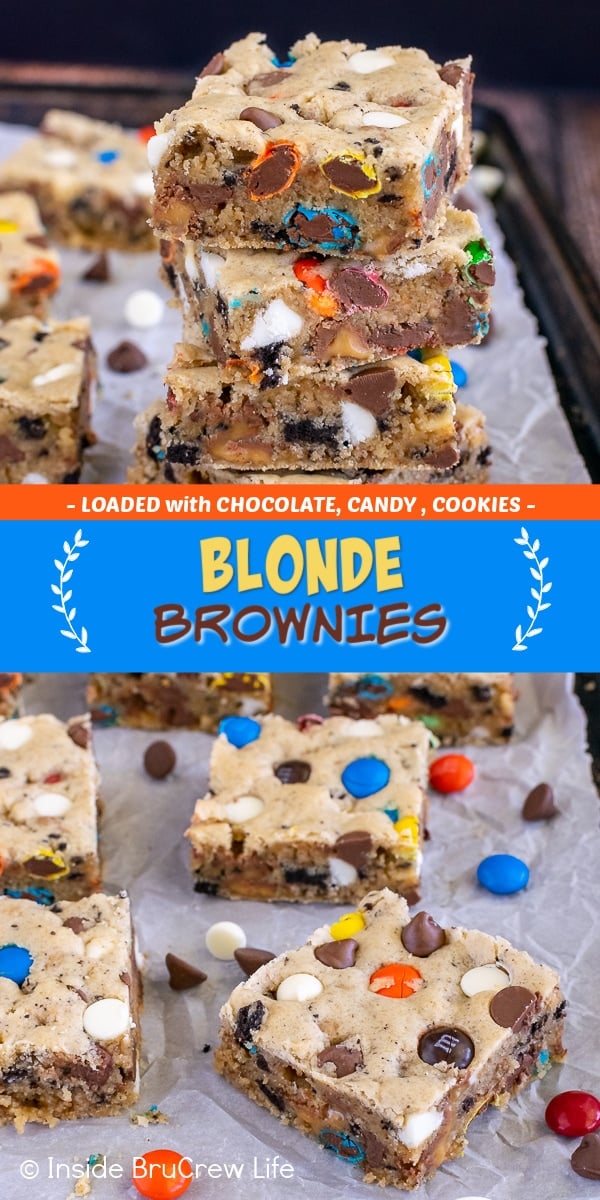 *The post for Loaded Blonde Brownies was first published on March 19, 2012. The photos were updated July 2016, and the post was republished on April 16, 2021.