This Oreo Fudge Cappuccino Ice Cream will be a hit with everyone this summer. It's easy to transform a two ingredient ice cream recipe into a gourmet flavor with Oreo cookies and hot fudge.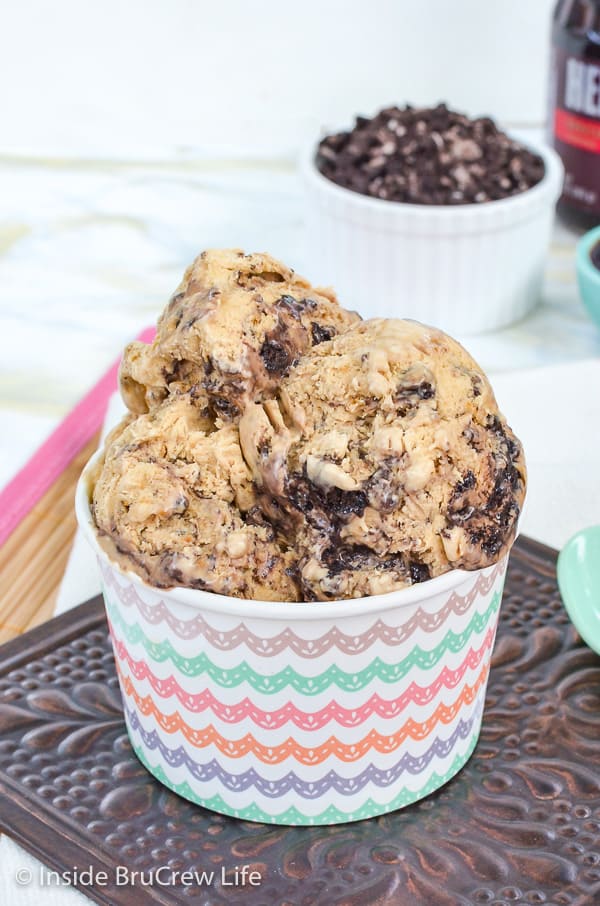 About a month ago I told our kids that I was going to make a batch of two ingredient ice cream, and I needed some suggestions for mix-ins. Right away our youngest son yelled out cappuccino.
He used to sneak sips of my coffee when he was little, so it didn't surprise me that he wanted coffee ice cream. Our daughter's suggestion was Oreo cookies. I was loving their ideas.
Since it has been hot and steamy here in Florida, I couldn't wait to fill the freezer with this delicious ice cream.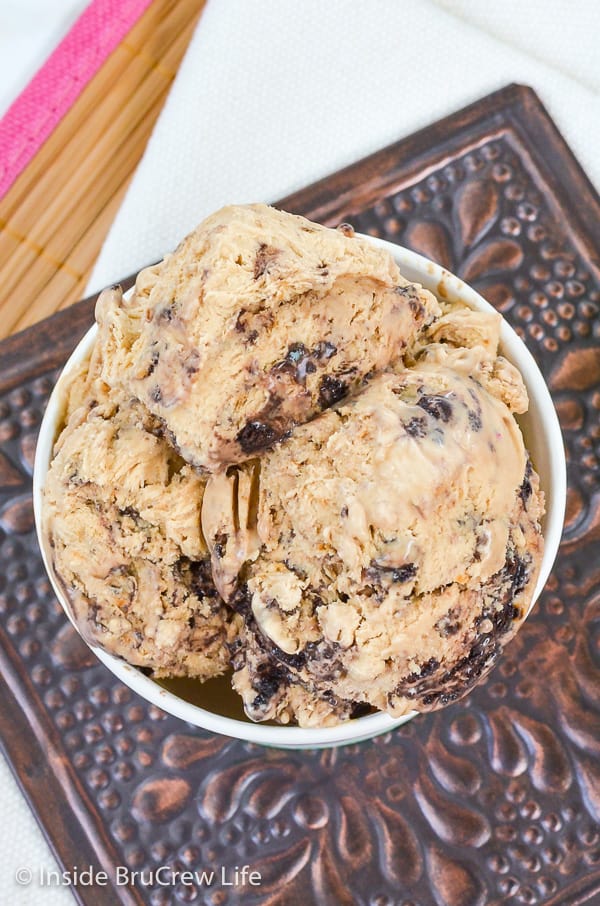 What is two ingredient ice cream?
This simple homemade ice cream is made from heavy whipping cream and sweetened condensed milk.
You can also make this ice cream without an ice cream maker.
Customize the base with your favorite toppings or mix-ins.
It is easy to make gourmet flavored ice cream in a matter of seconds. The ice cream only takes about 10 minutes to mix together, and another 4-6 hours for it to freeze solid.
My advice is to make it right before going to bed. Of course, that might mean you will eat ice cream for breakfast. You won't hear me judging you...after all, it's coffee, right?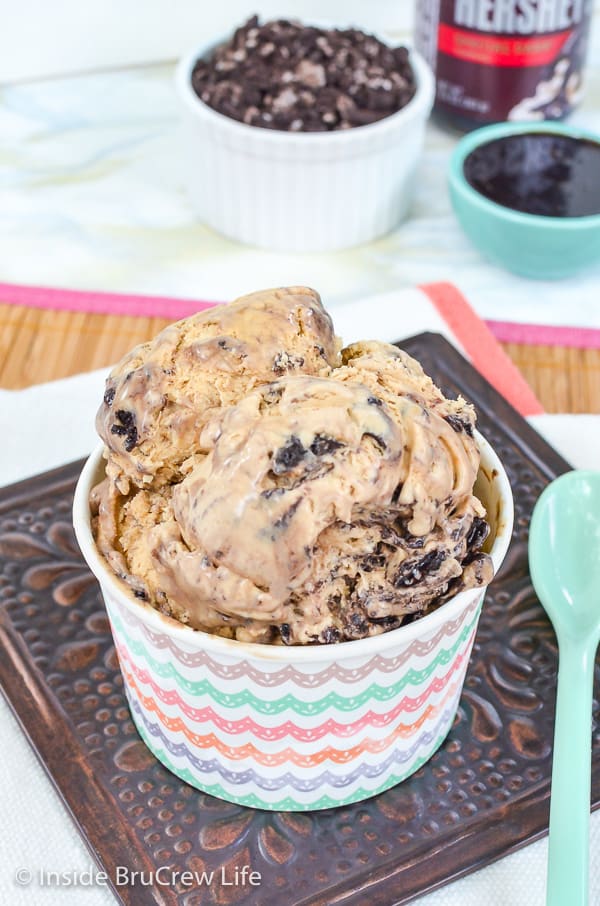 I took their coffee and Oreo ice cream ideas and went one step farther. I mixed the cookie chunks with fudge ice cream topping before swirling it in the coffee ice cream.
I should ask my kids for ingredient suggestions more often. They are really good at this!
How to make Oreo Fudge Cappuccino Ice Cream:
Dissolve instant coffee in the heavy whipping cream. Beat on high until stiff peaks form. (full recipe at bottom of post)

Fold the sweetened condensed milk gently into the whipped cream with a rubber spatula.

Heat the hot fudge in the microwave for about 10-15 seconds. Do not over heat it. Stir the cookies into the fudge.

Spoon half the ice cream mixture in a freezer safe container. Drop half the Oreo fudge mixture by spoonfuls onto the top. Swirl very gently with a knife.

Pour the rest of the ice cream mixture on top and repeat with the rest of the Oreo fudge mixture. Swirl gently, so the ice cream is not over mixed.

Freeze 6 hours or overnight, and then devour!
This cappuccino ice cream didn't stand a chance in our house. The whole container disappeared in less than an hour, and then my kids voted this THE best homemade ice cream ever!
I have to admit they came up with a pretty stellar two ingredient ice cream. Who knew two ingredients could taste so good?!?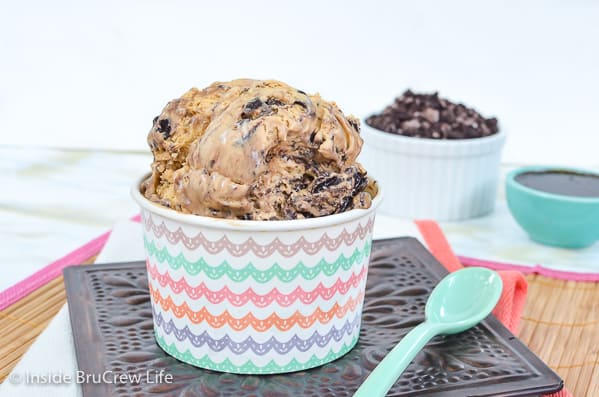 Other no churn ice cream recipes you may like: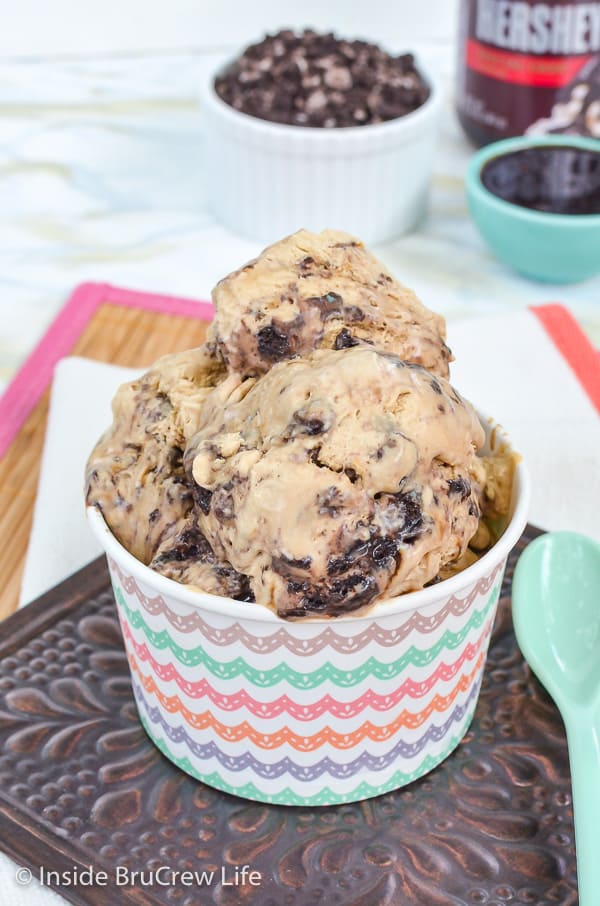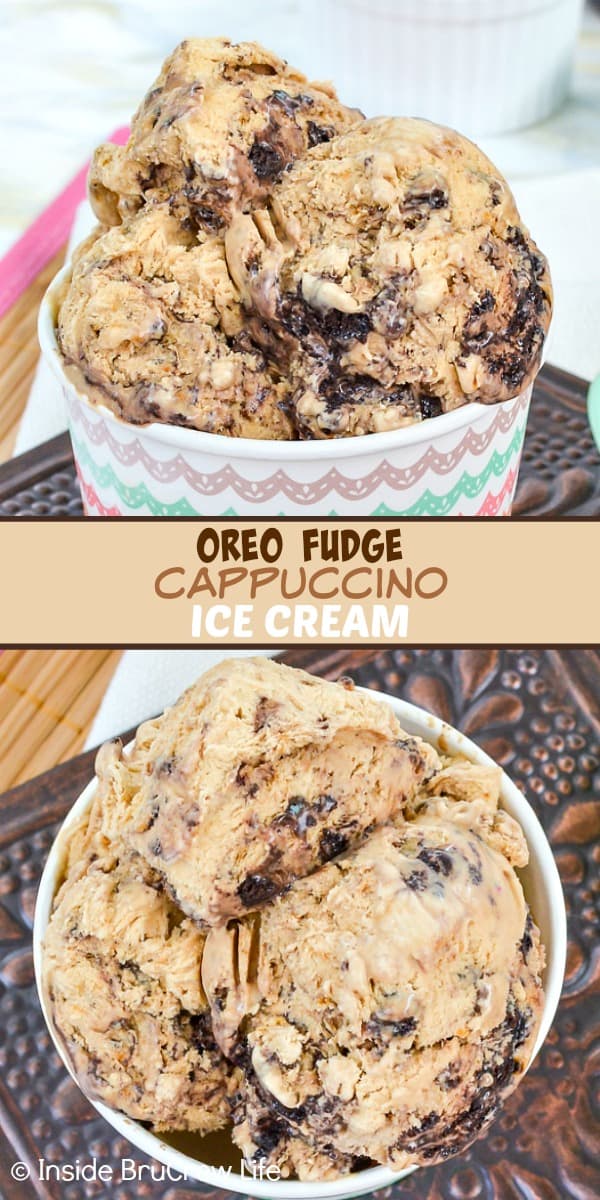 *The recipe for Oreo Fudge Cappuccino Ice Cream was first published on August 11, 2013. The photos and post were updated and republished June 11, 2020.