Raspberry White Chocolate Cheesecake Parfaits are an easy no bake dessert to make for the holidays. The layers of cookies, pie filling, and no bake cheesecake will have everyone reaching for another cup.
*This post is sponsored by Lucky Leaf. As always, all opinions are 100% my own.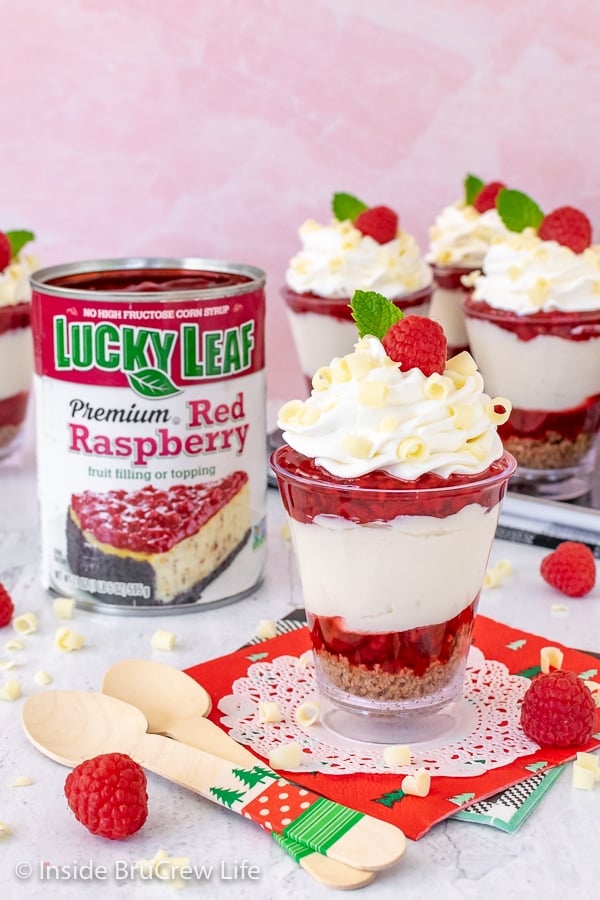 Right now my favorite thing to do each morning is to sit on the couch with a blanket and a cup of coffee while I enjoy our decorated Christmas tree. Maybe even with a slice or two of this cherry danish braid!
That makes me wonder an important question. Do you prefer white lights or colored lights on your tree? It is a hot topic around our house.
I'm the only one who prefers all white lights on the tree in our living room. But since I'm the one home all day, they let me have my way. Outside is another story. We do have bushes and palm trees decorated with lots of colored lights there.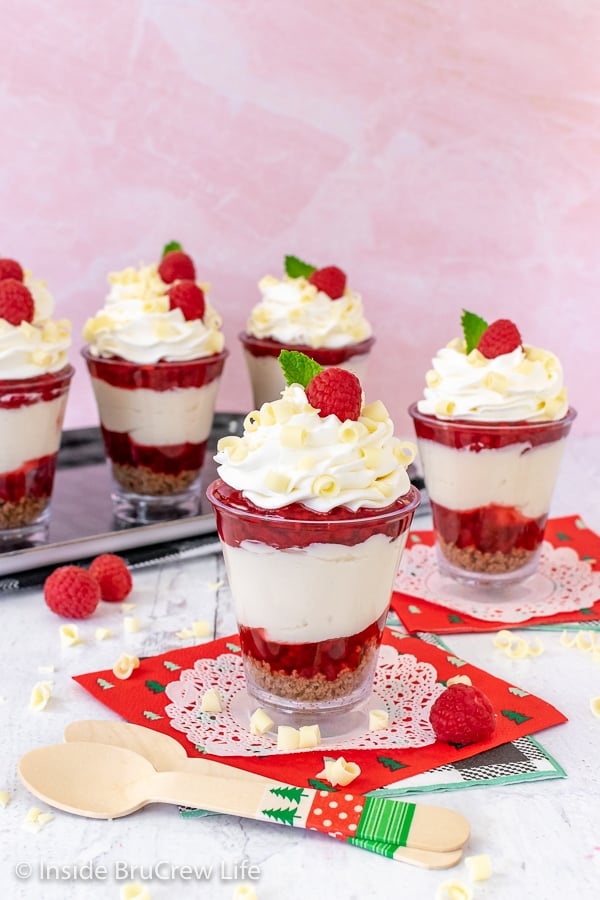 Now that the icicle lights are all around the house, the decorations are all out, and the stockings are hung by the fireplace, I can concentrate on what treats I want to make for Christmas this year.
Each year we make a list of cookies that we make for friends and family. Peppermint Snowball Cookies and Peanut Butter Cup Cookies are always on the list.
Although, this year I am changing it up a little bit and also making no bake cheesecake parfaits and Hot Chocolate Cheesecake Dip for some of the parties we are attending.
Parfaits are so easy to put together, and different flavor combos are fun to come up with.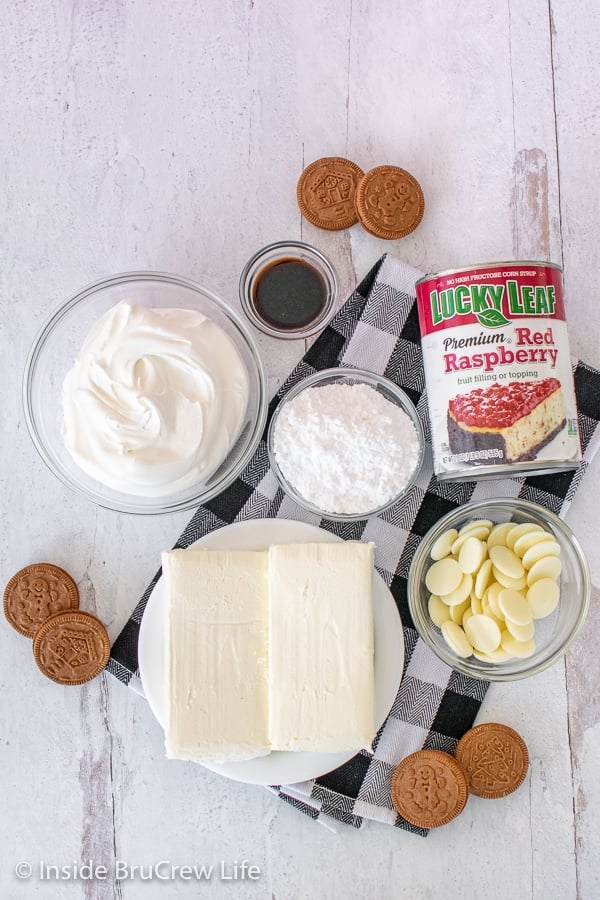 I have had the privilege of creating recipes for Lucky Leaf® for quite a few years now. I still get excited each time I pop open a can of pie filling and see all the fruit in each one.
And yes, I always taste test a spoonful before adding it to things like these No Bake Cherry Cookies and Cream Cheesecake Parfaits or these Lemon Mousse Fruit Parfaits.
Ingredients:
Cream Cheese - Make sure to set it out ahead of time. Softened cream cheese is easier to beat into a creamy cheesecake filling.
Sugar - Powdered sugar helps to keep the filling sweet and creamy.
Vanilla Extract - Adds flavor to the no bake cheesecake filling.
White Chocolate - I prefer to use white chocolate melting wafers because they melt the best. You can also use baking chocolate.
Whipped Topping - Makes it creamy and fluffy. PRO TIP: Make and use this Homemade Whipped Cream, if you prefer that instead.
Lucky Leaf Raspberry Pie Filling - Lucky Leaf fillings can be found in most grocery stores, and they make recipes easy to put together. If you do not like raspberry pie filling, feel free to use strawberry or cherry instead.
Garnish - Fresh raspberries, mint leaves, and chocolate curls make this no bake dessert look so fancy.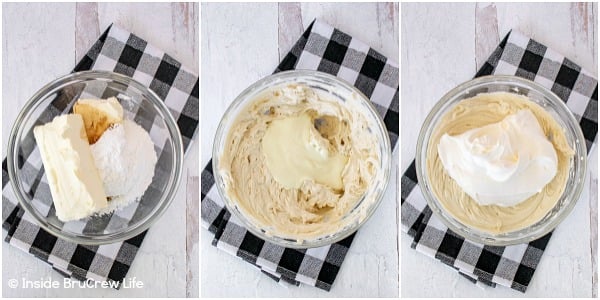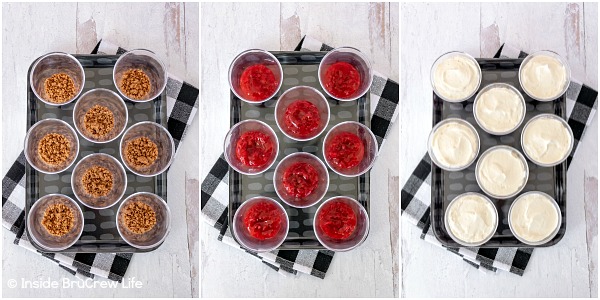 How to make Raspberry White Chocolate Cheesecake Parfaits:
Make sure to set out the cream cheese ahead of time. It is easier to beat into a creamy, pipe-able filling when it is soft. Beat the softened cream cheese, sugar, and extract until creamy.
Melt the white chocolate wafers according to the package directions. Do not overheat or they will burn. Add the melted white chocolate to the bowl and beat again.
Fold in whipped topping gently, so the air does not deflate from the topping. Spoon the mixture into a piping bag or a plastic baggie with one tip cut off.
Add a spoonful of cookie crumbs to the bottom of each 5-ounce parfait cup. Gently press down, if needed.
Divide half of the can of pie filling into each cup evenly. Tap the cup slightly to settle everything.
Swirl the no bake cheesecake evenly into each cup. Use a spoon to press it down and fill in any holes from piping. Flatten the top of the cheesecake with the back of the spoon.
Spoon the remaining pie filling evenly on top of each cheesecake parfait. Refrigerate the parfaits until ready to serve.
Right before serving add a swirl of whipped topping, white chocolate curls, fresh raspberries, and mint leaves to make them pretty and festive.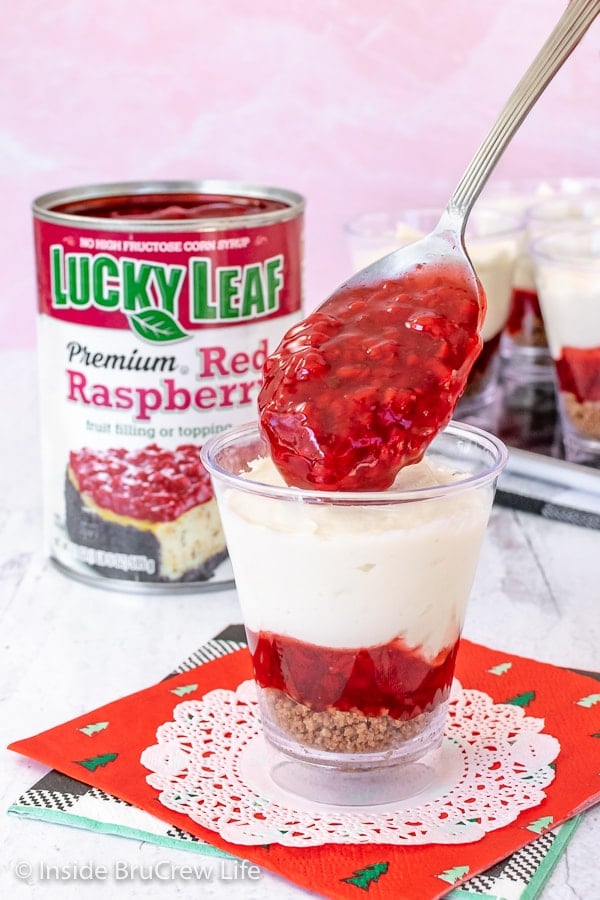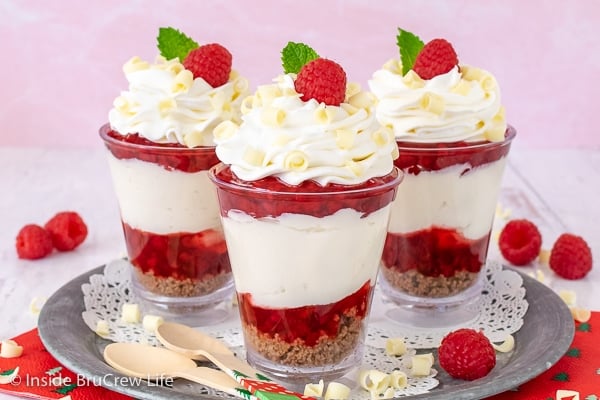 More recipes using pie filling:
Other cheesecake parfait recipes: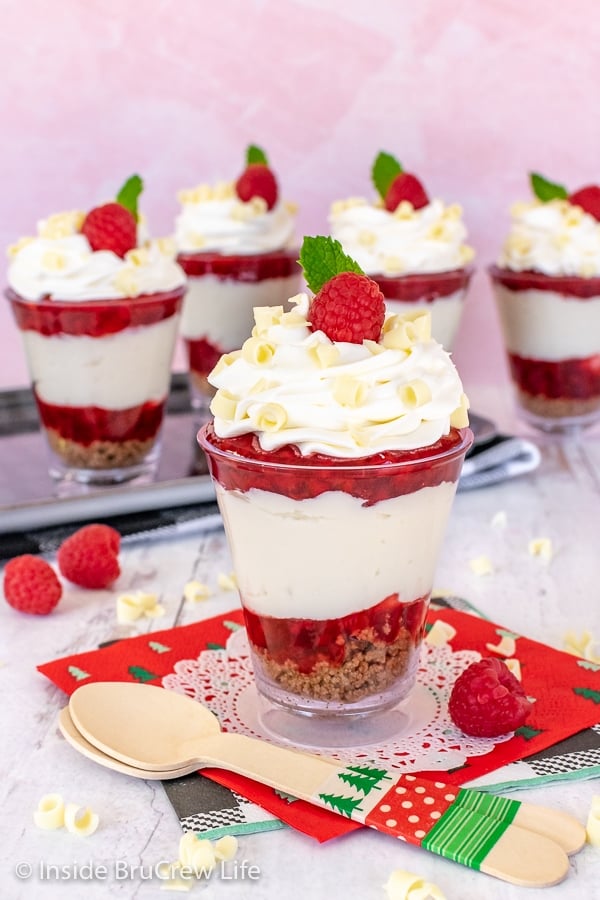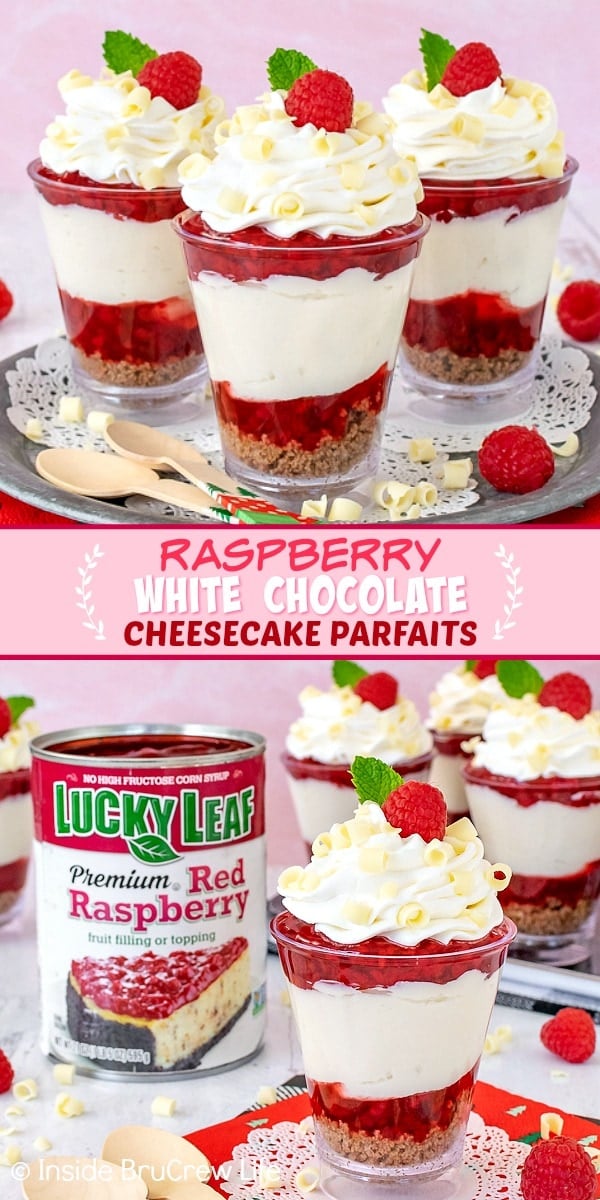 *This recipe was sponsored by Lucky Leaf. All opinions expressed are 100% my own. Thank you for letting me share products and brands I use and love. See my disclosure policy for more information.*