This Skinny Mini Banana Bread post was sponsored by ViSalus.  All opinions expressed are 100% my own.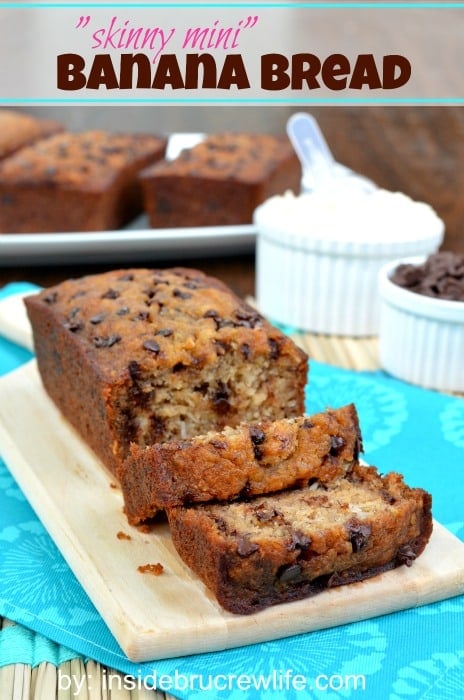 One thing that we almost always have on our counter are bananas.  I have shared with you before how I can't eat ripe bananas.  They have to be slightly green and still "crunch" when I bite into them, or no way jose am I eating them.
That all changes when it comes to baked goods.  The blacker the banana, the better.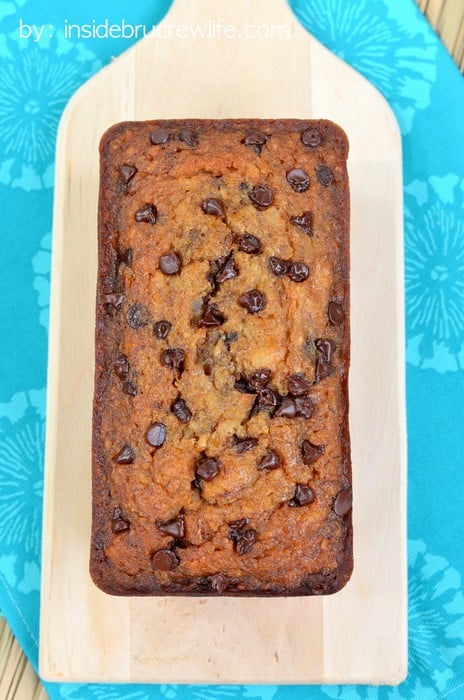 Recently I was asked to create a baked good using ViSalus shake mix.  I started by just drinking the powder in a smoothie.  It is a great meal replacement.  The sweet cream flavor that I tried gave me the sweetness I craved without the extra calories.
Then it was time to get baking.  I started with some oatmeal cookies.  They were good,  but it needs tweaked some more, so I moved on to banana bread.  I love using bananas in baked goods because you can cut out sugar because the bananas add so much extra sweetness.
For this particular bread, I actually cut out all the sugar.  Now before you start looking at me funny, I did substitute some honey in the batter.  I do have a sweet tooth the size of TX, so I have to slowly cut out my sugar intake.  This bread…it is now my absolute favorite banana bread of all time.  Five days later and it is still just as soft and moist as the day I made it.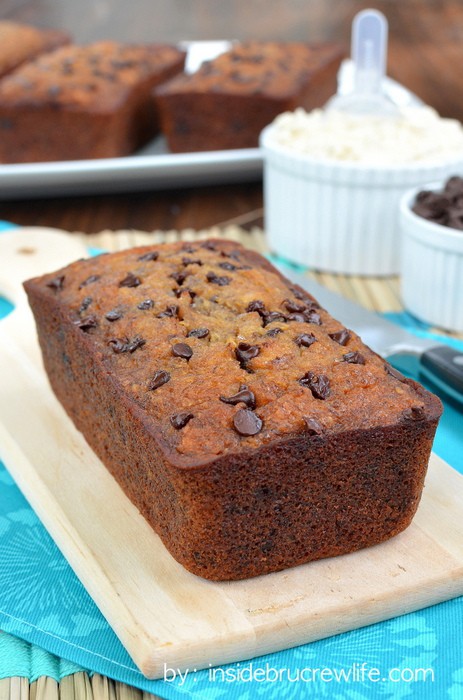 Having a sugar laden blog has taken its toll on my weight.  The words diet and exercise are 2 words that I use way too often.  With a daughter who is close to those teen years, I need to be so careful that she doesn't get the wrong idea about body image from me.  I want to teach her that being healthy and making right food choices is a great way to stay fit.  Of course regular exercising and eating a diet full of protein is definitely key too.
I have come to the realization that I will not be able to give up my baking as I try to become healthier because that is who I am.  I have been baking since I was 5 years old, and I don't see that stopping any time soon.  But I can change the way I bake things to give them a healthy spin.  Adding protein powder to baked goods is a great way to add protein, vitamins, and fiber.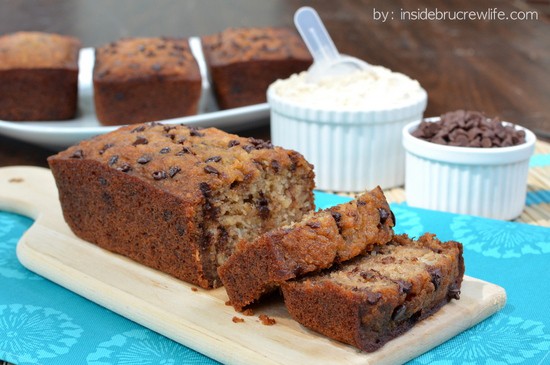 In my quest to make "skinny" banana bread for you, I used ground whole oats for some of the flour.  You could also use some whole wheat flour if you like, but I didn't have any on hand when I made this.  It's going on my shopping list of things to try.
The honey and bananas give this bread all the sweetness you need.  Of course, I did add some mini chocolate chips because, well because this is me you are talking to.  It's all about moderation right.  There is only 1/2 a cup in the whole batch, plus a few sprinkled on top just to make it pretty.   Since this recipe makes 4 mini loaves, that means the chocolate is very spread out.  It is just enough to trick your sweet tooth into thinking you are eating a lot of chocolate.
A few other things I did to make this bread a little bit healthier was to use egg whites, coconut oil, and unsweetened coconut milk.   I am serious when I say this is my new favorite recipe for banana bread.  It was fun to give a healthy twist to something that we eat regularly.  Now if only those other bananas would ripen faster.  There is only half a loaf left, and I see that being gone by lunch time.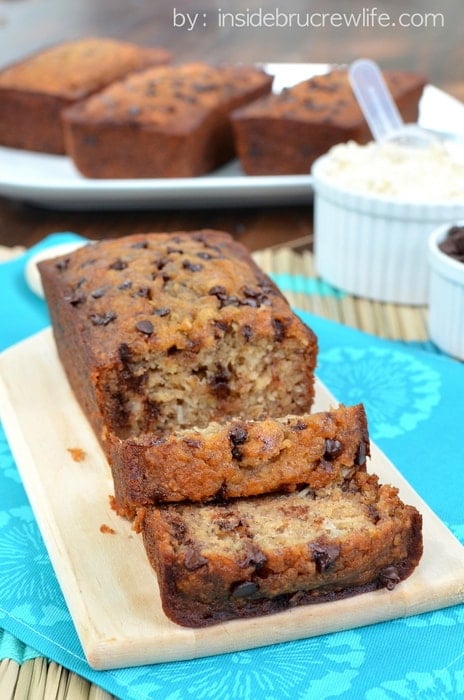 Stay up to date on the BruCrew baking:
FACEBOOK | PINTEREST | GOOGLE+ | TWITTER | INSTAGRAM | BLOGLOVIN
Yield: 4 mini loaves of bread
Skinny Mini Banana Bread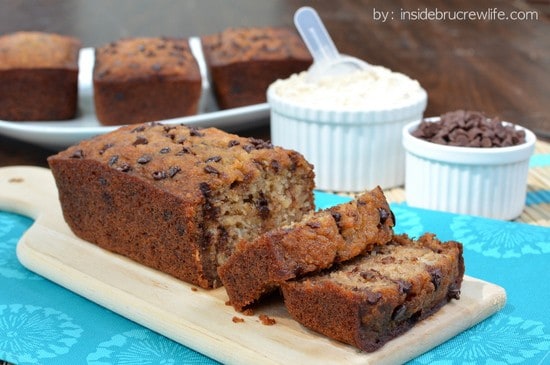 This Skinny Mini Banana Bread gets a healthy boost from protein powder, egg whites, coconut oil, and honey.
Ingredients
3/4 cup coconut oil
1 cup honey
6 egg whites
2 teaspoons vanilla extract
2 cups smashed brown bananas
1 1/4 cups flour
1 cup rolled oats, pulsed to make oat flour
1/2 cup protein powder
1 teaspoon cinnamon
1 1/2 teaspoons baking soda
3/4 cup unsweetened coconut milk
1 cup unsweetened shredded coconut
3/4 cup mini chocolate chips, divided
Instructions
Preheat the oven to 350 degrees Spray 4 mini bread pans with nonstick spray.
In a large mixing bowl, cream the coconut oil and honey. Add the egg whites, vanilla, and banana and mix again.
Sift together the flour, pulsed oats, protein powder, cinnamon, and baking soda.
Slowly add the flour mixture alternately with the coconut milk to the banana mixture. Do not over mix.
Stir in the shredded coconut and 1/2 cup chocolate chips by hand.
Divide the batter into the pans. Bake for 35 minutes. Let cool in the pans for 10 minutes before flipping out onto cooling racks.
Keep bread in a sealed container for 5-7 days, or freeze the extra loaves to have on hand for later.
Recommended Products
As an Amazon Associate and member of other affiliate programs, I earn from qualifying purchases.
Nutrition Information:
Yield:
16
Serving Size:
1
Amount Per Serving:
Calories:

488
Total Fat:

20g
Saturated Fat:

15g
Trans Fat:

0g
Unsaturated Fat:

4g
Cholesterol:

13mg
Sodium:

276mg
Carbohydrates:

69g
Fiber:

4g
Sugar:

49g
Protein:

11g
Other recipes to try when eating healthy are: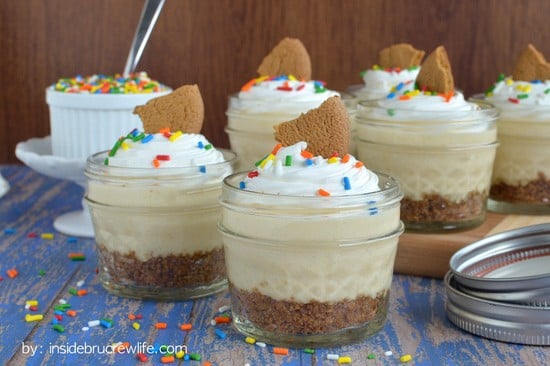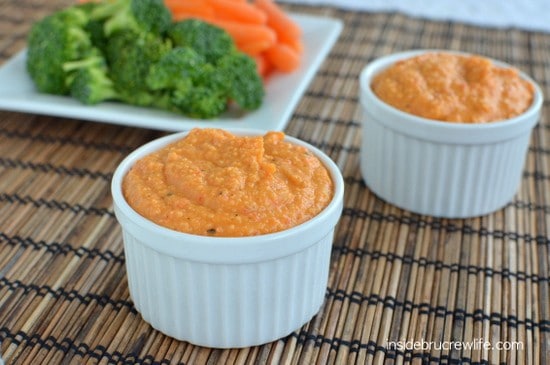 Roasted  Red Pepper & Garlic Hummus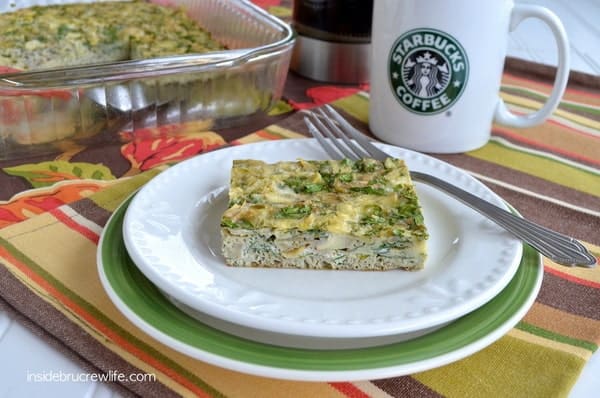 Spinach Artichoke Egg Casserole
*This post wass sponsored by ViSalus.  They also provided product for me to bake with.   Inside BruCrew Life does not claim any health benefits from using the protein powder.  All opinions are strictly my own.