Layers of homemade brownie and fluffy no bake strawberry cheesecake makes this Strawberry Mousse Brownie Cake an impressive and delicious dessert.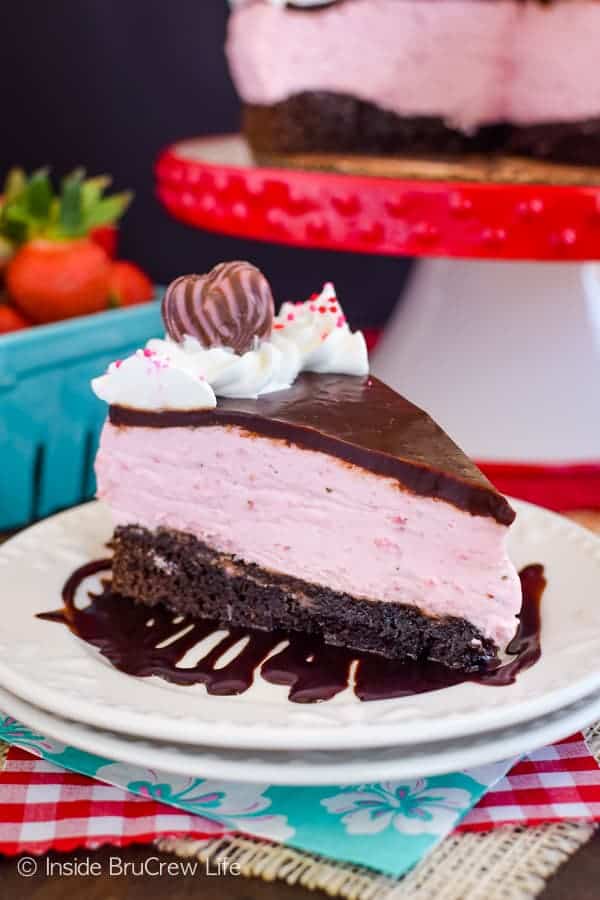 Is everyone else over the smoothies and hummus and Roasted Veggies yet?
I would say I am, but we really do eat fairly healthy most days, so those healthy foods will stick around. We balance it out with the crazy baking that I do daily.
And by daily, I really do mean daily. You would not believe the amount of crazy baking ideas I have swirling in my head!! With that many ideas, I'm usually in the kitchen each day!
Sometimes those ideas go on lists, sometimes they keep swirling in my head until I either forget about them, OR sometimes those ideas have to be made instantly!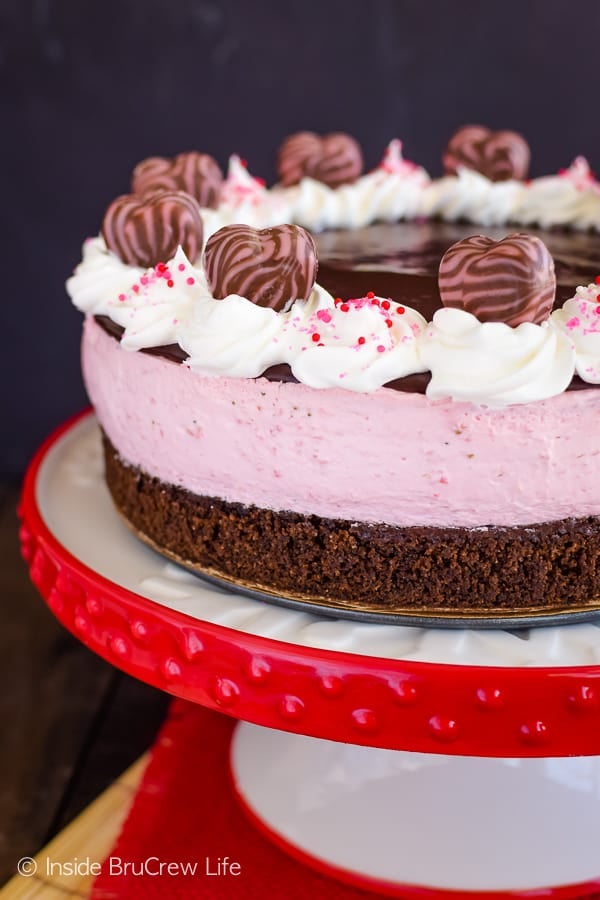 This brownie cake was one of those crazy hair-brained sweets that came to me one day, and it just had to happen. It didn't matter that I had no rhyme or reason for it. It had to be made immediately!
Kind of like this Chocolate Cheesecake Cake, or this Oreo Mousse Cake...no reason, but holy cow! So worth it!!
I loved the filling in this Strawberry Mousse Cake, so I decided I needed another fun layer cake in my life, but this time I wanted to use fresh strawberries.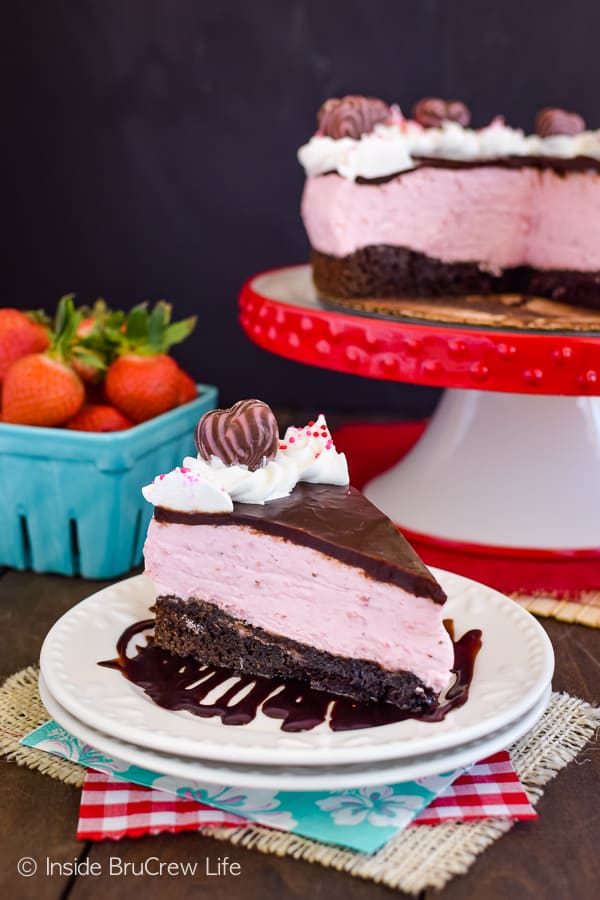 Now if you want to use a box brownie mix, you totally can go for it. Most days I'm right there with you jazzing up a box mix!
But today I used these Homemade Chocolate Chip Brownies as my base. It's seriously my favorite brownie to make when I go homemade.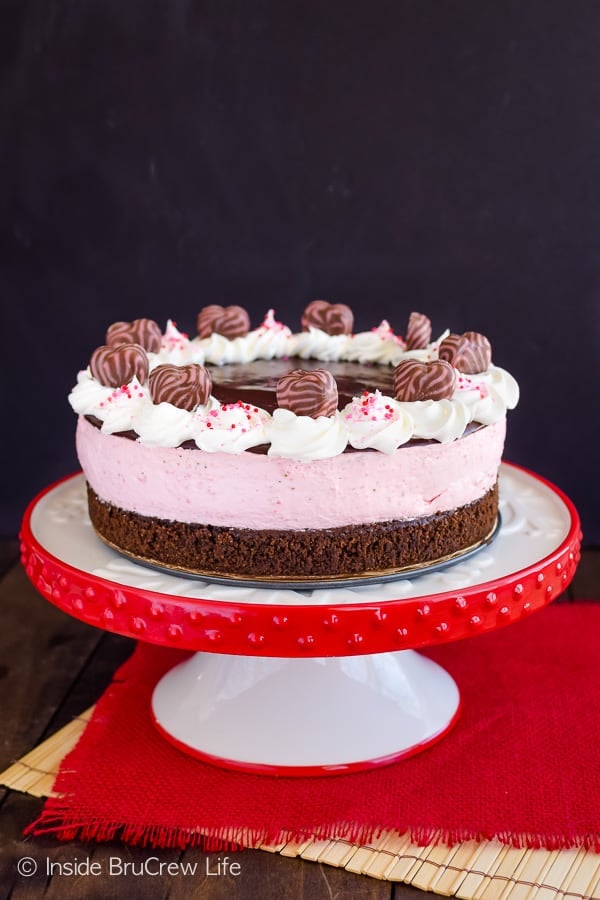 Those brownies really have become a tried and true recipe in our house. My littlest guy absolutely loves his plain brownies.
Too bad he lives with me and my crazy wacky dessert brain that gets all twitchy when I can't jazz the brownies up! Don't worry though. He gets his plain brownies quite often because I do puffy heart love my kiddos!
And I usually compensate by making on overly decadent and crazy chocolate dessert the next day! It's totally a win win for both of us!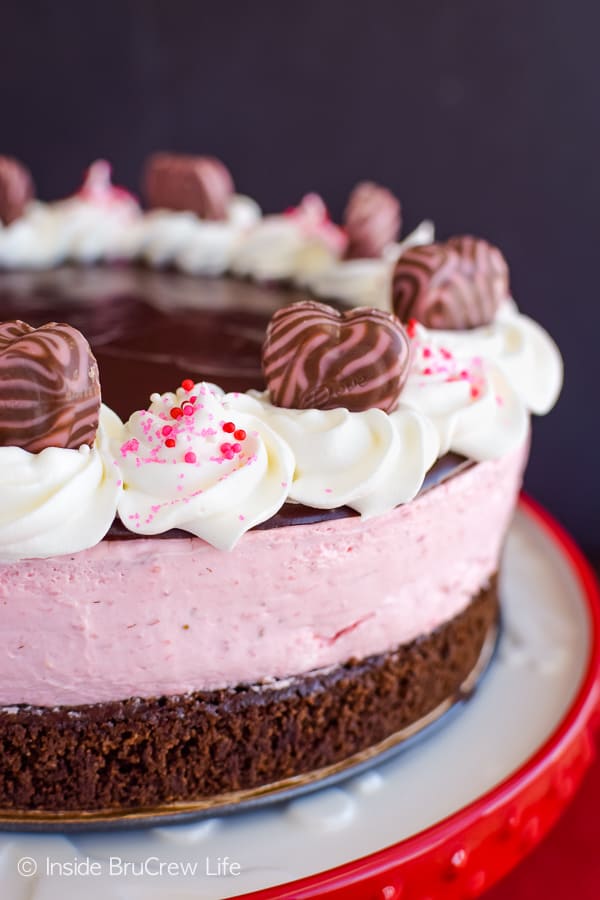 Tips for making a Strawberry Mousse Brownie Cake
Make a batch of homemade brownie batter and spread it into the bottom of an 8-inch springform pan. You can line the bottom with parchment paper or 8-inch cake circles. I like using the cardboard circles because it is easy to slide the cake right onto my cake stand or plate.
Bake the brownies for about 32-35 minutes, then remove and cool for about 10 minutes. Run a knife around the edge of the pan to loosen it from the pan. Then open the bottom of the springform pan and close it up again.
You are not removing the pan. This is just to make sure the brownie is completely away from the edge. Let it cool completely.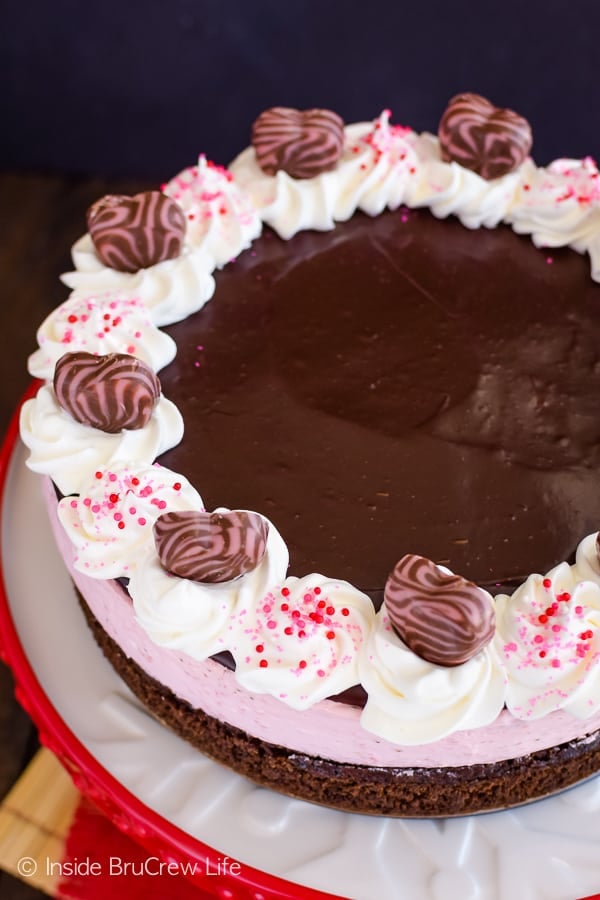 Let's make a delicious no bake strawberry mousse. Seriously, you are just a few ingredients away from strawberry goodness.
All you need is some cream cheese, Cool Whip, chopped fresh strawberries, and strawberry Jell-O to make a delicious no bake strawberry cheesecake. Seriously! That's it!
Whip it up good and spread it on your brownie. It will fill the pan all the way to the top! This cake is large and in charge and so worth it!!!!
Now this is where your patience comes in! Place the pan in the refrigerator and step away slowly!
I realize you want brownies and mousse right now! Believe me, so did I. So did I!!! But the mousse needs time to chill and set up. I suggest making it before you head off to dream land, then it will be ready for face planting in the morning!
How to make Chocolate Ganache
Pour the heavy cream in a small saucepan and bringing it to a very slight boil.
Remove it from the heat and pour in the chocolate chips.
Shake the pan slightly to get the chips covered with the cream, then let it sit for a minute.
Now stir, stir, stir until the rich chocolatey goodness happens.
Do not pour this on your cake!!! Hot ganache and soft mousse are not a match made in heaven!
Wait 10 minutes for the ganache to cool down because you do not want it to melt the strawberry mousse! You can stir it a few times during this time.
Slowly and gently pour it in the center of the cake and use a spatula to spread it over the top.
Let it set one more time before serving. I know, I know! More patience is needed! But then it's game on!!!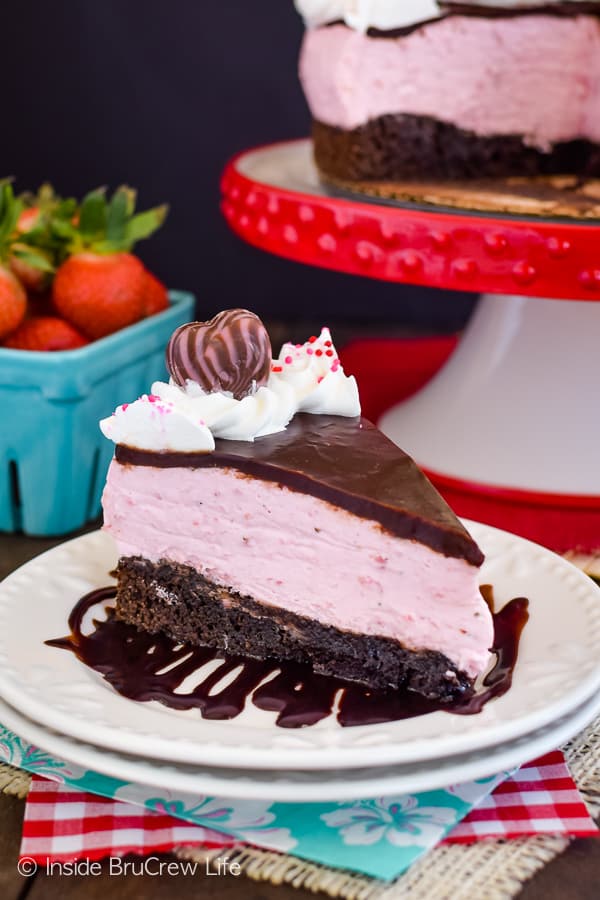 Other delicious cake recipes you may enjoy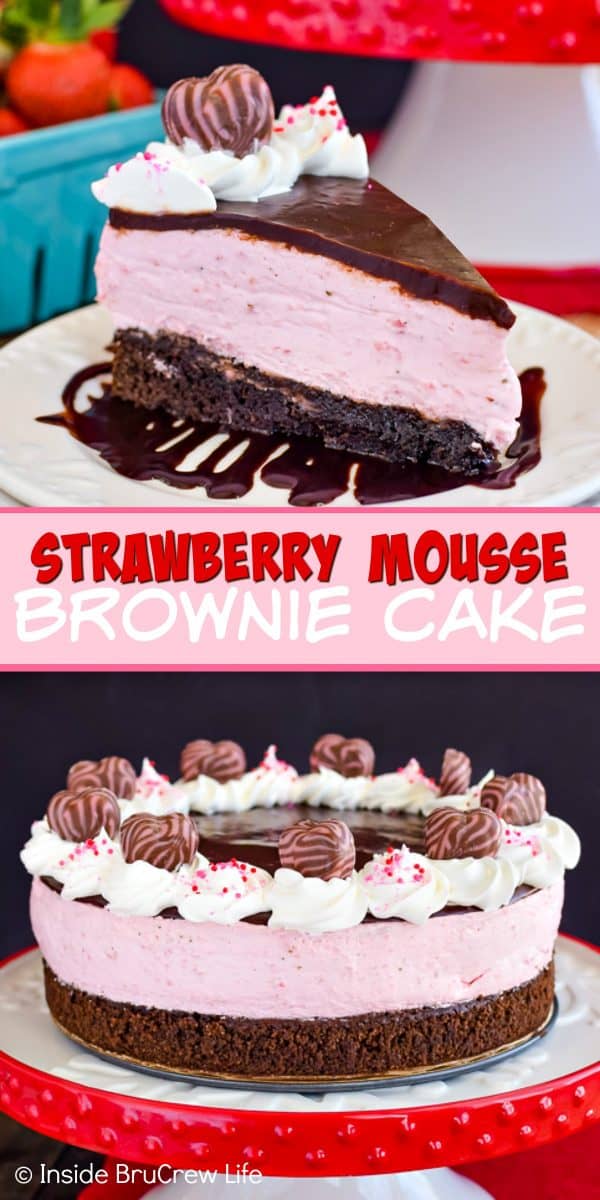 *This post does contain affiliate links. Inside BruCrew Life does receive a very small percentage from sales made from these links. As always, these do not cost you any extra. Thank you for letting us share products that we love and use.
**The recipe and post for this Strawberry Mousse Brownie Cake was first published on January 16, 2015. The photos have been updated and it has been republished on January 22, 2019.