This White Chocolate Peanut Butter Cup Fudge has two layers of fudge swirled with Reese's peanut butter cups. Add this easy no bake treat to your holiday dessert list. I promise you will not regret it.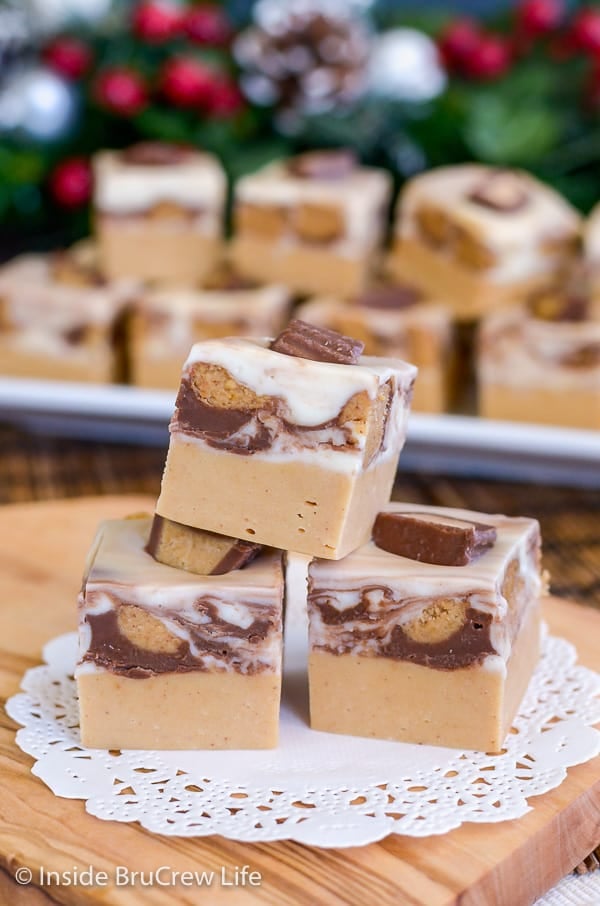 Do you bake treats with your family during the holidays? One of our family traditions is to pick one day during December and bake together.
I usually come up with a list of cookies and fudge that will be made for our cookie trays. There are certain cookies like these Peanut Butter Cup Cookies and these Oreo Peppermint Crunch Cookies that just have to be on that list every year, but we usually add a few new ones too.
Then each family member picks which one they want to put together. They get to make "their" cookie from start to finish.
That also means they are the first one to taste test that cookie and first to eat any leftover candy. It's a rough job, but someone has to do it.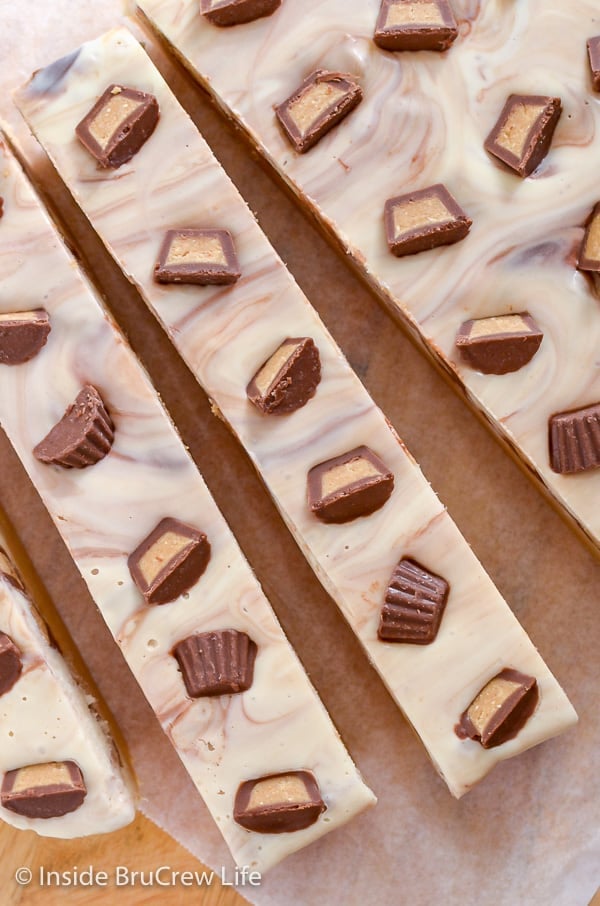 This peanut butter cup fudge literally disappeared within minutes of taking it to our son's soccer party. It has a layer of peanut butter and a layer of white chocolate fudge with peanut butter cups swirled into it, so I'm sure you can see why it would go so quickly.
I actually only got to eat one small piece of this candy bar fudge before we headed to the party, and I seriously almost hid it in a closet for later. There were some store bought cookies in the cupboard that the soccer players could eat. But I resisted the urge to devour the entire batch of peanut butter fudge and sent it on its way.
But you better believe I am making another pan of this fudge...maybe even two because it was amazing!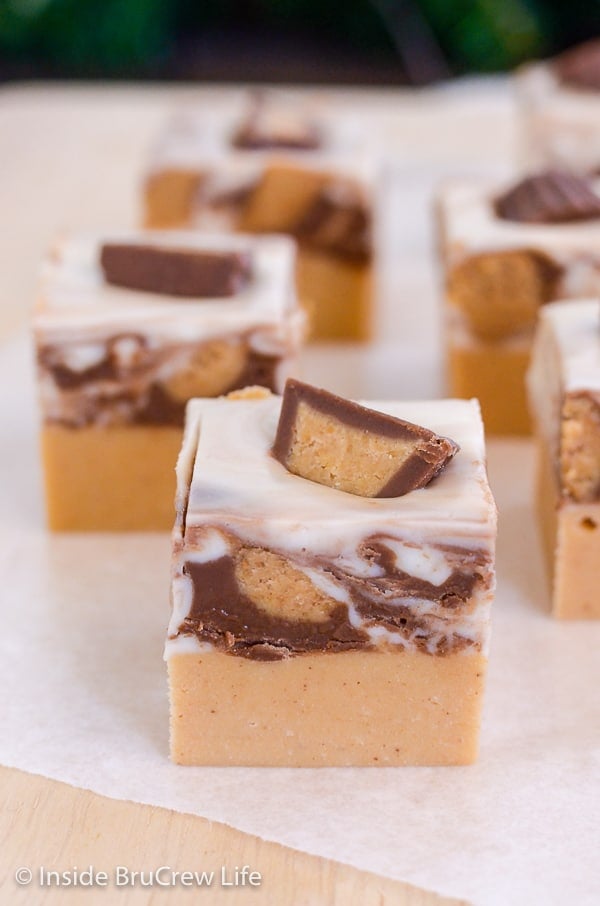 Of course, I really won't eat all the peanut butter fudge. I might want to, but then reality will set in, and I will wrap it up and send most of it to friends and family. Sharing is caring, especially when stretchy pants are involved.
We usually buy cute tins to fill with all the goodies we make. Another cute idea for gifting fudge is to buy small craft egg cartons or square treat boxes like I did with this Chocolate Cherry Marshmallow Fudge.
You can put the fudge in small cupcake liners before filling each compartment. Add a plastic bag, twine, and a holiday tag to finish off this cute little gift. Most people do not want an entire batch of fudge, so this is a great way to share a few pieces with your favorite people.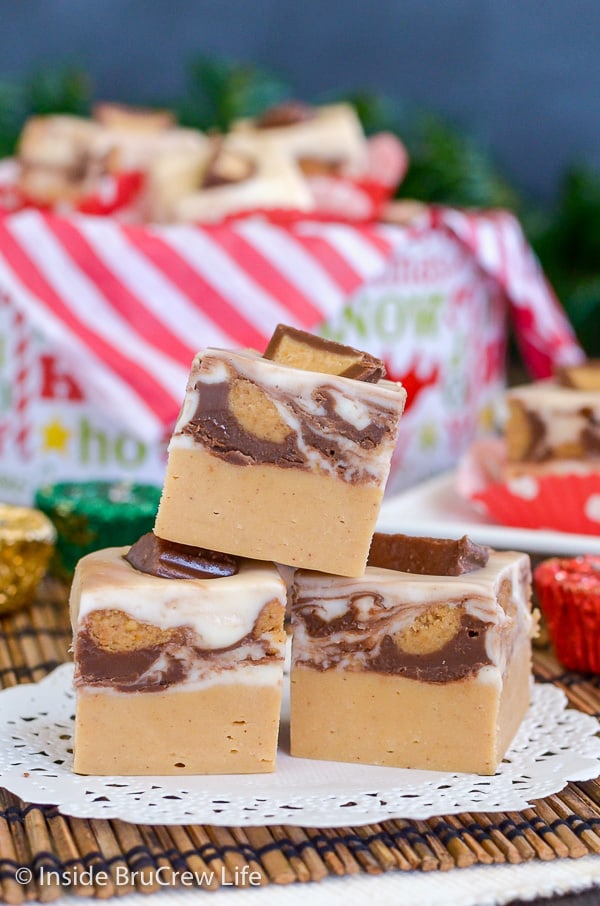 How to make White Chocolate Peanut Butter Cup Fudge
Line an 8x8 pan with tin foil or foil lined parchment paper.
Place the peanut butter chips, butter, and sweetened condensed milk in a saucepan over low-medium heat. Stir until melted and creamy.
Add the marshmallow cream and stir it in. Pour the hot fudge into the prepared pan and let set.
Stir together white chips and sweetened condensed milk in a saucepan until melted and creamy. Stir in the marshmallow cream and let it cool for 5 minutes.
Add the peanut butter cups and stir carefully. The candy will start to melt, so do not stir too much.
Pour the white chocolate fudge mixture on top of the peanut butter fudge and let cool for 15-20 minutes.
Press halved peanut butter cups all over the top of the fudge and let it set completely before cutting into squares.
This easy Reese's peanut butter cup fudge does take time to set up completely. I recommend making it a day ahead of time and letting it alone until the next day. It is a softer fudge because of the marshmallow cream in it, but that is what makes it so delicious.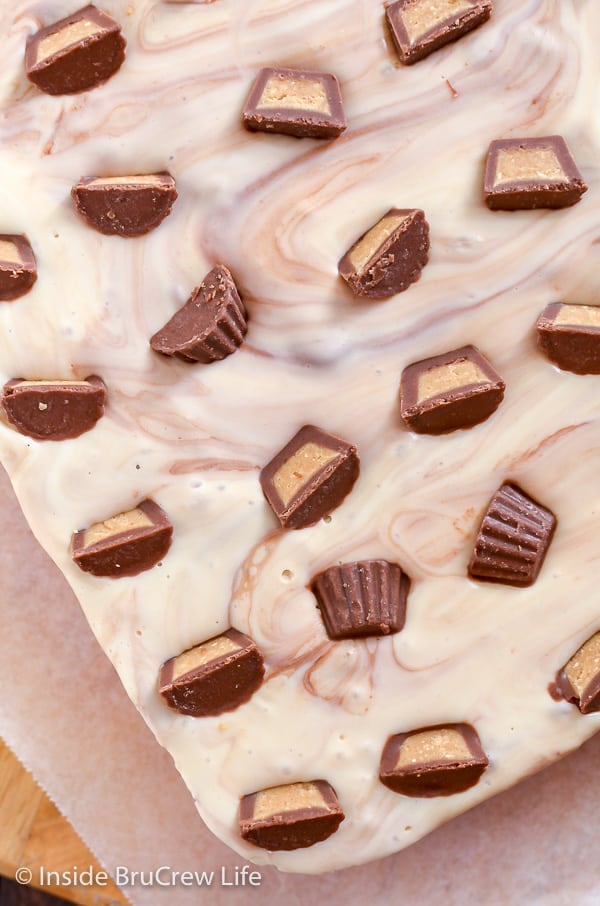 Other easy fudge recipes you may enjoy for the holidays
More recipes using peanut butter cups
CLICK HERE TO PIN THIS RECIPE FOR LATER!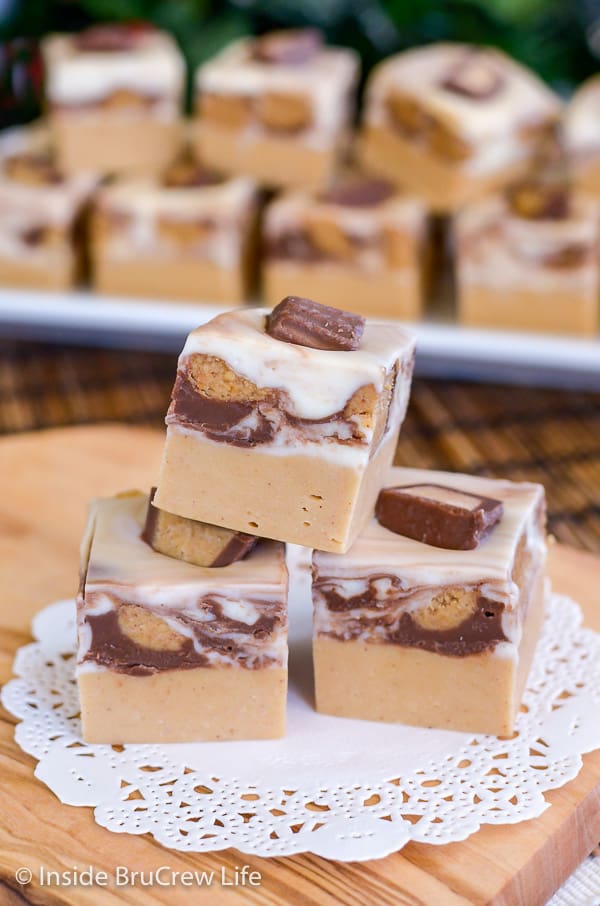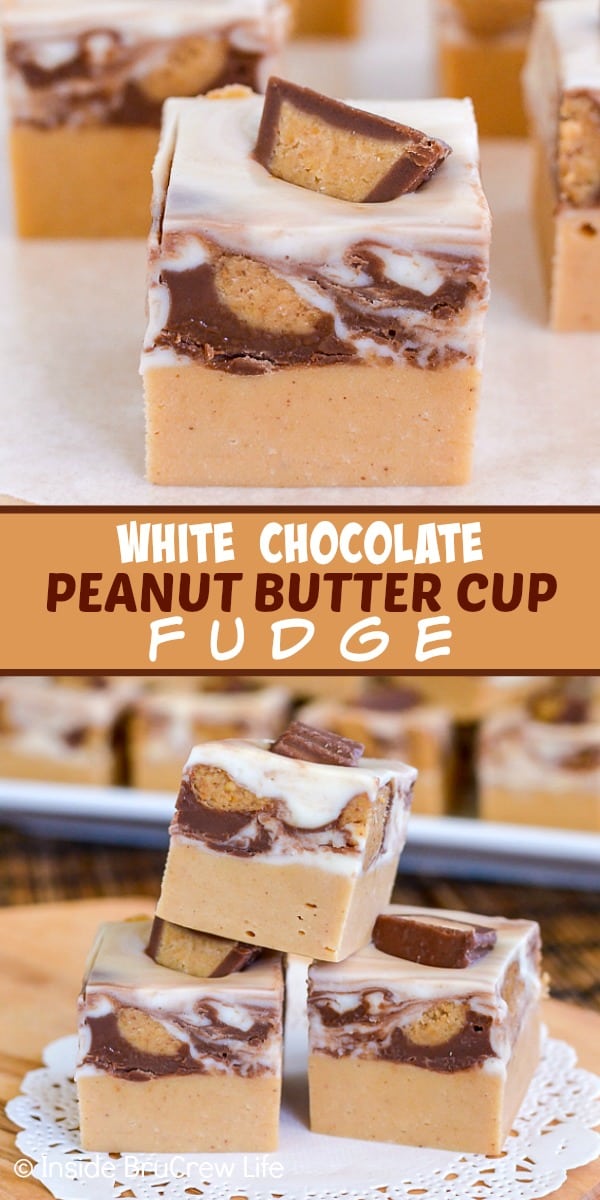 *The post for White Chocolate Peanut Butter Cup Fudge was first published on December 16, 2013. The photos and post were updated and republished on December 2, 2019.