Pecans and cheesecake were meant to be together.  Make this Pecan Cheesecake Pie this holiday season and watch it disappear in no time at all.
*Be sure to sign up for the BruCrew email to get these delicious recipes in your inbox each day.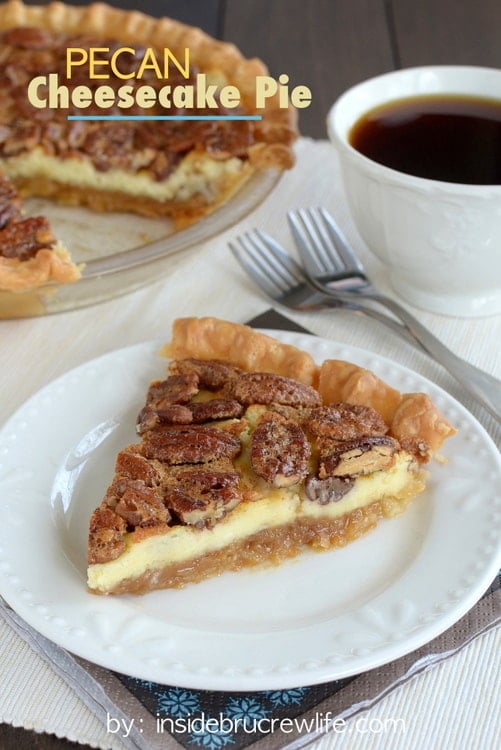 Do you like cheesecake?  What about pecan pie?
Do I ever have the pie for you then!!!
The other day I asked a question on Facebook about whether you would eat apple or pumpkin pie first on Thanksgiving.  The response seemed to be split between the two pies, but it turns out a whole lot of people actually prefer pecan pie instead.  The amount of pecan pie lovers was news to me.  I have to admit that is one of my favorites too, but I have actually never made one before.  Time for that to change.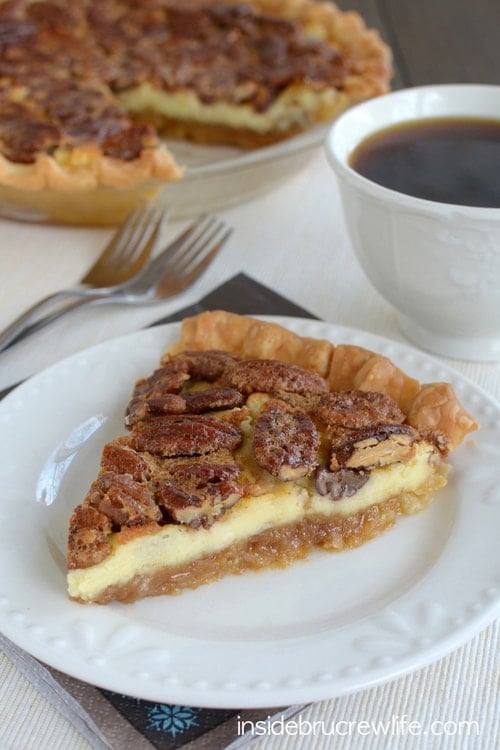 So, my hubby and I got talking about pecan pie, and how I should really make one to share at Thanksgiving dinner.  But I didn't just want to make the classic pecan pie, so here is the fun BruCrew twist to it.  We added a cheesecake layer that bakes up through the gooey caramel pecan layer.
Talk about amazing!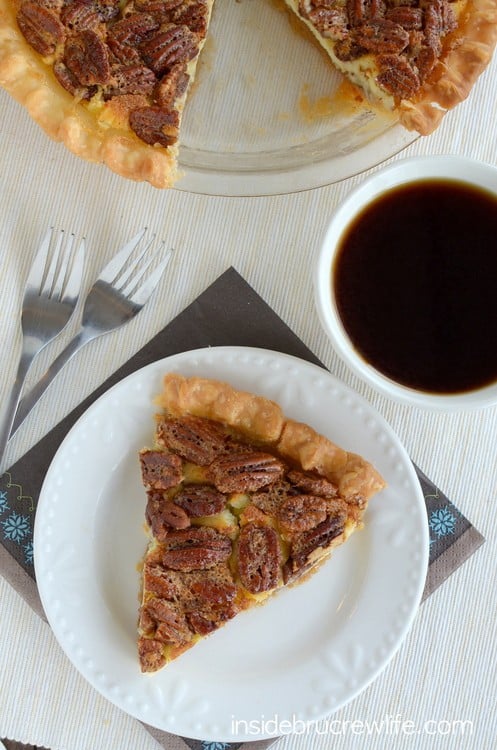 I'm really glad this pie had to go to a church meeting with my husband this week, because I'm not so sure my diet resolve would have lasted if I started in on one slice.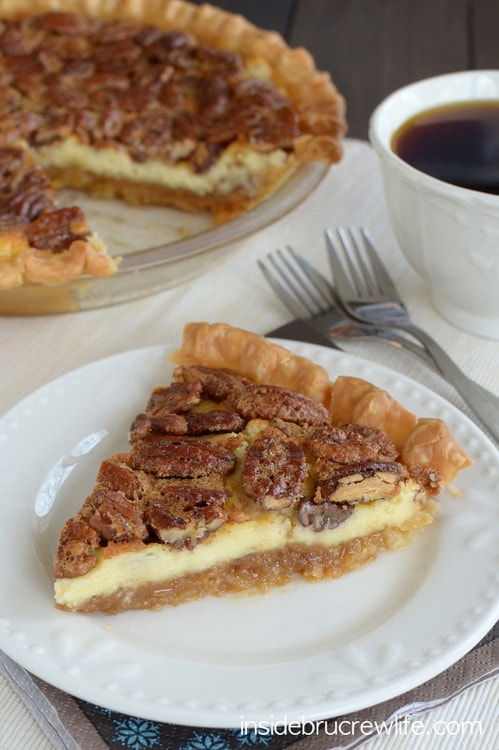 This pie starts with my favorite way to make crust.
It is called buy a pre made Pillsbury crust at the store.  Sure I could make my own, but most days I don't want to mess with another thing.  Pillsbury has always been my go to crust, so why change now 🙂
Big tip to know…make sure you spray your pie plate with non stick spray for this pie.  Mine stuck just a little, but it didn't stop the guys from devouring it at my husband's meeting.  He said he couldn't believe how fast it went.
A small cheesecake layer gets spread on the bottom of the crust, then the pecan pie layer is poured on top of it.  Then amazing and magical things happen while it is in the oven.  When you pull it out of the oven, the cheesecake has baked through and become the middle layer.  Just be patient!  It needs to cool completely before you can cut into it and see all the layers.
I seriously can't even wait to make another pecan cheesecake pie!  It will be the first thing I eat for Thanksgiving dinner.  It will make a great appetizer…after all, it is cheese and nuts.  Wink, wink!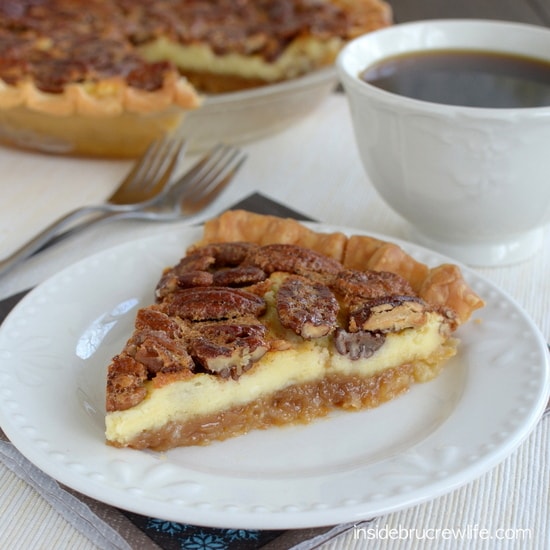 Stay up to date on all the BruCrew baking here:
FACEBOOK | PINTEREST | GOOGLE+ | TWITTER | INSTAGRAM | BLOGLOVIN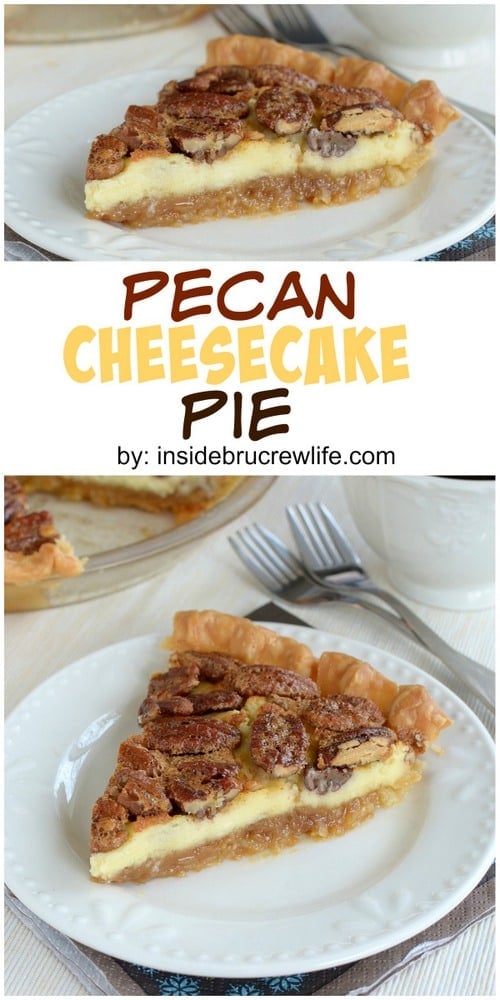 More pie recipes that you might enjoy: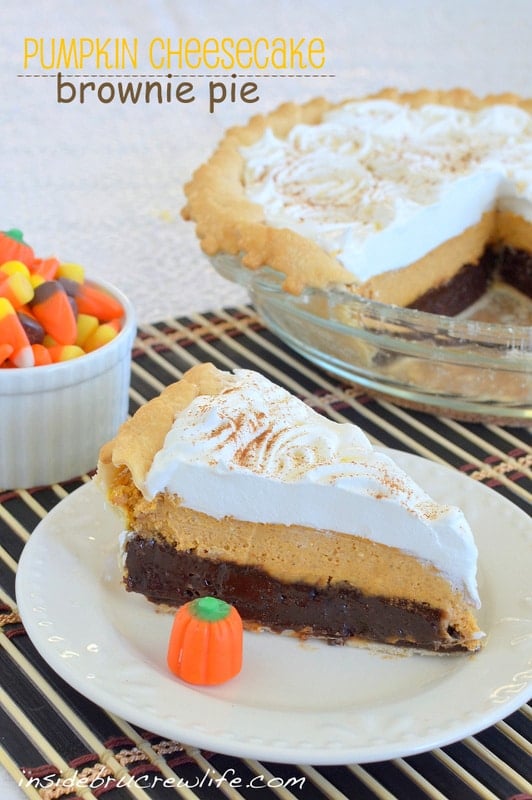 Pumpkin Cheesecake Brownie Pie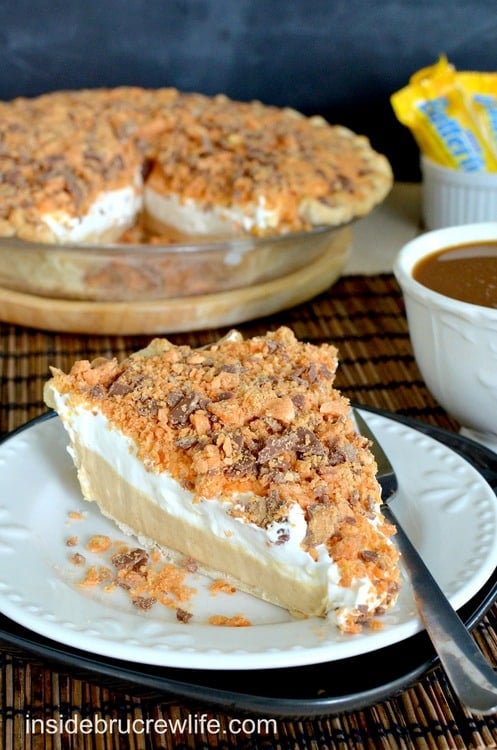 Peanut Butter Butterfinger Pie