This Pecan Cheesecake Pie is the mashup you need in your life. The pecan pie you remember growing up with matches perfectly with the cheesecake you love. Once you make it, pecan cheesecake will ALWAYS be at the top of your "go to" recipe list.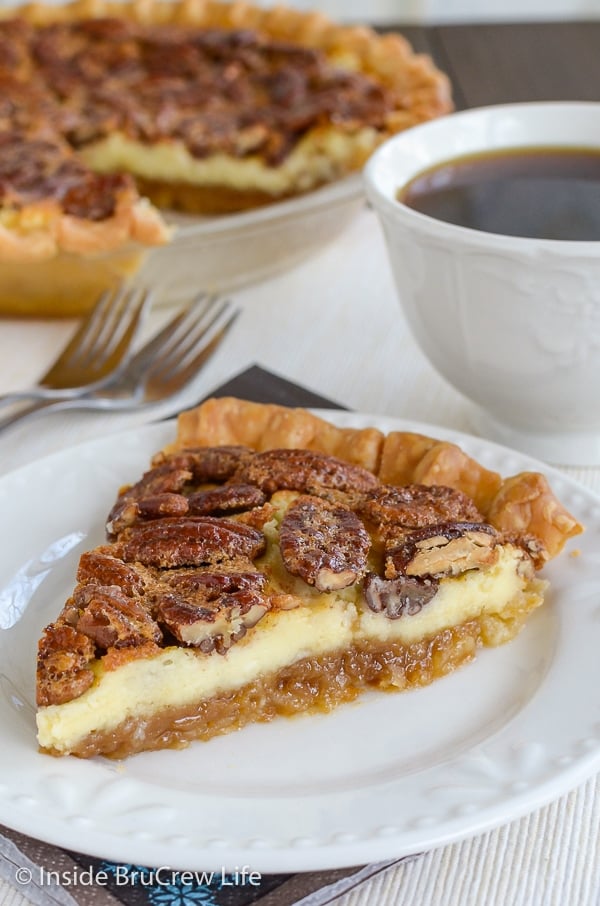 Pecan Cheesecake
Do you like cheesecake? What about pecan pie? If so, I have a pecan pie cheesecake recipe that you need to make ASAP!!!
A few years ago I asked on Facebook what kind of pies people eat for the holidays. I thought for sure an apple pie or pumpkin pie would win the battle. The response was pretty split between those two pies.
But it also turns out that a lot of people actually prefer pecan pie. I don't know why that surprised me because I happen to love a rich gooey pecan pie too.
Since I had actually never made one, it went on our to do list for the week. But I didn't want to make a classic pecan pie, so we came up with a fun BruCrew twist for it.
Since we love adding cheesecake to the desserts we make, so we added a creamy vanilla cheesecake layer to the easy pecan pie recipe. Turns out that a pecan pie cheesecake was our best idea of the week!
This pecan cheesecake pie is a delicious recipe that you will enjoy making all year long.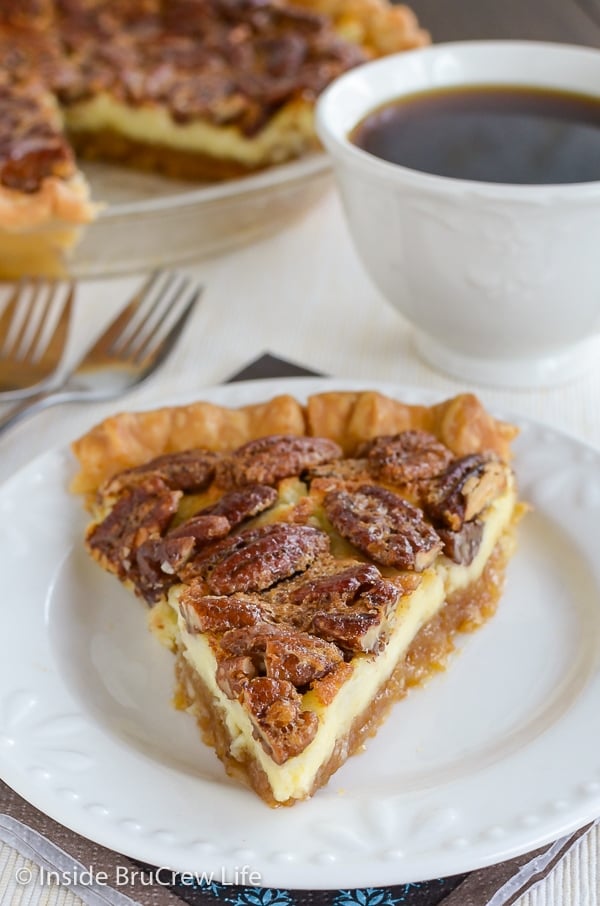 Pecan Pie Cheesecake Ingredients
This cheesecake pie is easy to put together with just a few ingredients for each layer. Measure everything for each part of the recipe first to save time when putting the pecan pie cheesecake together.
For the Pie Crust
You can use a store bought crust or make a homemade pie crust for this pecan cheesecake pie.
For the Cheesecake Layer
Cream Cheese - Use a full fat cream cheese for best flavor. Set it out ahead of time, so it can soften.
Sugar - Sweetens the filling.
Egg - Binds the ingredients and adds richness and flavor.
For the Pecan Pie Filling
Dark Corn Syrup - Adds sweetness and a darker color. Light corn syrup or maple syrup can also be used, but your filling will be lighter.
Eggs - Rich flavor to the gooey pecan pie layer.
Butter - Unsalted and melted.
Vanilla Extract - Adds flavor.
Pecans - Whole raw pecans look great on top of this cheesecake pie, but you can also chop them if you prefer smaller pieces of nuts in the pie.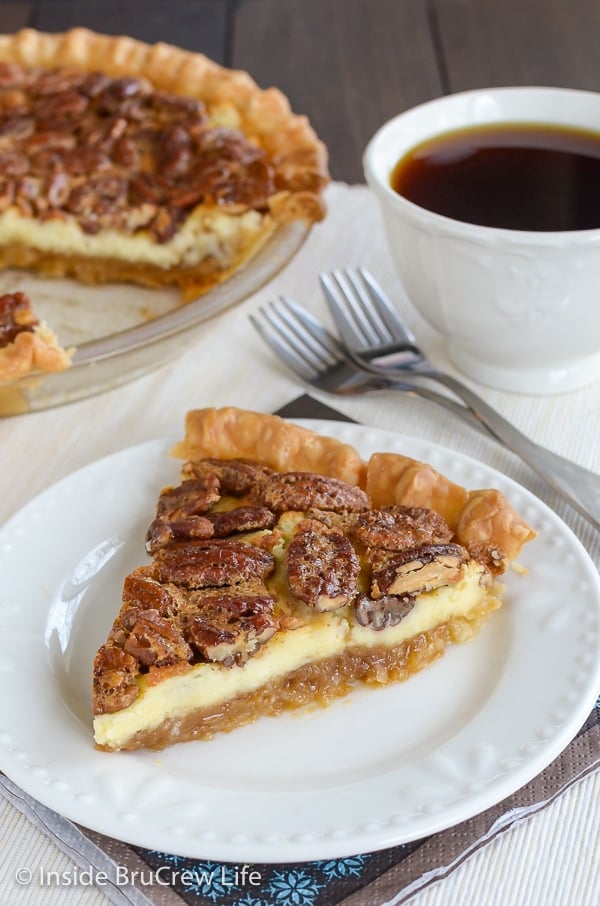 How to make a Pecan Cheesecake Pie
Pecan pie and cheesecake were meant to be together. Follow the steps for each layer and the cheesecake pecan pie will come together easily.
The cheesecake layer magically floats up through the gooey caramel pecan pie layer as it bakes in the oven.
Step One: Pie Crust
Spray a 9-inch pie plate with nonstick spray, then sprinkle both sides of your pie crust with a little bit of flour before placing it in the prepared pan.
Crimp the edges, brush with a thin layer of beaten egg white, and place the pie crust in the fridge.
Step Two: Cheesecake Filling
Using a stand mixer with a paddle attachment or a hand mixer, beat the cream cheese and sugar in a mixing bowl until creamy.
Add the egg and beat again.
Spread the cheesecake filling in the chilled pie crust.
Step Three: Pecan Pie Filling
Whisk together the corn syrup, eggs, sugar, butter, and vanilla in a medium bowl.
Add the pecans to the mixture and stir until coated.
Spoon the pecan mixture over the cheesecake layer gently.
Step Four: Bake
Cover the pie crust edges with aluminum foil or use a pie shield to keep it from over browning.
Bake 50 minutes. Remove and place it on a cooling rack. Let the cheesecake cool on the counter for 1-2 hours.
Refrigerate until the cheesecake pie is chilled through.
Serve it plain or add a swirl of homemade whipped cream to each slice.

Recipe FAQ'S
How do you keep the pie crust from sticking to the pie plate?
Sprinkle both sides of the pie crust with a little bit of flour to keep the crust from sticking to the bottom of the plate later.
How do you keep pecan pie filling from leaking out of the crust?
Brush the bottom of the pie crust with a little bit of a beaten egg white. Chill the crust for 15 minutes before spreading the cheesecake filling in it.
Does this pecan pie cheesecake need to be refrigerated?
Yes, this pie needs to be stored in the refrigerator because of the cheesecake layer and gooey pecan layer. Once the pie has cooled completely, cover it and place it in the refrigerator for 3-4 days.
Can this cheesecake pie be made ahead of time?
Yes, it is a great dessert to make 1-2 days ahead of time because it needs time to chill before serving.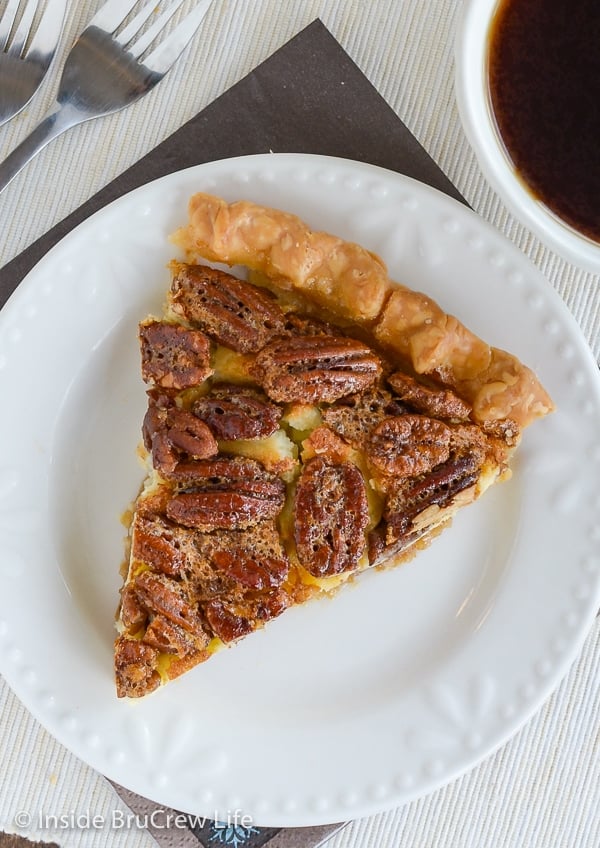 More Easy Pie Recipes
Do you love a recipe you tried from Inside BruCrew Life?
Please leave a 5-star ⭐️ rating and a review in the comments section below.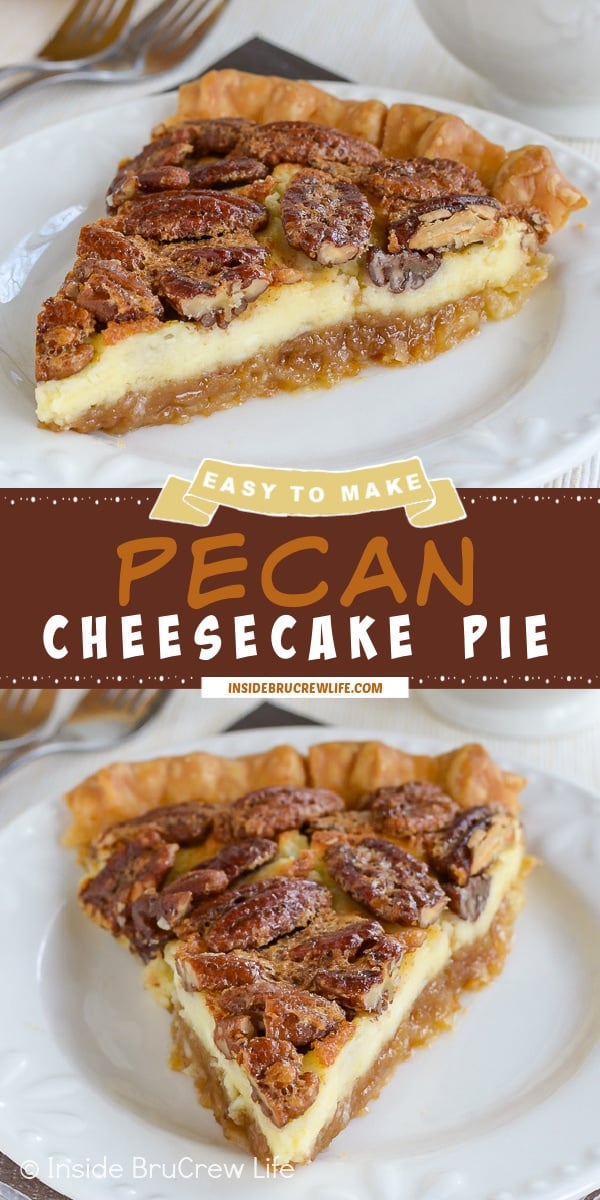 *The post for Pecan Cheesecake Pie was first published on November 14, 2013. The photos and the post were updated and republished on November 14, 2019.