Spending time in the kitchen with your children will create lasting memories for everyone. Here are 14 Easy Dessert Recipes to make with Kids while you are enjoying your time at home.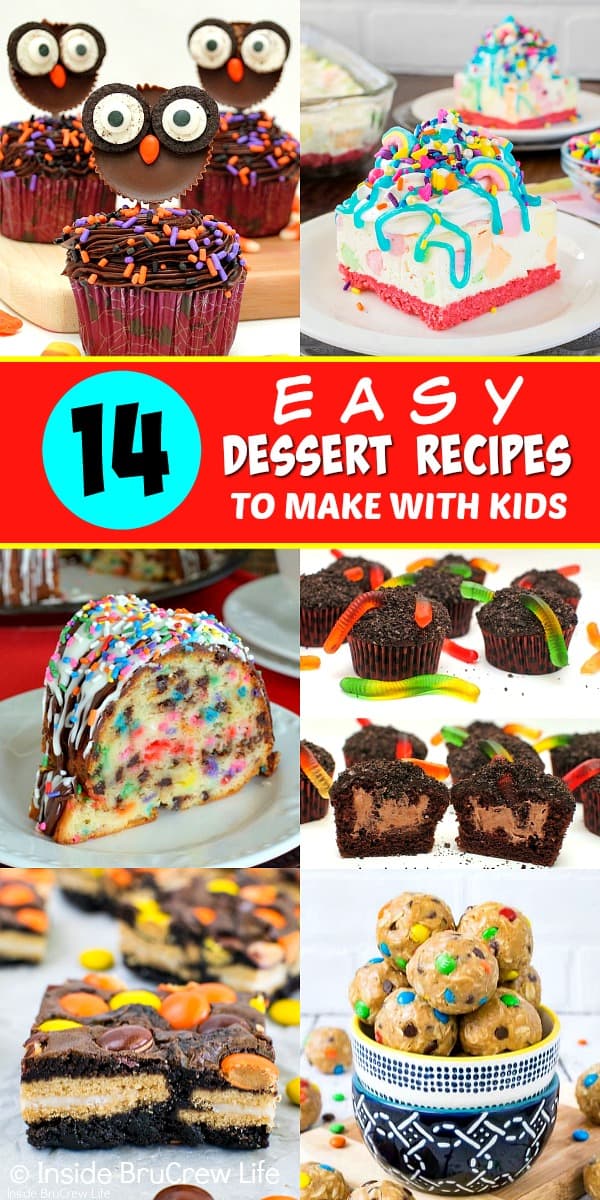 My love for baking began at a very young age. I can remember learning how to make pie crust with my mom when I was 4 years old.
We rolled the crust out and filled it with cherry pie filling, and then I sat in front of the stove watching it bake. That little pie gave me the baking bug that I have not been able to shake over the years.
When our kids were younger, they loved to help me in the kitchen. I still smile when I think about all those times. Baking with small children will definitely test your patience though.
There will be flour everywhere, and eggshells in your food is inevitable, but just go with it because they are worth it. Those moments teaching your children how to bake are memories you will cherish for years to come.
Tips for baking with kids:
Let your kids choose the recipe. They will be more interested if is something they want to make.
Read the recipe first. Make sure you have all the necessary ingredients and understand what the recipe is saying to do. Older children can read the recipe and create a shopping list, if needed. Younger children can help you get out the ingredients before you start.
Give your kids age appropriate tasks. Smaller children can stir and pour, while older ones can chop and measure. Use this time as an opportunity to work on math skills. Work on fractions by cutting recipes in half or doubling them.
Embrace the mess. They are kids after all. Do not let the thought of messes stop you from getting in the kitchen with your kids. Take a deep breath, and laugh at all the things that happen. After all, a sponge and cleaner can take care of it all after you are done.
Be patient. Mistakes are an opportunity to learn and grow. When a mistake does happen, take time to figure out why and teach them how to fix it for the next batch.
Get started with these easy kid-friendly recipes.