Game days are more fun with these easy Football Rice Krispie Treats. Mint cookies and mint chocolate make this game day dessert a winner with everyone.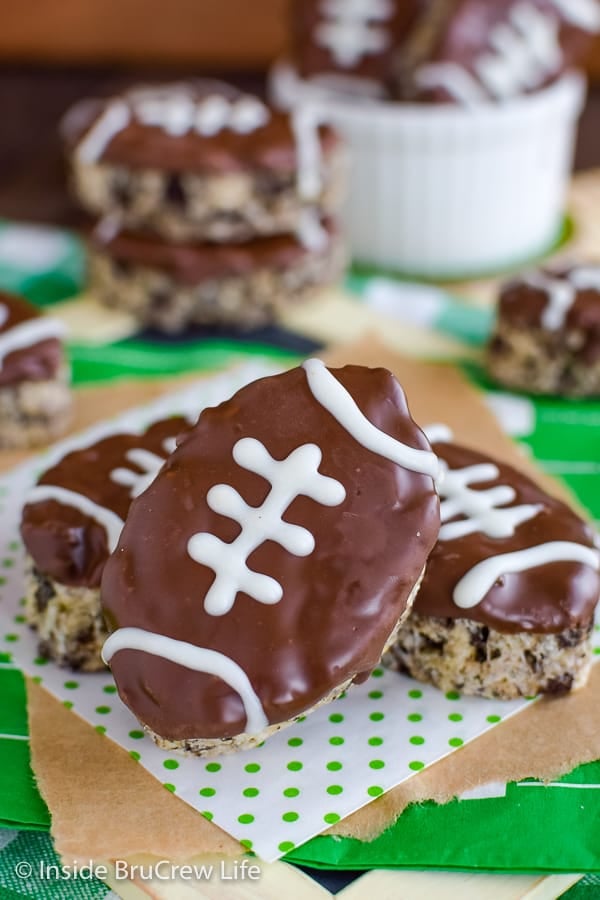 I hear there is this big game this coming weekend. I think it's the game where they ride horses around and hit a ball with a stick. Ha ha I'm just kidding!!
Super Bowl Sunday is this weekend and that means hours and hours of football. My mind is going numb just thinking about it. Don't get me wrong! I love a good game, but I'm just not so much into watching sports, as I am in playing them.
Seriously, I'm there just for all the food. Just lead me to a table loaded down with chicken fajita dip, stuffed crust pepperoni pizza bites, and white chicken chili and I will be happy for hours.
Well, until the food runs out. I better make extra, so that doesn't happen.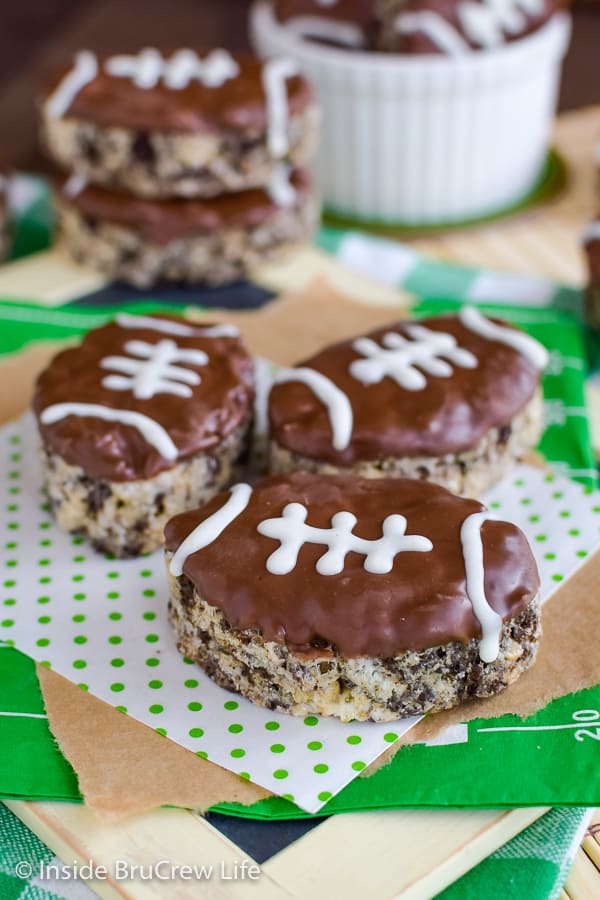 This week I have quite a few projects that I have to finish and have done. So, what do I decide to do? I decided to make a football dessert instead, of course!
Was this one of the projects that NEEDED to be done? Heck no! But when I get an idea in my head, I just can't rest until I see it through.
I wish I had that kind of attitude when it came to cleaning my house. Sadly, since I have started working full time, the cleaning has slacked off quite a bit. Thank goodness for older children who can help out on the weekends, right?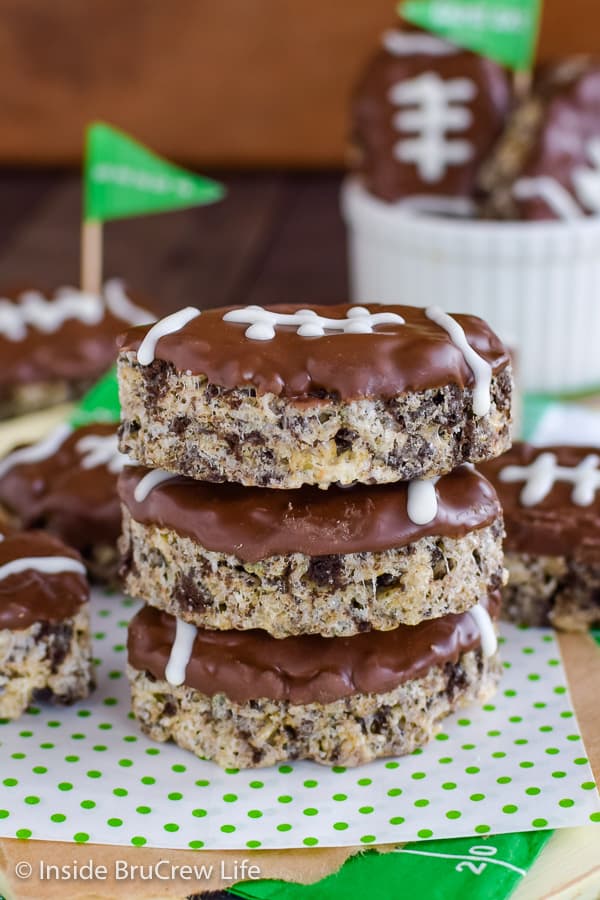 Anyway, I realized that after years and years of blogging, I only have two football treats on this blog, and one of them isn't even a sweet treat.
I made football chips to go with this guacamole hummus 5 years ago! And these football cookies two years ago.
Only two football treats? What in the world have I been doing every February?
Apparently, I was more concerned with Valentine's treats and making sure you had red velvet cheesecake brownies and red hot Oreo fudge. Both of which, you should totally try by the way.
Until now, football food wasn't a priority. That is about to change...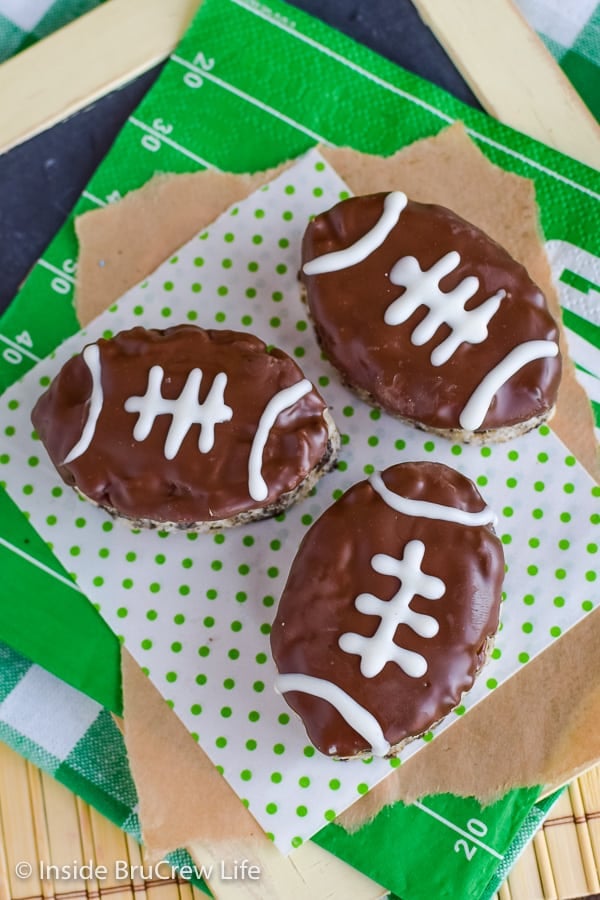 Football Desserts
The other night I decided right then and there that a cute football treat just had to happen. Forget the projects and dead lines! Well, forget them for one more night anyway.
I dug through the baking cupboard and emerged with mint Oreo cookies, Andes mint chips, marshmallows, and Rice Krispie cereal. The lightbulb went off immediately!
It has been way too long since the last Krispie treat, so Mint Cookies and Cream Rice Krispie Treats it is!!!
My youngest son is quite the picky sweets eater. Remember he is the one that gave me grief for adding extras to these chocolate chip brownies? (Which by the way is another one you should really try.)
Anyway, he said these were the best ever Rice Krispie treats. I caught him in the dining room sneaking a few extra ones in the dark because he liked them so much.
Score! This sweet football is the perfect Rice Krispie treat for game day parties! Be sure to check out my easy football party ideas too.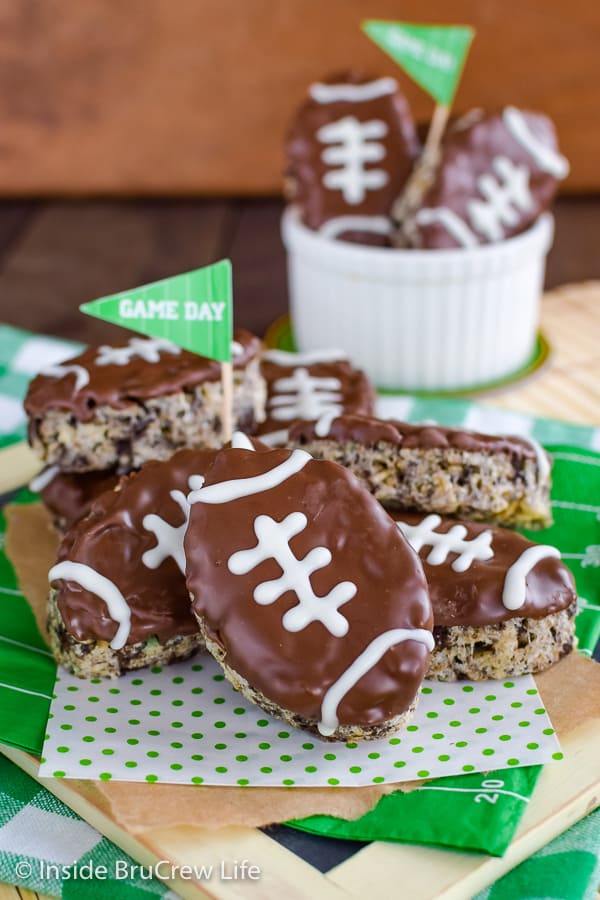 How to make Football Rice Krispie Treats
Heat the butter and marshmallows in a large pan over medium heat until melted and creamy.
Stir in the cereal and mix it all together. Add cookie crumbs to the mixture and stir them in gently.
Press the mixture into a buttered 8x8 pan and let it cool completely.
Use a football cookie cutter to cut out 12 footballs. You may need to press together the scraps to get the last one.
Melt chocolate in the microwave and dip the tops of the football treats in it.
Add drizzles of melted white chocolate to the tops for laces. Let set before placing in a container.
Recipe FAQs
Why are my Rice Krispie Treats so hard?
Make sure you are using fresh marshmallows. And be sure to heat your butter and marshmallows on low heat. It may take a few minutes longer, but it is worth it. Also, do not press the mixture into the pan really hard. You want it to stick together, but not be so packed that it ends up rock hard.
How long do Rice Krispie Treats last?
Well, it totally depends on who is in your household. They don't last more than a day in our house. If you place them in a tightly sealed container, they are good for a few days.
Can you freeze Rice Krispie Treats?
It's not my favorite thing to do. But, yes, you can freeze crispy treats. Place them in a freezer safe bag separated with pieces of wax paper. Make sure to remove all the air. They should be good for six weeks. Let stand at room temperature for at least 15 minutes before serving them.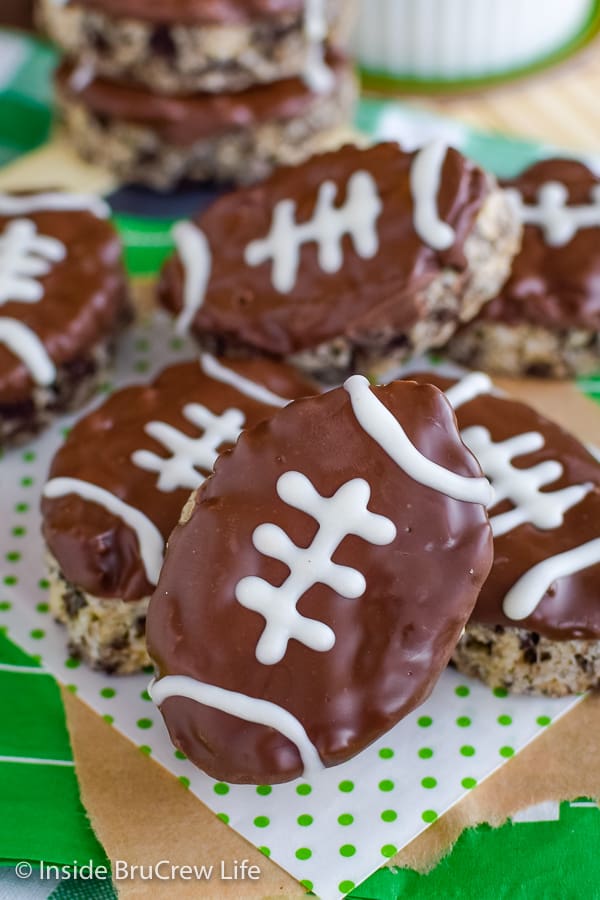 More easy Rice Krispie Treats
These Reese's Rice Krispie Treats are one of the most popular recipes on here. A layer of Reese's and chocolate on top makes them disappear in a hurry every single time.
Adding cookies and candies makes these Monster Rice Krispie Treats a fun no bake treat. Perfect for bake sales, school auctions, or game day parties.
All the chocolate and mint goodness in these Brownie Rice Krispie Bars will make them a new favorite dessert with everyone you share them with.
Caramel and chocolate make these Homemade 100 Grand Bars taste like the candy bars. They are so chewy and delicious!
Enjoy a copycat Rocky Mountain Chocolate Factory treat with these Avalanche Krispie Bars.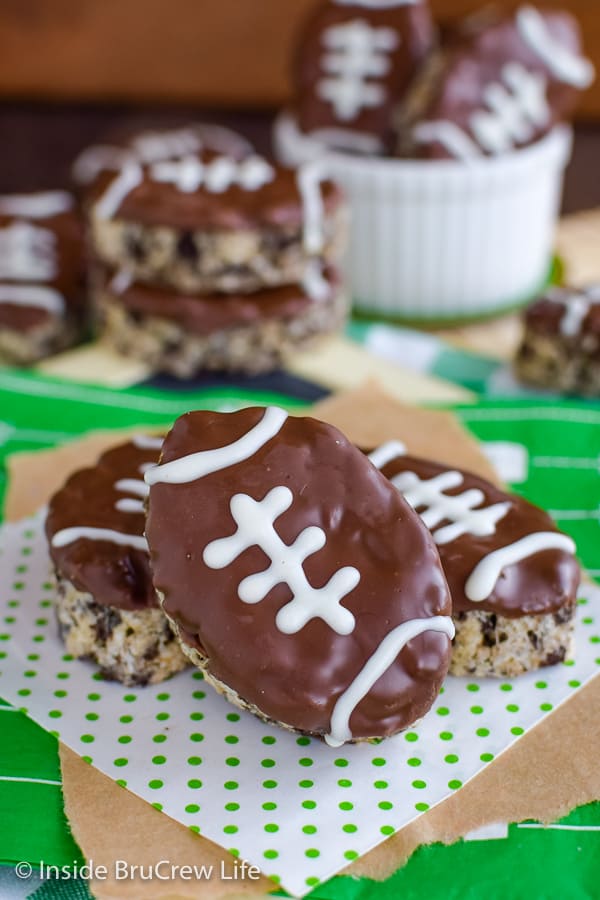 Do you love a recipe you tried from Inside BruCrew Life?
Please leave a 5-star ⭐️ rating and a review in the comments section below.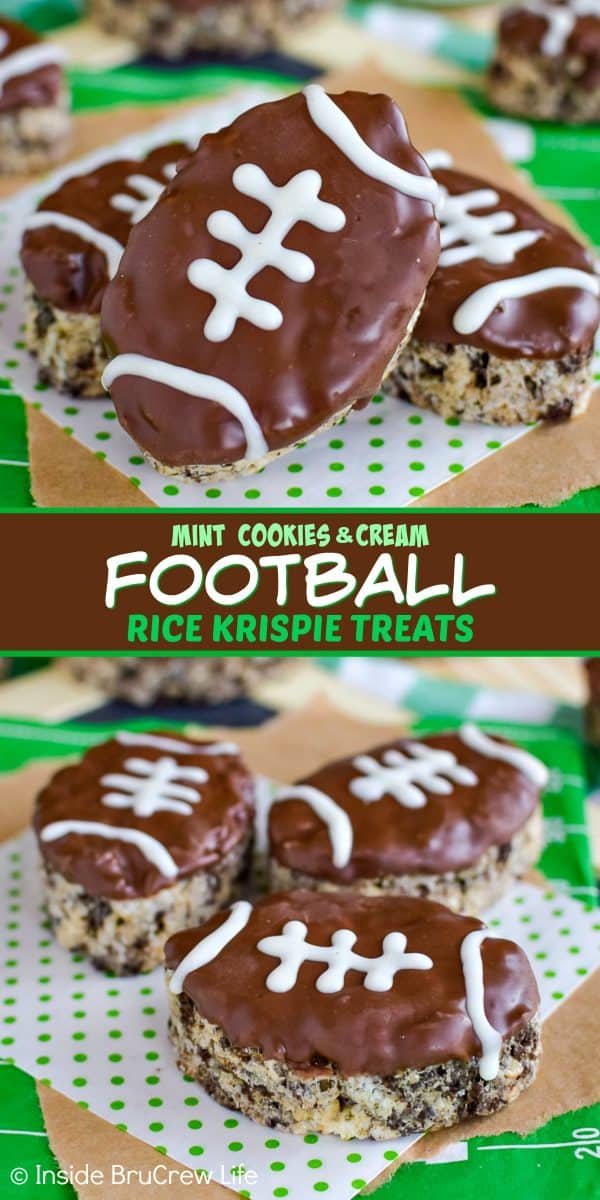 *The recipe and post for these Mint Cookies and Cream Football Rice Krispie Treats was originally published on January 28, 2015. The pictures were updated and republished January 30, 2019.