Keep a batch of these Loaded Egg Burritos in your freezer for a quick and easy hot breakfast on busy mornings. Pop a frozen breakfast wrap in the microwave in the morning and be ready to head out the door in minutes.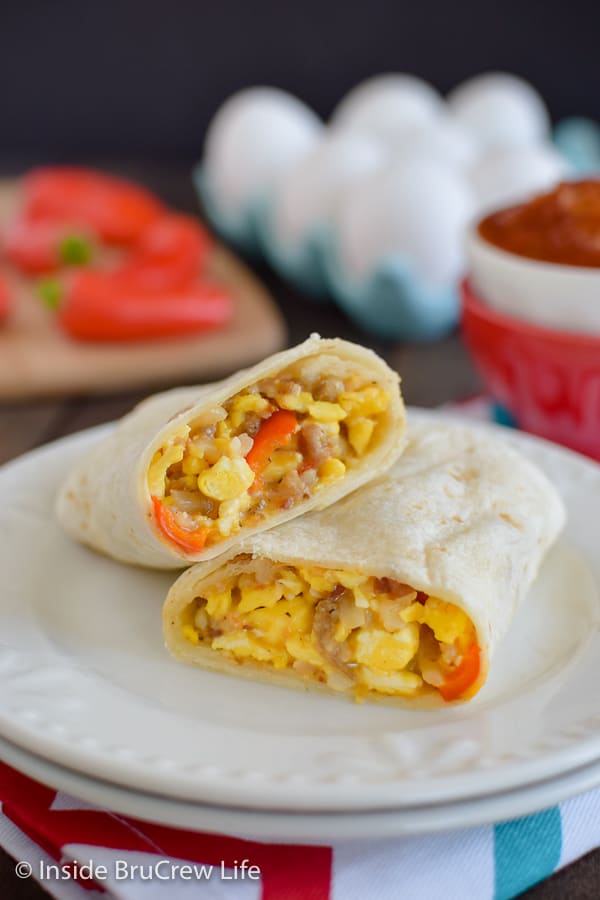 By now it isn't a secret that I do not like to make breakfast. Well, first thing in the morning that is.
I am all for making a batch of Banana Oatmeal Pancakes or these Green Chile Egg Taquitos in the AFTERNOON and freezing them for the following day or week. My brain just does not wake up early enough to be cooking on a hot stove or cutting things with a sharp knife.
Although, with our kids getting older, I am realizing that I need to start doubling the batches of food that I am freezing. I make these Banana Pancakes and freeze them for the week. Then the kids eat pancakes for breakfast, and in two days those pancakes are gone.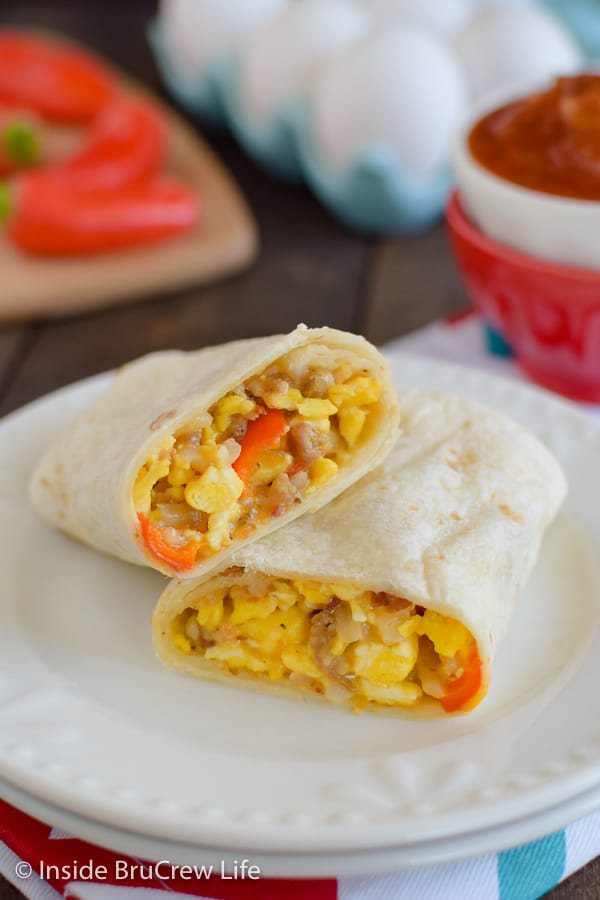 Egg Burritos
We had some sausage to use up last week, so I added it to scrambled eggs, peppers, hash browns, bacon, and cheese to make a batch of the best breakfast burritos.
Each burrito is a full meal. I stuffed each tortilla with a healthy portion of scrambled eggs. Eggs have a high-quality protein that helps keep you fuller longer. This also means more energy longer into the day. Our kids need this energy and protein to keep them from being hungry while they are in school.
Did you also know that eggs can help form muscle tissue, build muscle strength, and repair muscles after working out? Sounds to me like I should be preparing more eggs for our hungry kiddos to start their mornings with.
Add filling the fridge with more freezer friendly breakfast burritos to my to do list.
What You'll Need
Eggs - one dozen eggs makes 12 burritos
Oil - to saute in
Veggies - onions, peppers, shredded hash browns
Garlic - for flavor
Meat - crumbled cooked sausage and crispy bacon
Cheese - shredded cheddar
Tortillas - 8 inch flour shells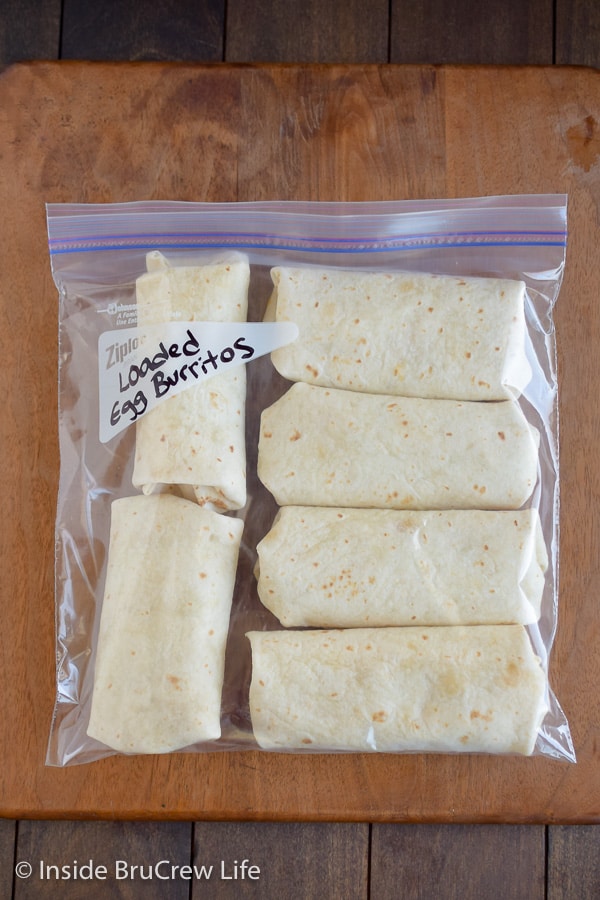 How to make Loaded Egg Burritos
Let's get started and make some easy breakfast wraps. I love that the breakfast burrito filling comes together just by using one pan. Make a double batch of these egg burritos. One to eat now and one to freeze for later.
Scramble the eggs, then transfer them to a bowl and cover to keep warm.
Sauté the onion, peppers, and hash browns in a little bit of oil.
Stir in cooked sausage, crumbled bacon, scrambled eggs, and shredded cheese.
Divide the egg mixture evenly onto 12 tortillas.
Roll up making sure to tuck the ends in as you go.
Serve immediately or refrigerate or freeze for later.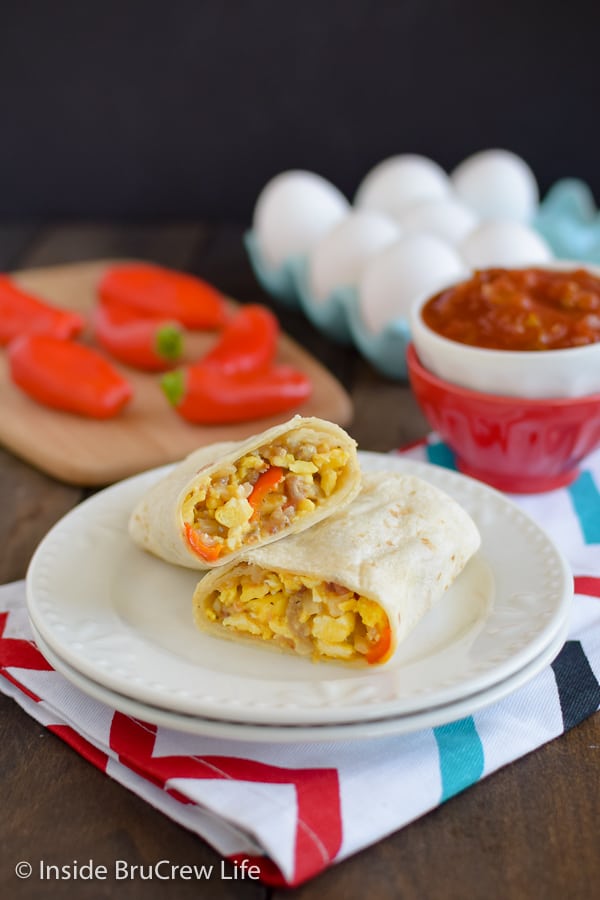 Frequently Asked Questions
Can breakfast burritos be made the night before?
Yes, you can make these breakfast burritos the night before. Let them cool, then wrap in plastic wrap and place in a container or large plastic bag in the fridge.
Can breakfast burritos be frozen?
Let the filled burritos cool completely.
Place on a tray and freeze for 30 minutes.
Wrap each one in saran wrap and place in a freezer bag.
Freeze for 1-2 months.
To serve, thaw overnight in the refrigerator, then microwave in the morning.
How to reheat breakfast burritos:
Remove any wrappings from a thawed or refrigerated burrito. Wrap it in a damp paper towel and heat in the microwave for 1 minute.
Heat a skillet over medium heat. Add oil and cook each burrito on each side for one minute.
Heat oven to 350 degrees. Place thawed burritos on baking sheet and bake 6-8 minute or until heated through.
For frozen burritos, place in a damp paper towel and heat in microwave for 2 minutes or until heated through.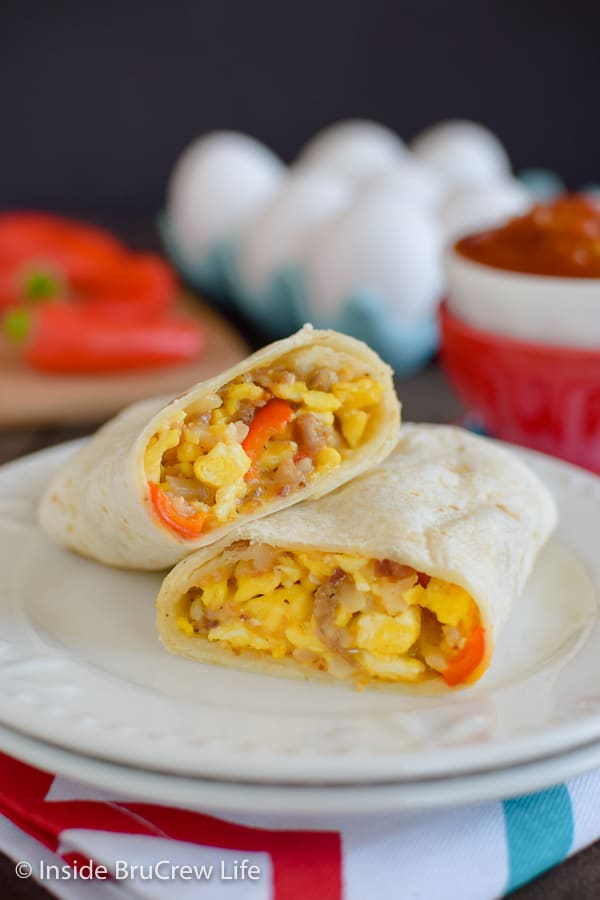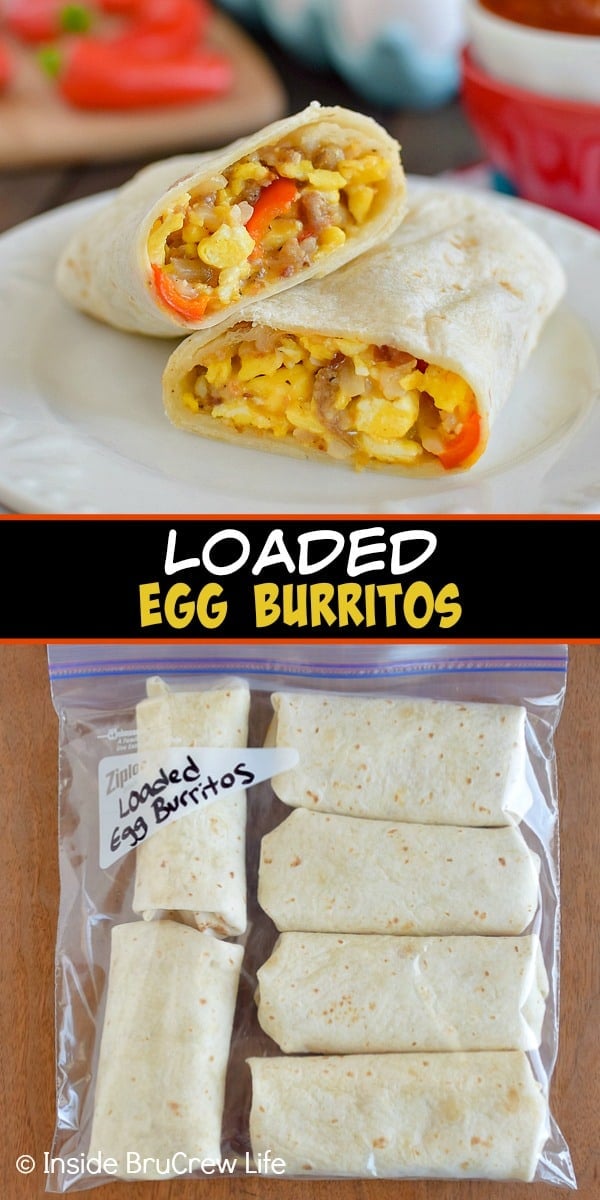 *These Loaded Egg Burritos were first published on December 9, 2014. The post and photos have been updated and republished on January 21, 2020.