Get ready to indulge! These Cookie Dough Truffles are the perfect no bake treat that is safe to eat and easy to make. Enjoy an edible cookie dough recipe that is egg free, dipped in chocolate, and jazzed up with sprinkles.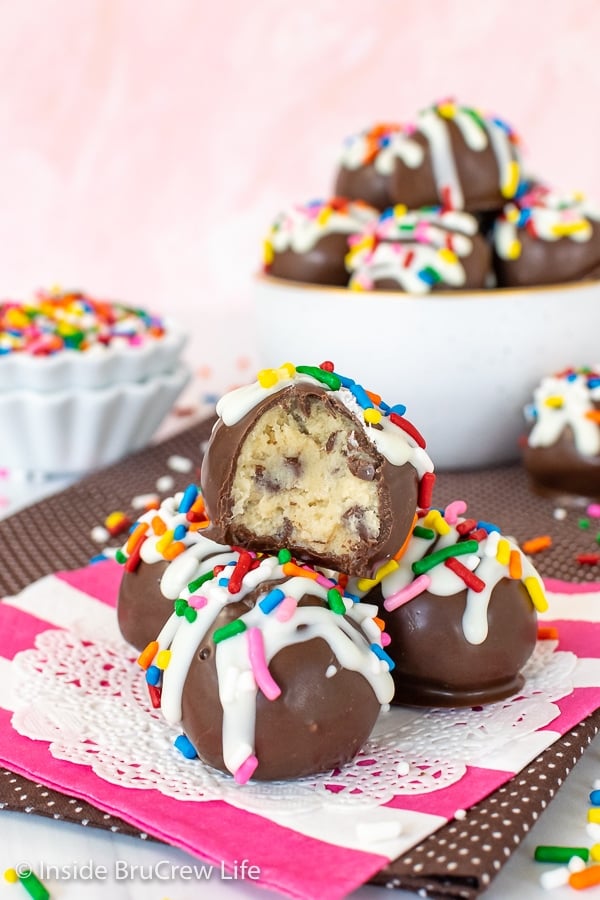 Edible Cookie Dough
Growing up we always licked the mixer beaters after my mom made cookies and cakes. I even let our kids do the same thing when they were younger. I even used to eat spoonfuls of raw dough from time to time without worrying about bacteria.
But with all the concerns from eating raw eggs and raw flour, I wanted to find a solution so we could safely eat cookie dough. Now with this edible cookie dough recipe, I can share treats with others without any worry.
There is just something satisfying about eating cookie dough. And when that cookie dough is dipped in chocolate it is even better. Get ready to pop a few of these chocolate chip cookie dough truffles in your mouth! [Read more…]