Pockets of pudding and fresh berries make this easy White Chocolate Berry Pudding Cake a delicious and sweet treat. It's the perfect dessert for a picnic or party on a hot summer day!
*Make sure you don't miss any recipes. Sign up for the free BruCrew email to have the recipes sent to your inbox.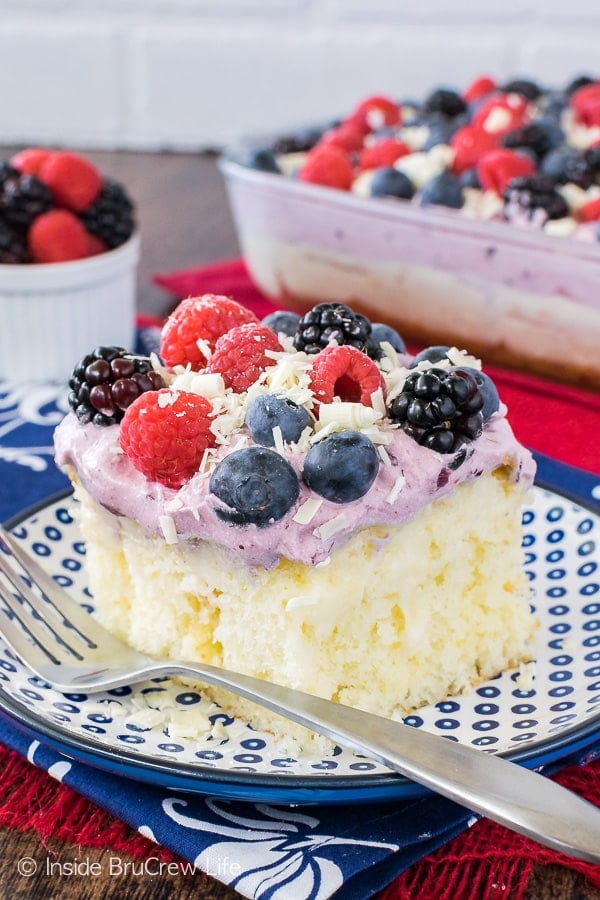 CLICK HERE TO PIN THIS RECIPE FOR LATER!
It's hard to believe that I have been blogging for so many years. Some days it feels like I just started, and then other days it feels like it's been forever. I have seen so many different changes in how things are done online over the years.
Social media has definitely evolved the most over the past few years. There are so many things that you have to do now in order to have your recipes and stories seen by anyone. Of course, there is just no way to keep up with all of it as a one person business. So, I pick and choose my favorite medias and let the others slide.
I get two questions about blogging all the time. Do you still enjoy writing stories and how do you keep coming up with new recipes? The answer is yes, and I can't stop thinking of new things to make. [Read more…]