Love pumpkin season, but don't want to give up the chocolate? Problem solved with this Chocolate Pumpkin Bread. It is loaded with chocolate chips and topped with an amazing caramel frosting that will have you making it all year round!
Looking for more delicious pumpkin recipes? Enjoy a cup of this pumpkin cream cold brew and these pumpkin chocolate chip cookies.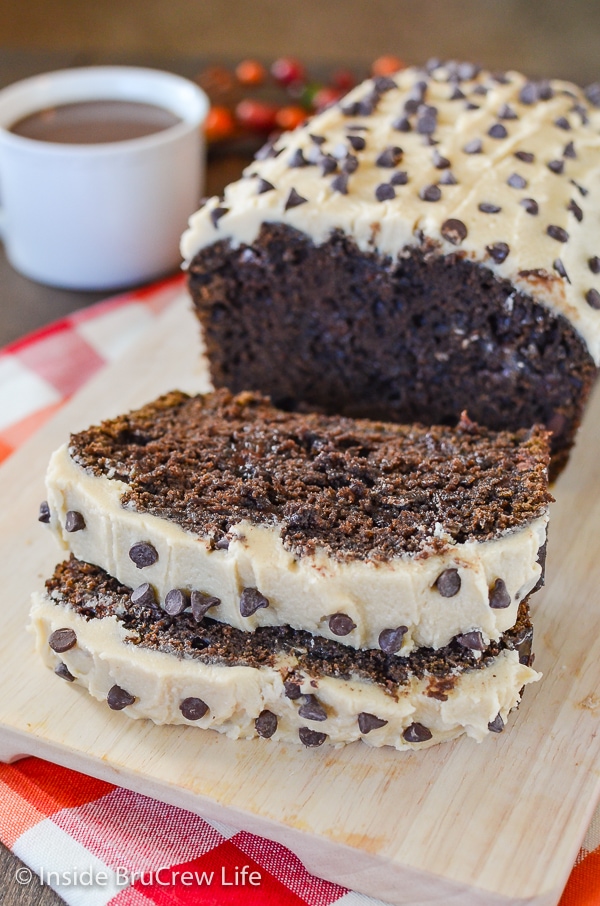 I am excited to bake all the things with pumpkin this fall. Usually I make this pumpkin chocolate chip bread, but today it's all about the chocolate.
Yes, I know there a billion and one recipes out there. Trust me, you need another pumpkin bread recipe in your life this fall because this one is double the chocolate.
You are going to love this chocolate pumpkin bread because it is made with dark cocoa powder and loaded with chocolate chips. It's gooey, delicious, and totally fabulous!
A layer of creamy caramel frosting and a sprinkling of chocolate chips on top makes it even better. Although, it does bring up a question. Do you call this bread or cake?
My family calls this a cake, and I say it's bread. Apparently, frosting on a sweet bread turns it into cake in their eyes. Whatever you call it, this double chocolate pumpkin bread is going to be your new favorite fall bread. Want to know why?
Easy to make.
Chocolate chips and cocoa powder make it super chocolatey.
Decadent and delicious!
Covered in caramel frosting.