Add some color to your morning routine with this Lemon Danish topped with berries. The breakfast pastry is simple to make at home and tastes as fresh as it looks. Perfect for summer brunch or holiday breakfast.
This Blueberry Lemon Danish is another easy and delicious pastry that would go great with these.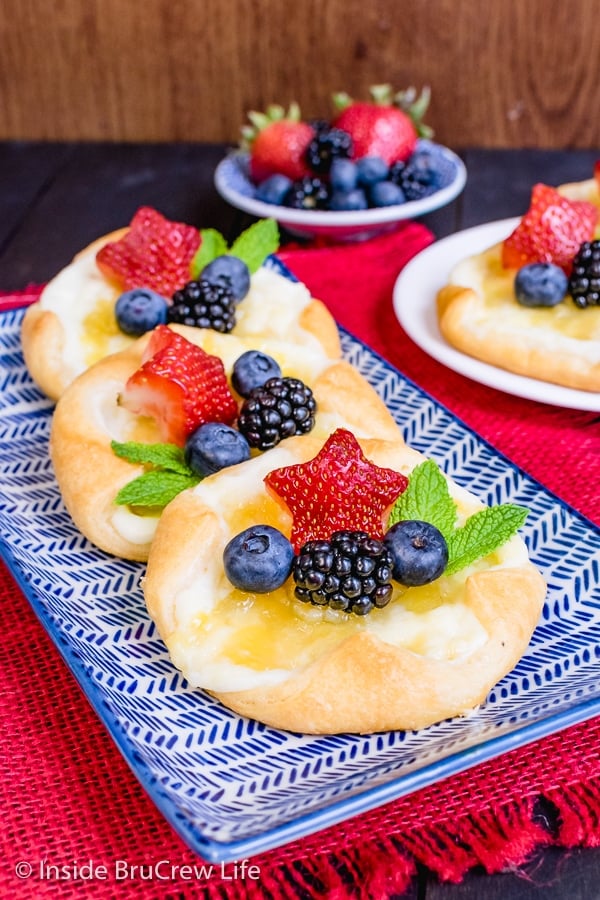 Lemon Danish
Cheese danishes are a delicious treat that are usually enjoyed at coffee shops or bakeries. Did you know they are very easy to make at home too? With just a few ingredients you can enjoy a fresh breakfast pastry with your morning coffee.
I used this blueberry cheese danish recipe to make a batch of pastries for breakfast the other day. This time I added lemon curd to the top instead of blueberry sauce. This lemon danish may be my new favorite.
While the pastries are cooling, cut mini stars out of strawberry slices with a tiny cookie cutter. That's totally optional and really not necessary if you are short on time.
You can also just add a whole strawberry or a half a strawberry on the cheesecake pastry before serving them. But seriously, the stars made this lemon cheese danish really cute and perfect for 4th of July morning.
[Read more…]