Nothing says fall like gooey cinnamon rolls. That's why we created these delicious Apple Cinnamon Rolls to help you celebrate the season. They're made with homemade dough and filled with cinnamon sugar and apple chunks.
You can even make them ahead of time, so that all you have to do is pop them in the oven when you wake up.
*I am partnering with Dixie Crystals to bring you these Apple Cinnamon Rolls!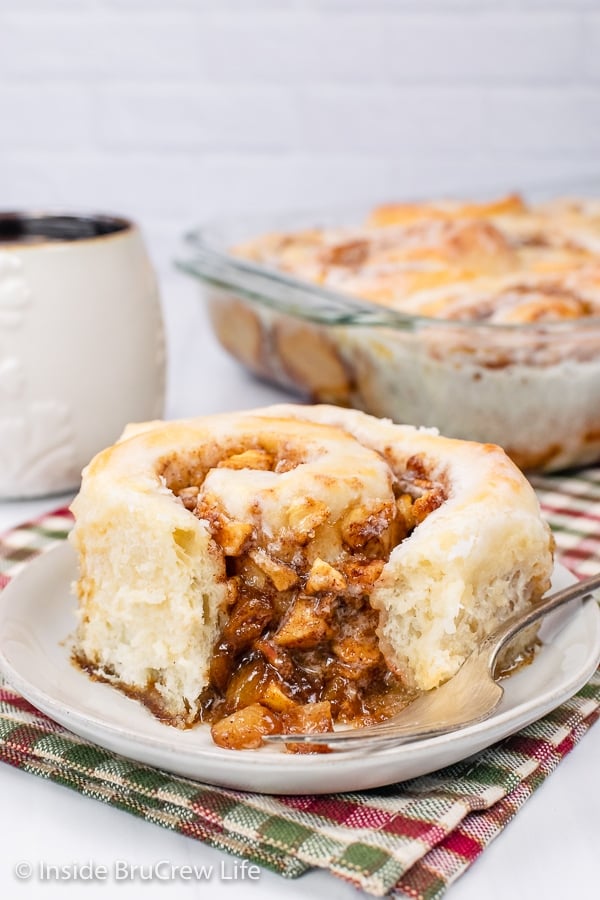 Making homemade cinnamon rolls is a fun and delicious way to start the day, but it can be time consuming. The good news is that it won't take you all morning to make these apple cinnamon rolls.
We've simplified the process by using rapid rise yeast to make the sweet roll dough even easier. Our apple cinnamon roll recipe only require one rise time before baking, so they're ready for breakfast or brunch in no time at all. Simply roll out the homemade dough, fill it with cinnamon sugar and apple chunks, and roll up.
What Makes these Cinnamon Rolls Perfect
Your house will smell amazing while these easy homemade apple cinnamon rolls are baking. Enjoy them warm with melted glaze on top while they are still fresh from the oven.
They are the perfect breakfast on a chilly fall morning, but they are also great any time of year. After all, who doesn't love fresh baked cinnamon rolls?
If you love apple pie and love cinnamon rolls, you are going to love these easy sweet rolls. This recipe will quickly become your favorite way to enjoy apple season.
Soft fluffy homemade dough.
Spiced brown sugar filling with fresh apples.
Sweet buttery glaze that melts into the gooey filling.
[Read more…]