Enjoy your favorite childhood sandwich flavor baked into these Peanut Butter and Jelly Crumb Bars. These easy cookie bars get smiles from kids of all ages.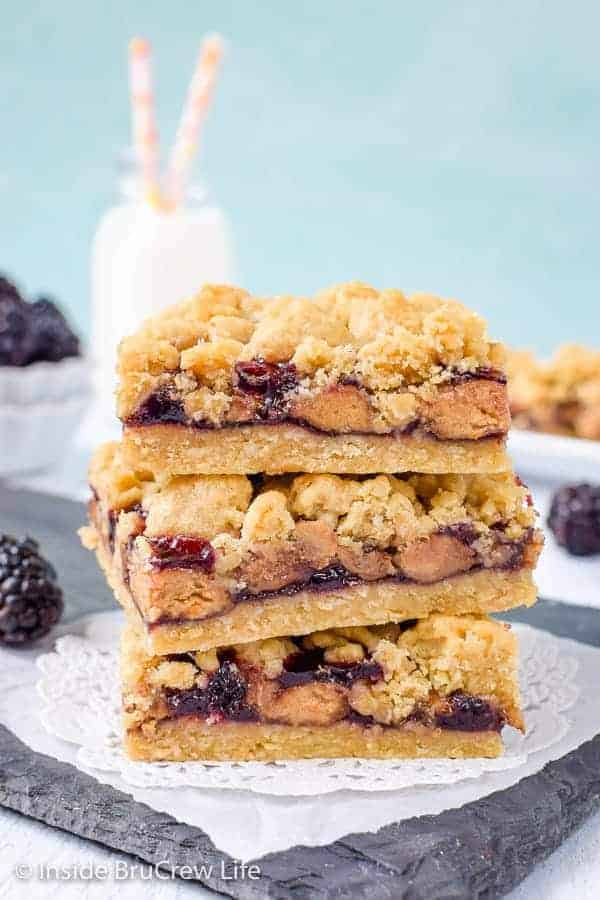 CLICK HERE TO PIN THIS RECIPE FOR LATER!
Two weeks! That's the amount of time left in our summer break. It feels like school just ended and here we are ramping up for another year. Ok, so I'm ramping up because I'm ready for routine and consistency in everything.
The kids are not ready. Well, I actually think they are ready for routine too, but they could do without all the school stuff.
I had to laugh at our daughter the other day because she was telling me how excited she was for buying school supplies. That's as far as her excitement for school goes though. Once we buy the pens and paper and she organizes her backpack, the excitement will be over. LOL!
My excitement comes from the routine. Going to bed and getting up at a consistent time, working out regularly, getting back to normal dinner hours, and figuring out a better work schedule are what I'm going to focus on in the next few weeks.
And of course, adding in more baking and fun treats is always a must. [Read more…]