This Strawberry Orange Spinach Salad with chicken is a delicious side dish or main meal to bring for any dinner party. Fresh fruit, nuts, cheese, and chicken on a bed of spinach and drizzled with homemade balsamic dressing is the perfect meal.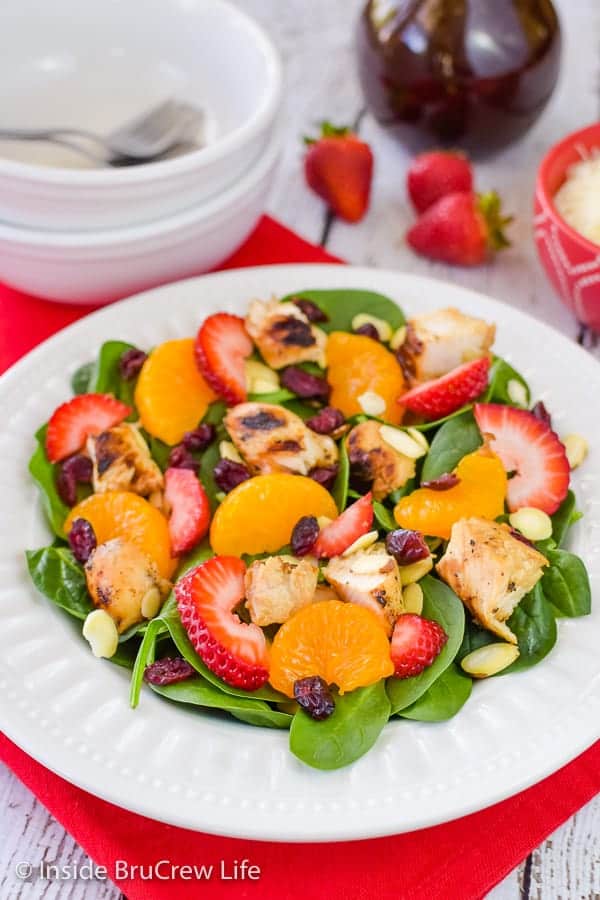 CLICK HERE TO PIN THIS RECIPE FOR LATER!
Most of the time I share all the fun baking that happens in our kitchen, but healthy dinners actually happen more often than sugar treats.
Salads and lean and greens are what we make and eat for dinner because one cannot live on sweets alone. I know it seems like we eat Homemade Chocolate Chip Brownies and Salted Caramel Chocolate Cake all the time, but we really do try to make and share those when we have different activities and dinners to go too.
The other day after church we went out to eat with some friends. Since I am also trying to make better food choices when we go out to eat, I decided to only look at the salads on the menu. Normally, I'm all about the cheese and pasta, so this was a big deal for me. [Read more…]