Rice Krispie Treats are an easy no bake treat that makes everyone smile.  Add a layer of candy bars and chocolate and watch those smiles get bigger.  These Peanut Butter Cup Rice Krispie Treats will not last long when you take them to picnics or parties.
*Make sure you sign up for the BruCrew email…enjoy these recipes each morning in your inbox.*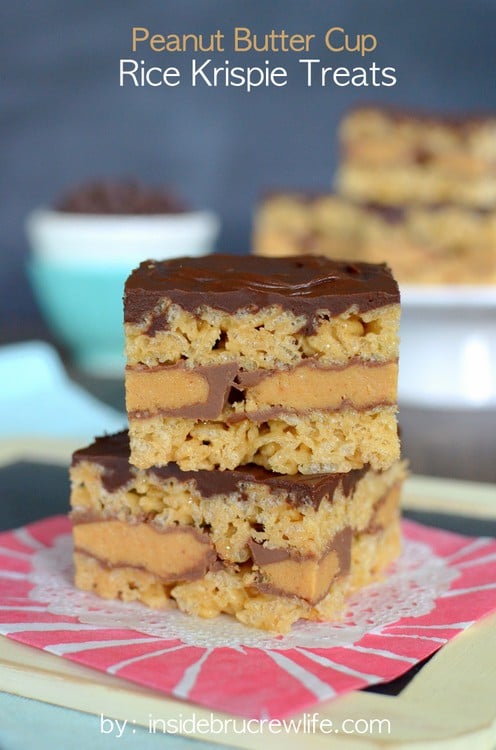 Most days I have crazy baking ideas that I can't wait to get in the kitchen and work on.
Then there are days when I just want to make an quick and easy dessert like rice krispie treats for the kids to enjoy.
The problem…I am me.  I can't stop my crazy mind from wandering when it comes to easy dessert.  Well, I can't keep it from wandering on any kind of dessert really.  #foodbloggerproblems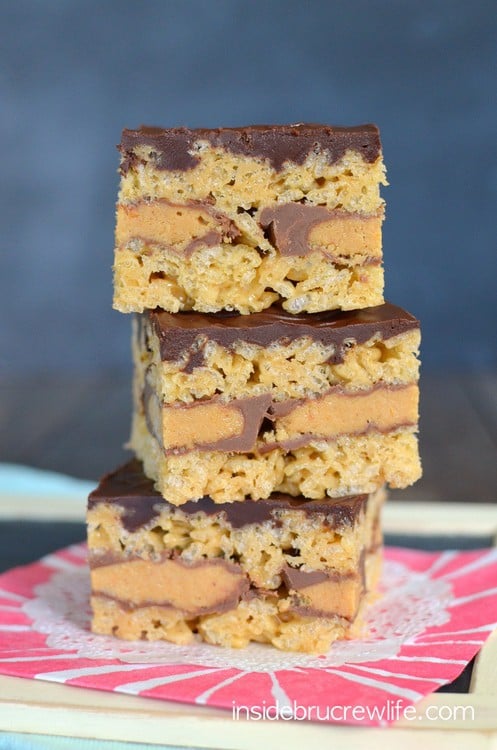 I really did have plans to make a pan of plain rice krispie treats.  But as I pulled out the cereal from the bottom cupboard, I glanced over to the other side where I keep the "off limits" food.  The bright orange packages of Peanut Butter Cups started yelling at me.  "Pick us!"  "We would be great to use!"  "You know how good we are!"  Yes, I do hear candy voices!  That's not weird, is it?
How in the world was I supposed to resist candy that was basically forcing itself on me?  I just couldn't.
I started to think back to these Candy Bar Stuffed Rice Krispie Treats.  I remembered how good the layer of candy bars was inside the treats.
That did it!  All thoughts of plain treats went out the window.  The Peanut Butter Cups won me over with their sweet yells!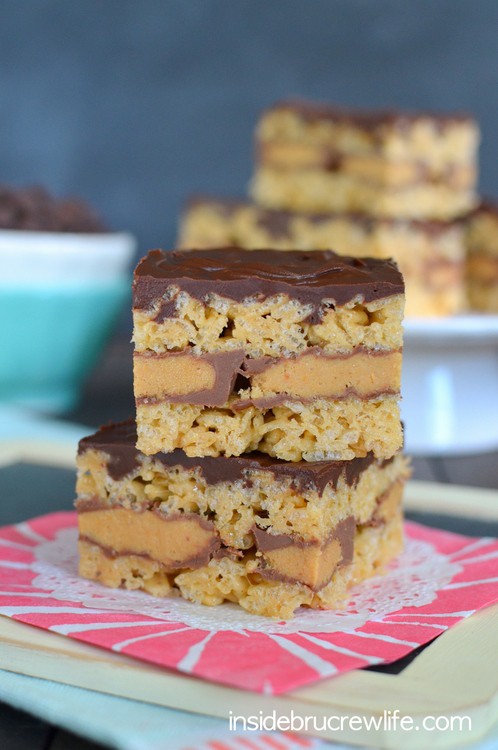 So, my pan of easy basic treats became awesome, amazing treats.  That doesn't surprise you, does it?
Butter your pan before you get started and keep the butter out.  I like to butter my hands to keep the mixture from sticking to me.  You could also use wax paper or parchment paper if you don't want to get messy.
Stir a little bit of peanut butter into the melted butter and marshmallow to give these bars the full peanut butter experience.  You do have to work quickly as you put these together.  Do not let the mixture sit or it will start to cool and be harder to work with.   Divide your hot rice krispie treat mixture in half.  Press one half into the buttered pan. Lay the unwrapped Reese's Peanut Butter Cups over the top.  Make sure you unwrap the candy before you even start on the treats.  Remember we don't want our mixture to cool off and get hard.
As soon as the candy bars are down, press the rest of the mixture over the top.  Make sure you get it as even as possible.  But don't stress too much about it because we are adding a layer of chocolate over the top too.  That will hide the imperfections in spreading.  Try not to press the rice krispie treats too much.  Pressing the mixture too hard into the pan is what causes hard treats.  I don't know about you, but I prefer soft, chewy rice krispie treats.
The last jazzed up step to these Peanut Butter Cup Rice Krispie Treats is a layer of chocolate.  Combine the chocolate chips and butter in a microwave safe bowl and heat it for 1 minute.  Stir until it is spreadable.  If you need to heat it another 10-15 seconds, go ahead.  Just do not over heat the chocolate.  Spoon the melted chocolate over the top of the rice krispie treats and use a spatula to spread it out.  Go ahead and lick the spoon and spatula…it's a required step in my kitchen! #foodbloggerperks
Let the chocolate set before cutting into bars…that is if you can wait that long.  I suggest earplugs while you wait to block out the yells of the Peanut Butter Cups.  Seriously!  It's a real thing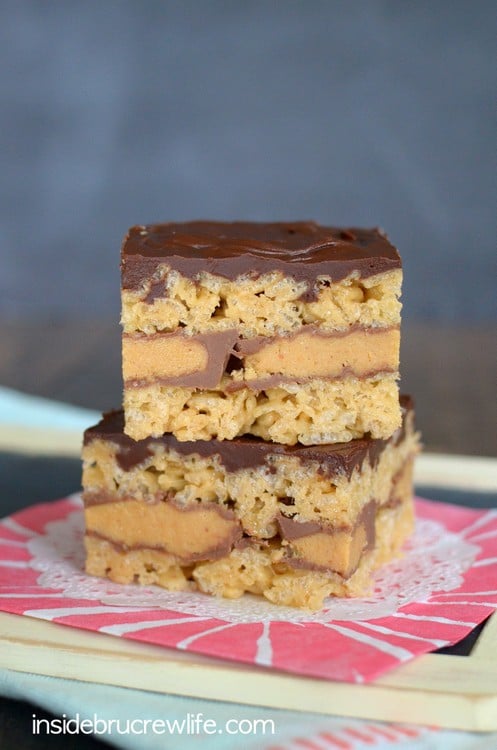 Stay up to date on all the BruCrew baking here:
FACEBOOK | PINTEREST | GOOGLE+ | TWITTER | INSTAGRAM | BLOGLOVIN
 Sign up to receive an email in your inbox for each new recipe:
EMAIL SUBSCRIPTION
Peanut Butter Cup Rice Krispie Treats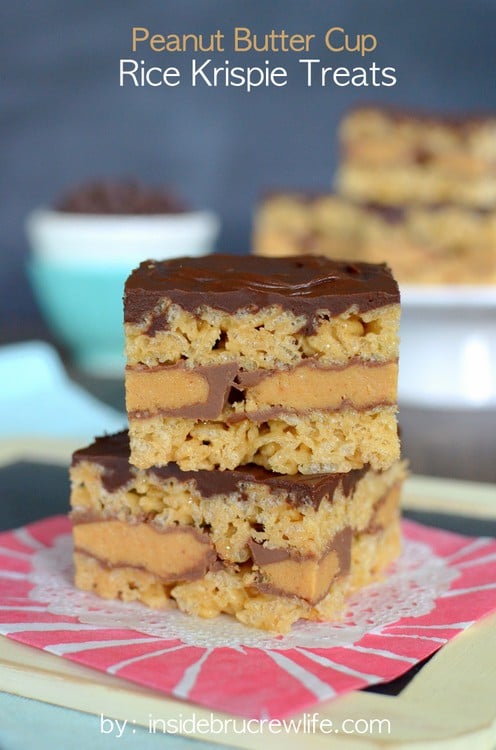 These Peanut Butter Cup Rice Krispie treats a fun way to use up extra candy from your cupboards. Be prepared to eat many of these delicious little squares.
Ingredients
7 cups mini marshmallows
7 Tablespoons butter, divided
1/2 cup peanut butter
7 cups plain Rice Krispie cereal
24 Reese's Peanut Butter Cups, unwrapped
1 1/2 cups chocolate chips
Instructions
Melt 4 Tablespoons butter over low heat in a saucepan. Add the marshmallows and stir until completely melted. Stir in the peanut butter.
Pour the cereal into the marshmallow mixture and stir until completely combined. Press half the cereal mixture into a buttered 9x13 pan.
Place the 24 peanut butter cups over the top of the rice krispies in the pan. Spoon the rest of the rice krispies over the top and press down. Let cool completely.
Place the chocolate chips and remaining 3 Tablespoons of butter in a microwave safe bowl. Heat for 1 minute. Stir until creamy. You can heat it an additional 10-15 extra seconds, if needed. Spread over the top of the rice krispie treats. Let set. Cut into 24 squares. Store in a sealed container on the counter.
http://insidebrucrewlife.com/2014/07/peanut-butter-cup-rice-krispie-treats/
Copyright Inside BruCrew Life
 More fun jazzed up Rice Krispie Treats for you to try: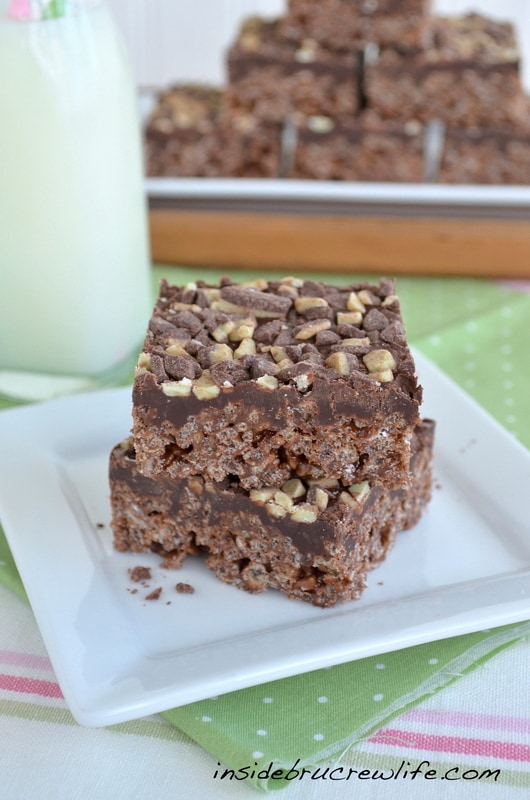 Brownie Mint Rice Krispie Treats